The debate between Abu Dhabi versus Dubai is always a predicament to choose from while visiting the UAE. Amongst the seven Emirates, Abu Dhabi and Dubai are popular among tourists. Although Dubai is more popular, Abu Dhabi is also gaining a lot of popularity in recent times. This has caused a lot of confusion among tourists when choosing a location for their holidays. So, which one is the better city for vacation? Let us find out.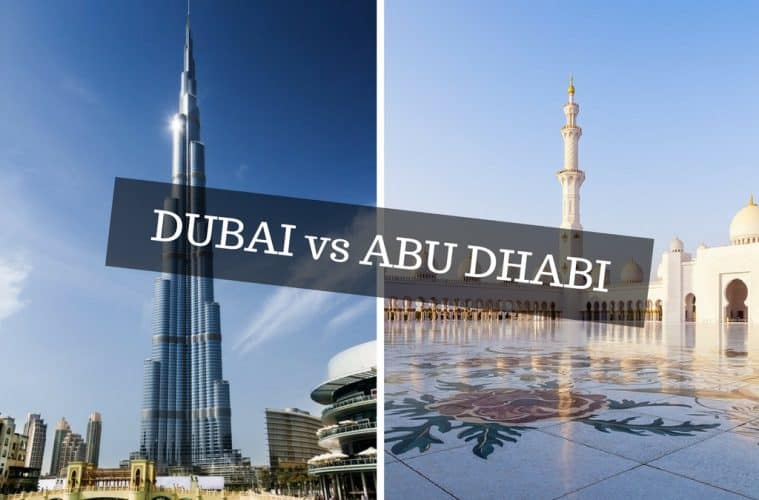 1. What to Choose Between Abu Dhabi and Dubai for Sightseeing?
Sightseeing is the main attraction for most tourists visiting a new place. Both Dubai and Abu Dhabi have plenty of places for sightseeing. Here are some of the major attractions of both cities.
Dubai: Dubai is a city that has broken several world records. It is home to the tallest building in the world (Burj Khalifa), the only seven-star hotel in the world (Burj Al Arab), the largest manmade island in the world (Palm Jumeirah), the largest mall in the world (Dubai Mall), etc. Apart from this, there is the Dubai Aquarium and Underwater Zoo (inside the Dubai Mall), the Jumeirah Mosque, the Bastakiya Quarter (the oldest neighborhood of the city), the Dubai Museum (to know the historical side of Dubai), the Dubai Frame, Dubai Creek, Dubai Marina, Dubai Desert Safari, etc.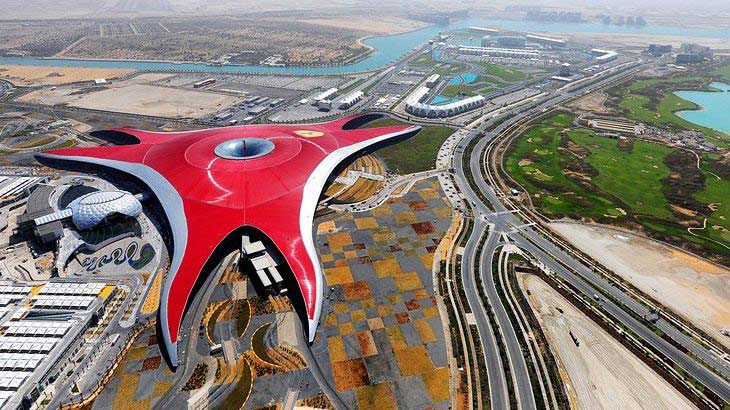 Abu Dhabi: While Dubai is known for its glitz and glamour, Abu Dhabi is known more for its culture. But still, you will not be disappointed when it comes to sightseeing in Dubai. There is the splendid Grand Mosque, which is the largest mosque in UAE. On the other hand, the Abu Dhabi Heritage Village would give you a glimpse of the life of the Emiratis in the past. Apart from these, there is the Abu Dhabi Falcon Hospital, Observation Deck at 300, Louvre Museum, etc., which would surely attract the interest of the visitors.
2. Dubai vs Abu Dhabi for Family Holidays
When you are vacationing with your family, you would like to visit a place that appeals to everyone in your family, especially the kids. So, while there are plenty of things to see and do for adults in both Dubai and Abu Dhabi, let us check out whether these cities have something for kids and teenagers, too.
Dubai: Dubai is surely a haven for people traveling with kids. Right from entertainment zones (at malls) to adventure and water parks, there is no dearth of fun places in the city. Some of the must-visit places with families in Dubai include Wild Wadi Water Park, Atlantis Aquaventure Water Park, Dubai Miracle Garden, Ski Dubai Snow World, etc. Also, Dubai has some amazing public and private beaches where you can have a relaxing time with your friends and family.
Abu Dhabi: Most people think that there is nothing much to do in Abu Dhabi, apart from sightseeing. However, nothing can be far from the truth. The place has the luxurious Yas Island, built specially for entertainment. Here, you will find the Yas Waterworld, the Ferrari World (an F1 theme park), Emirates Park Zoo, etc. One of the recent additions to Abu Dhabi is the Warner Bros World indoor theme park. Moreover, there is the Abu Dhabi Corniche, where you can picnic by the beach or indulge in fun beach activities. Clymb Abu Dhabi is also a fun place for kids and adventure enthusiasts.
3. Dubai or Abu Dhabi Holiday – for Solo Travellers
The UAE is popular as a family holiday destination. However, this does not mean that it would not appeal to solo travelers. Of course, the things that you like would depend on what interests you. Here are some of the things that solo travelers would like to do in Dubai.
Dubai: Apart from exploring the city and visiting the many attractions, there are many things that a solo traveler can do in Dubai. The city has an amazing nightlife with several nightclubs and pubs. If you are a solo female traveler, you would be happy to know that many nightclubs have ladies' night every week, where you would get free entry and free drinks, too. Other than this, you can also indulge in some interesting adventurous activities like sky diving in Dubai.
Abu Dhabi: If you want to explore the nightlife of Abu Dhabi, you are likely to be disappointed. Sadly, there are not many nightclubs in the city. However, this does not mean that you will not be able to enjoy your holiday. As a solo traveler, if you are looking for a relaxed holiday, Abu Dhabi would be perfect for you. The city may not have the glitz and glamour of Dubai, but it has a lot on offer when it comes to fun theme parks, cultural experiences, and luxury.
4. Abu Dhabi or Dubai – for Shopping
Dubai is undoubtedly a shopper's paradise with so many options for shopping. Apart from the enormous malls that have stores of almost all major brands from around the world, Dubai also has traditional markets called souks. The gold souk, textile souk, and spice souk are unique and, hence, must-visit places, even if you do not want to purchase anything. Not only will you find some of the best places to shop in Dubai, but you will also be able to be part of the Dubai Shopping Festival, which is surely the largest shopping festival in the world, with some amazing discounts and awesome deals, too. In comparison, shopping in Abu Dhabi may seem a little less exciting. But it is not so in reality. The city of Abu Dhabi offers you several malls; the best amongst them is the Marina Mall. There are also Arabic open-air markets, rustic marketplaces, etc., in Abu Dhabi.
5. Compare Abu Dhabi vs Dubai for Desert Safari
Desert safari is one of the most popular tourist activities in the UAE. Even if you are a solo traveler or holidaying with your family, the desert safari is something you cannot miss at any cost. However, a question you may have is whether you should choose the Dubai or Abu Dhabi desert safari. The fact is that both desert safaris offer the same things, which include dune bashing, camel riding, BBQ dinner, entertainment programs, etc. There may be some slight differences like cost, deletion or addition of some adventurous activities, changes in menu, etc. The best desert safari would be one that matches your interests and expectations. Hence, do your research and choose carefully. Although, it would be practical to choose a desert safari in the city you are staying in or holidaying in. Research and learn everything about the desert safari tour before you book your package.
Suggested UAE Desert Safari Tour Packages:
6. When to Visit Abu Dhabi and Dubai
The UAE has a subtropical desert climate. It's very hot and humid from April to September, with temperatures exceeding 100°F most days. The best time to visit is during the cooler months from November to March, with comfortable daytime highs around 75-80°F and cooler evenings.
Peak tourist season is December to April when prices are highest and attractions are busiest. November, May, and October are shoulder months with middling temperatures and fewer crowds. The summer low season from June to September brings very cheap hotel rates but uncomfortably hot weather – best avoided by most travelers unless you plan to spend all day in air conditioning or pools.
Regardless of when you visit, airfare and hotel deals can often be found during off-peak times like mid-week stays. Booking activities like museum visits and desert safaris for weekdays will also avoid the biggest crowds. Pack light, breathable clothing, and don't forget sun protection!
FAQs About Visiting Abu Dhabi and Dubai
Here are some frequently asked questions to help you plan your visit:
Is Abu Dhabi or Dubai better for families?
Both cities offer plenty to keep kids entertained, but Dubai has more theme parks and interactive museums catering to children.
Is Dubai or Abu Dhabi more expensive?
Dubai tends to be more expensive overall for nightlife, dining, shopping, and luxury hotels. Abu Dhabi offers more affordable lodging and attractions.
Dubai offers options at every budget level. Visiting on a moderate budget, you can find hotel rooms from $60-150/night, meals for $5-20, and free attractions like beaches and historical sites. But it's easy to spend more on luxuries.
Do you need a car in Abu Dhabi or Dubai?
Having a car makes getting around more accessible, but both cities have decent public transportation like buses, metro, and cheap taxis.
What is there to do in Abu Dhabi at night?
Some top after-dark activities include Corniche beachfront strolls, live music and comedy shows, hookah lounges, amusement parks like Ferrari World, dining cruises, and bar hopping.
What is there to do in Dubai at night?
Dubai's top nightlife activities include shows (comedy, concerts, theatre), dancing clubs, rooftop bar hopping, dhow cruise dinners, evening desert safaris, and nightly light shows at Burj Khalifa and Dubai Mall. Click here to find more!
Should I spend three days in Dubai or Abu Dhabi?
It depends on your interests, but most travelers would want to devote 2-3 days to hitting the highlights in each city, giving you a week to explore both destinations fully.
Is Dubai and Abu Dhabi safe to visit?
Both cities are very safe for tourists. Violent crime rates are extremely low, and tourist areas are heavily monitored. However, standard precautions (being wary of pickpockets and not wandering alone at night) are advised.
United Arab Emirates: Interesting Facts
The United Arab Emirates packs a lot of wonders into a small country. Below mentioned are a few of them:
The UAE comprises seven emirates, including Abu Dhabi, Dubai, Sharjah, Ajman, Umm Al Quwain, Ras Al Khaimah, and Fujairah.
Prior to its formation in 1971, the UAE was known as the Trucial States, a collection of sheikdoms under British protection.
The UAE has the world's tallest building, the 2,722-foot Burj Khalifa in Dubai. It towers over the next tallest, the 1,972-foot Shanghai Tower in China.
Dubai has constructed over 250 man-made islands to expand its coastline, including the famous Palm islands shaped like palm trees.
The Dubai Mall is the largest shopping mall in the world at over 12 million square feet, with 1200+ stores, an aquarium, an ice rink, and more.
The Emirate of Abu Dhabi covers over 80% of the UAE's total land area, yet Abu Dhabi city accounts for only about 2%.
Sheikh Zayed Grand Mosque in Abu Dhabi has the world's largest hand-woven carpet, measuring over 60,000 square feet and weighing 47 tonnes.
The currency of the UAE is the Emirati Dirham. One US dollar is equal to approximately 3.67 dirhams.
The Burj Al Arab Hotel in Dubai is frequently voted the world's most luxurious hotel, with features like a fleet of Rolls Royce cars and an interior decorated with real gold leaf.
Falconry is a treasured traditional sport in the UAE, and falcon hospitals exist to care for the health of prized falcons.
United Arab Emirates: Fact or Fiction?
With its ultra-modern cities rising from the desert, the UAE seems almost fictional at times. But which of these outrageous-sounding factoids are real, and which are purely fiction? Time to separate UAE fact from fiction!
Fact or Fiction: Skiing is possible in Dubai despite the hot desert climate.
FACT: It's real! The Mall of the Emirates contains Ski Dubai, an indoor ski resort with real snow. The runs stretch over 3,000 square feet with temperatures below freezing.
Fact or Fiction: Dubai has underwater tennis courts in a hotel.
FICTION: Unfortunately, not real. Though Dubai does have audacious hotels, underwater tennis would likely be logistically unfeasible!
Fact or Fiction: A company wanted to tow an iceberg from Antarctica to Abu Dhabi.
FACT: In 2018, there were plans to tow a massive iceberg to provide fresh water to Abu Dhabi. It was halted due to costs and risks.
Fact or Fiction: Dubai has robot police officers.
FACT: In 2017, Dubai debuted real robot cops to patrol streets and tourist destinations. They can recognize faces and license plates!
Fact or Fiction: Dubai has palm-shaped man-made archipelagos.
FACT: Seen from above, the artificial Palm Jumeirah Island has a palm tree shape, and the Palm Jebel Ali recreates a date palm tree shape.
Fact or Fiction: Ras al Khaimah once held the world's largest flagpole.
FACT: At 561 feet tall, it flew a flag visible across the entire emirate but lost the record in 2014 to one in Dushanbe, Tajikistan.
Fact or Fiction: Dubai has gold vending machines.
FACT: The Gold to Go machines dispense small gold bars and coins. There are over 25 throughout Dubai shopping areas.
The UAE blends fact with fiction in its one-of-a-kind attractions and man-made wonders. This modern nation continues to bring innovative ideas to life in the desert. A visit promises eye-opening experiences at every turn!
Conclusion
In a nutshell, it is difficult to choose between Dubai or Abu Dhabi for a stopover or even for a holiday. Both the cities are unique and have something special to offer. The best thing to do would be to visit both the cities. The distance from Dubai to Abu Dhabi is around 140 km and would take you around 1.5 hours. You can take a private vehicle or bus to travel between the cities. However, if you have the time to see only one city, you have to decide based on your interests and what appeals to you. The choice of the better city would surely depend on your likes, dislikes, and interests.