Skydiving is one of the best adventurous activities to do in Dubai. Here is a complete guide that would give you all the information to know about skydiving in Dubai.
Luxurious hotels, tall buildings, unique constructions, enormous shopping malls, and state-of-the-art theme parks are what come to mind when one thinks about holidays in Dubai. However, Dubai is not just about opulence and glamour. On the other hand, Dubai offers a host of adventurous activities. From dune bashing on miles of desert and ziplining over the Marina to snorkeling with sharks, the city will give you the right amount of adrenaline rush. Apart from all these, Dubai is considered one of the best places for skydiving. Right from proper safety protocols to incredible views, skydiving in Dubai is the best.
Types of Skydiving in Dubai and their Requirements
Indoor Skydiving
If you are new to skydiving and are experiencing jitters at the idea of jumping 13,000 feet above the ground, it would be best to start with indoor skydiving. Here you gear up and enter a vertical wind tunnel that recreates free-falling conditions through various stimulations. iFly Dubai offers this experience in the city. The wind tunnel is 10 meter-long and covered in acrylic glass. Moreover, you are always accompanied by an experienced instructor who would guide you throughout your time inside the tunnel. The best part about indoor skydiving is that there are not too many restrictions. Even children above the age of 2 years can enjoy this. Indoor skydiving would give you a glimpse of what to expect on an actual skydiving trip.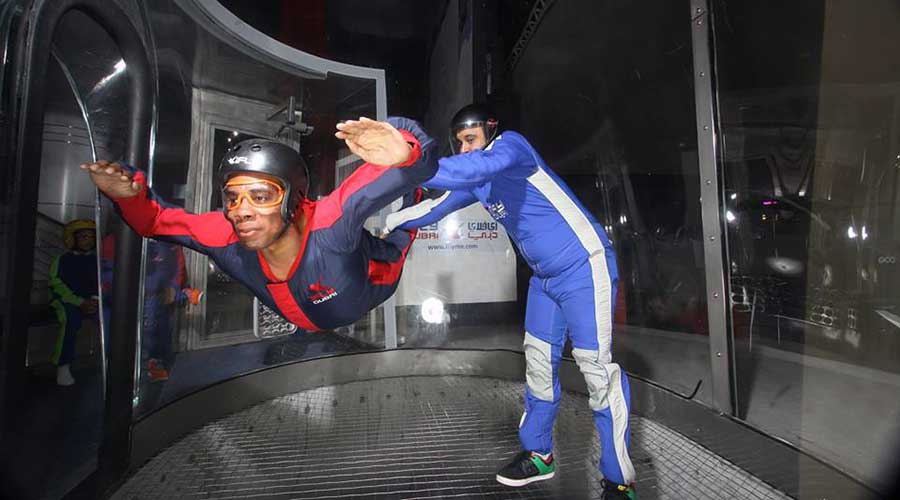 Outdoor Skydiving
Outdoor skydiving is when you jump from an airplane, 13000 feet above the ground. It is one of the most adventurous things you can do in Dubai. Skydive Dubai is a company that offers skydiving experiences to locals as well as tourists. Skydiving in Dubai is not restricted to people who have a skydiving license. New jumpers can also experience skydiving by going tandem jumping with a professional. If you want to be a professional skydiver, you are also offered training at the skydiving school. However, the most popular here is skydiving along with a professional.
Locations
Skydive Dubai offers two skydiving locations in the city: Desert Campus and Palm Jumeirah. Skydiving at the Desert Campus Drop Zone gives you the opportunity to see the rolling sand dunes from a bird's eye view. It is one of the best desert safari activities. On the other hand, the Palm Drop Zone location gives you the chance to see an aerial view of the largest manmade island on earth.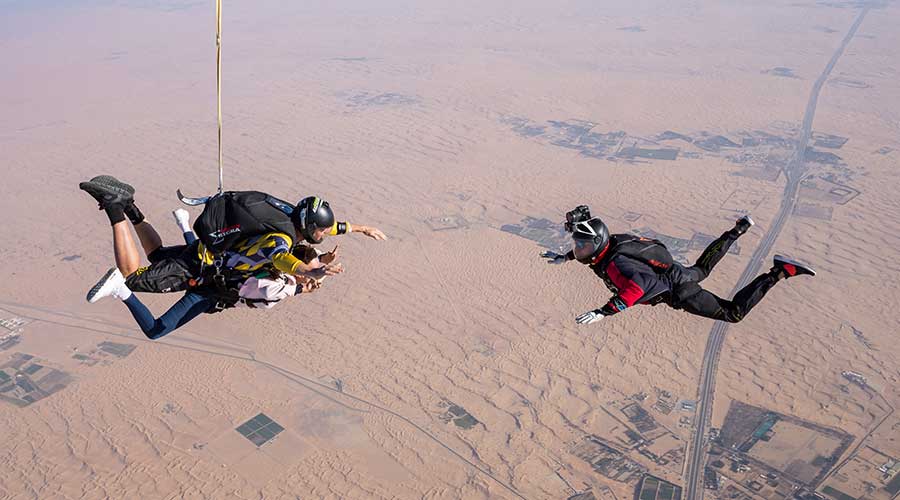 Price
The price of the skydiving experience would depend on the location you choose. The tickets for skydiving at the Palm Drop Zone are costlier than the tickets for skydiving at the Desert Campus Drop Zone. To enjoy the skydiving experience to the fullest, it is best to book your tickets in advance. This gives them the chance to make the best arrangements and offer you the best experience.
---
---
Duration
While the actual skydiving experience takes around 20-30 minutes, you need to dedicate at least 3 hours to skydiving in Dubai.
Requirements
Here is a list of requirements or instructions that you need to follow while going skydiving in Dubai:
Skydiving is open to people above the age of 12 years. Children between the age of 12 and 17 years have to be accompanied by their parents or legal guardians.
In case you are older than 70 years, you need to submit a Declaration of Fitness form signed and stamped by your doctor.
The maximum weight limit for women is 90 kg and their BMI should not be more than 27.5, while the maximum weight limit for men is 100 kg and their BMI should be less than 30. There is no minimum weight limit for skydiving.
It is extremely crucial to not drink or take drugs before your skydiving experience. In fact, there should no drugs or alcohol in your system at least 24 hours before your dive.
In case you have certain medical conditions like fits, high blood pressure, heart or lung disease, epilepsy, severe head injury, alcohol or drug addiction, etc., you need to get a Declaration of Fitness Form signed and stamped by your doctor.
Pregnant women cannot go skydiving
It is important to avoid scuba diving for at least 24 hours before skydiving.
What to Expect
When you arrive at the Skydive Dubai location for your skydiving experience, you would be given a briefing and explanation by a certified skydive instructor regarding safety. It is important to listen carefully during this session. Once this is done, you would get ready by wearing all your skydiving gear, which includes a helmet, harness, jumpsuit, and goggles. After this, you would board the plane from the drop zone you have selected. During the flight, you would be tied to the instructor. As the plane reaches 13,000 feet, it is time for you to jump. You would experience approximately a minute of free falling, after which the instructor would pull the chords to open the parachute, and you would glide in the air while enjoying the beautiful scenery below. A camera person would also be joining the dive to record your entire experience.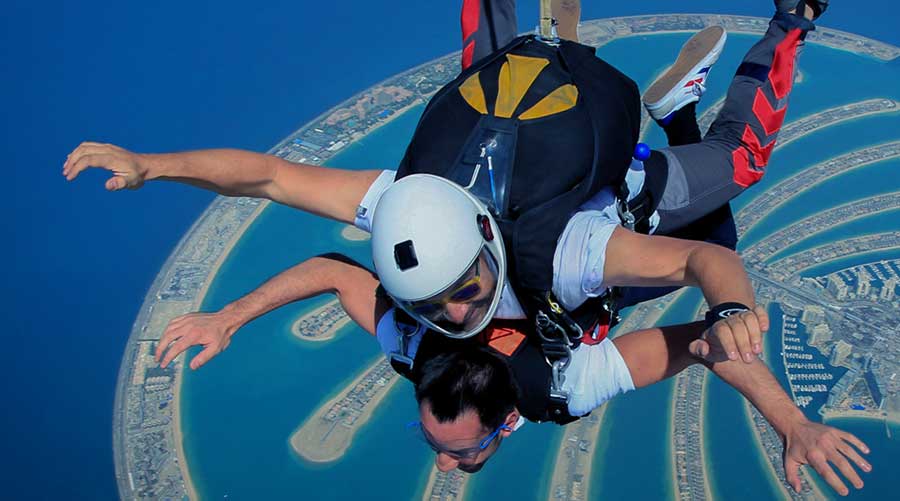 Important Things to Remember
Here are some of the important things that you need to remember before you go skydiving in Dubai:
You need to carry an official government ID, which could be your driver's license, Emirates ID, and passport. The ID of a parent or legal guardian is mandatory in the case of minors
You also need to have a completed and signed copy of the tandem waiver form
You should wear comfortable, athletic clothes for your dive. Avoid shirts and t-shirts that are sleeveless.
Apart from sleeveless shirts and tops, collared shirts, too-short shorts, crop tops, and low-cut tops are also not allowed.
When it comes to footwear, wear sports shoes or sneakers. Avoid shoes that have buckles or studs. Moreover, boots, heeled or platform shoes, and sandals have to be avoided strictly.
It is best to avoid wearing any kind of accessories like watches, jewelry, etc. for the dive. You can keep them in the lockers available at the skydiving location.
You can wear prescription glasses or lenses under the protective eye goggles that are part of your skydiving gear.
The skydiving activity is completely dependent on the weather, and you may have to wait for some time in case of unfavorable climatic conditions. Hence, it is best to not schedule any other activity immediately after this.
If you are a woman and want a female instructor for your tandem skydiving experience, you must mention the same in advance or at the time of booking.
---
---
Skydiving may seem too scary but if you can overcome your fears, the experience you have would definitely be exhilarating. Moreover, you would get to see your entire experience on video and can flaunt the same on your social media pages amongst your friends and family. Still, if you are not comfortable diving from an airplane, you can go on a helicopter ride in Dubai to enjoy a bird's eye view of the city.