As the year comes to an end, the festivities come closer and closer. So, if you have a plan in mind to pack your bags and leave for a trip that you will never forget, Dubai will be a fantastic choice? Dubai is a beautiful place with skyscrapers and amazing restaurants and views. To make the itinerary more interesting, you need to go beyond the city's tall buildings and astounding adventures. Dubai is also about celebrations and events that only come once a year. So, let's look at some of the upcoming and flabbergasting events that Dubai will host in December 2023.
Dubai Weather in December
December is the peak holiday season in Dubai, mainly because the weather is quite pleasant. While the days can be a bit balmy, you will get to enjoy the light breeze and cool weather during the evening. The maximum temperature of Dubai in December is 27° C, while the minimum temperature is somewhere around 15° C. Although it is sunny most of the time in December, there is a slight chance of rain too during this month (not more than 1 mm).
Why Should You Travel to Dubai in December?
The pleasant climate is one of the main reasons for visiting Dubai in December. By visiting Dubai during this month, you will avoid the extreme Dubai heat.
One of the best reasons for visiting Dubai in December is the Dubai Shopping Festival.
Dubai hosts some of the best Christmas and New Year's Eve celebrations.
You get to enjoy all the seasonal attractions like Dubai Miracle Garden, Garden Glow, Global Village Dubai, etc. in December.
Things to do in Dubai in December
Dubai Shopping Festival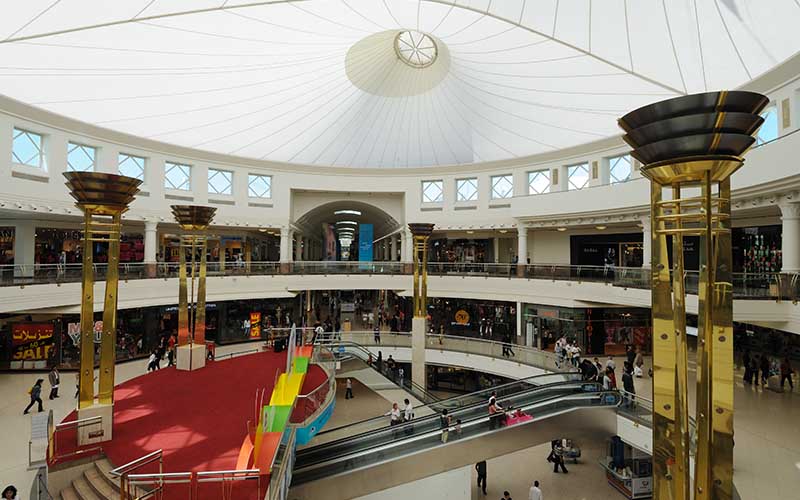 This is a never-like-before opportunity for bargain monsters and shopping enthusiasts. With interactive lighting displays, daily pyrotechnics, and the return of the DSF Drone Light Show, the Dubai Shopping Festival is massive, daring, and incredibly joyous. You can expect a lot of fun and exciting things at the Dubai Shopping Festival this year.
From December 15th to January 30th, visitors and tourists are invited to explore the city through daily offers, interactive competitions, prize drawings, and one-of-a-kind events. Big-name celebrities will join the season's top thrills, while shoppers will enjoy incredible prices and grand prizes, and families will enjoy a new series of DSF Markets, where outdoor activities of all kinds will take center stage.
UAE National Day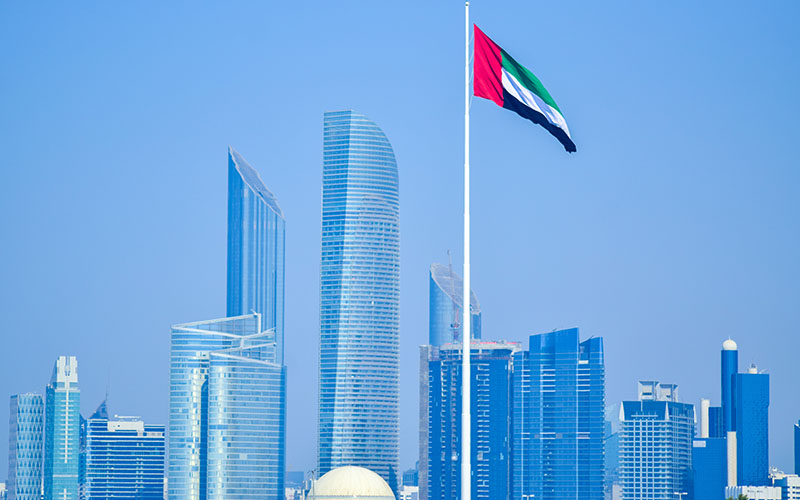 On December 2, Dubai celebrates the National Day of the United Arab Emirates, which is one of the major public holidays in Dubai and the UAE! On this day, Emiratis remember the historic importance of the occasion this year and appreciate those who were helpful in the founding of the UAE. This year UAE celebrates its 51st National Day. On this day the whole city turns into a festive mood, with celebrations all over and decorations all over the city. You get to experience the city dressed up with colors of the UAE national flag. It will make your heart melt seeing such enthusiasm in the citizens, and the celebrations do add to the mood lighting up.
Dubai International Film Festival
The Dubai International Film Festival (DIFF) is the major film festival in the Middle East, Asia, and Africa. Since its inception in 2004, the festival has served as an important worldwide venue for Arab filmmakers and artists, helping to kickstart the region's cinematic revolution. DIFF has established itself as an important worldwide festival as well as a prominent showcase event for Arab film, contributing to the growth and expansion of the regional industry.
The festival has left an indelible imprint on its guests, industry professionals, and fans through its programs, workshops, and seminars, as well as its fundamental mandate of showcasing the best selection of films from across the world. DIFF is a pioneer in promoting better cultural understanding through artistic achievements in film.
Christmas Aqua Acrobatics Performance at La Perle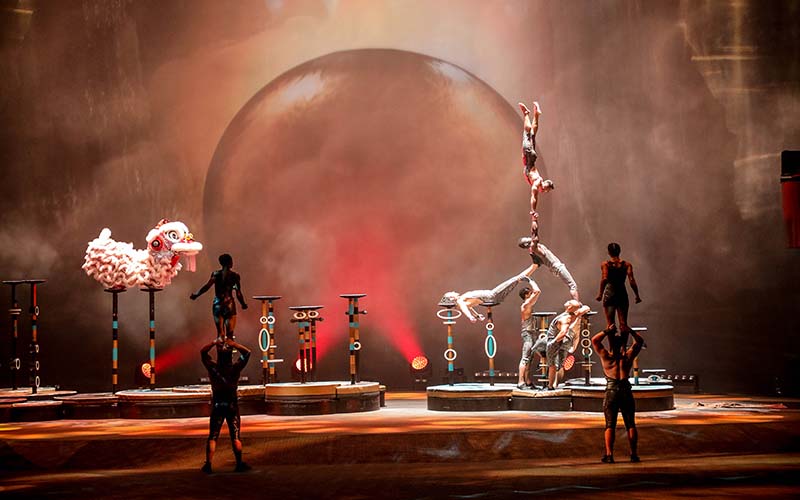 At the La Perle by Dragone in Dubai, you can experience world-class entertainment. Dubai provides an explosion of theatrical performances and cultural exhibitions that attract all visitors and tourists that visit the UAE. However, one of them stands out from the crowd. It is Dragone's La Perle, a beautiful spectacle that will hypnotize you.
The show takes place in a specially designed aqua theatre with an underwater stage that can easily be converted to a dry platform. It features performers from around the world, including the United States, the United Kingdom, Australia, and Germany, who combine dangerous acrobatics and gravity-defying stunt work to transport you into the realm of magical narrative. A spectacle unlike any other, combining live music, beautiful costumes, and precisely coordinated dance techniques, as well as state-of-the-art fountains and hi-tech hydraulic lifts.
Christmas Festivities at Atlantis The Palm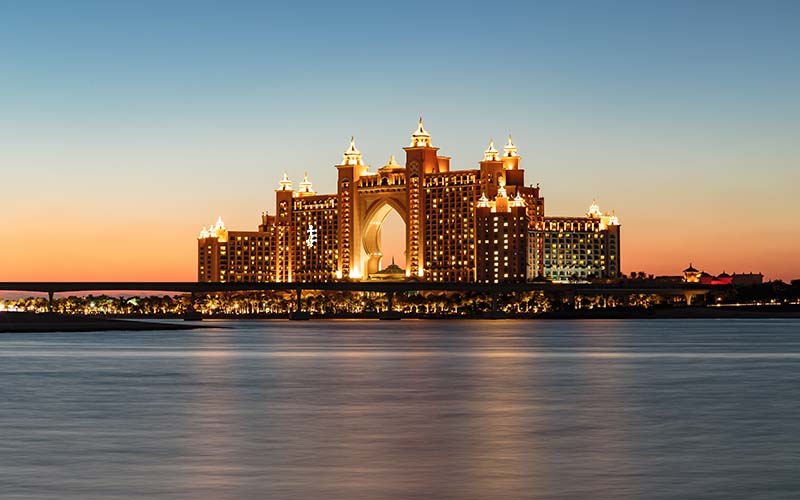 The Christmas season is here, and we can't wait to welcome you and your family to Atlantis Dubai for the most indulgent year-end celebrations and festive delights. At Atlantis Dubai, you can eat, drink, and celebrate the holiday season with your friends and family by participating in an exciting array of festive-themed brunches, special events, live entertainment, unique dining experiences, and an amazing assortment of traditional festivities and memorable holiday experiences.
In December, Cirque De Cuisine's Christmas edition in The Avenues at Atlantis will give you just what you're searching for – a traditional winter wonderland-themed Christmas feast! Signature creations from Michelin-starred restaurants will be served to you and your family in a traditional winter wonderland setting, along with tasting sessions at live cooking stations, traditional Christmas dinner buffets, unlimited drinks, and whimsical live entertainment, treating your senses to the ultimate Christmas gourmet feast in Dubai!
New Year Celebration in Burj Khalifa and Burj Al Arab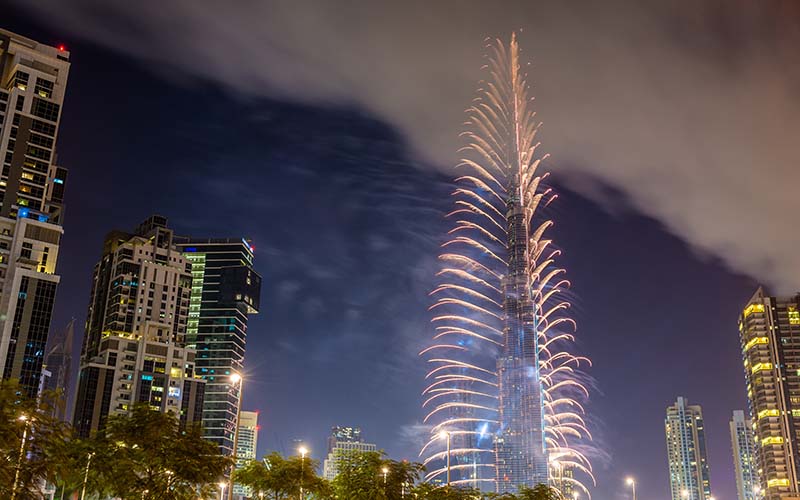 The world's tallest tower, the Burj Khalifa, already draws millions of people to the city. The New Year's Eve fireworks here are among the most widely aired and popular in the world. People travel considerable distances to attend the year's final countdown, which is considered one of the best ways to celebrate New Year in Dubai. However, in addition to the spectacular pyrotechnics, a light and water show is held at about midnight.
The renowned sail-shaped Burj Al Arab in Dubai will light up with New Year's Eve (NYE) fireworks at midnight. For those who reside in New Dubai, the Burj Al Arab New Year's Eve fireworks are a fantastic way to ring in the new year.
For unrivaled views of the Burj Al Arab NYE fireworks, reserve a table at one of the restaurants of the stunning Madinat Jumeirah complex. If you want to see the Dubai fireworks for free, go to Kite Beach or Black Palace Beach. Umm Suqeim Park is also a fantastic site to observe the fireworks from the Burj Al Arab.
Places to See in Dubai in December
Burj Khalifa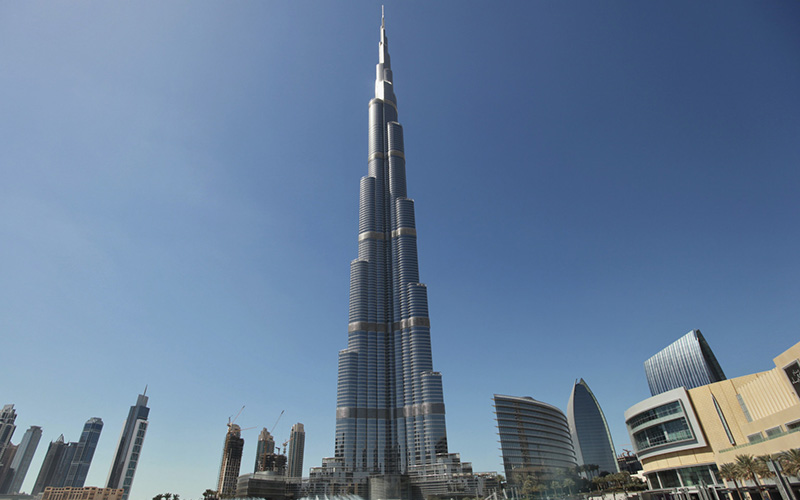 The Burj Khalifa is a modern architectural wonder, one that you should not miss when in Dubai. Standing at a height of 828 meters, the Burj Khalifa is the tallest building in the world. You can visit the observation deck on the 124th or 148th floor to admire the 360o aerial view of the entire city. Apart from this, there is a restaurant on the 122nd floor where you can enjoy a delicious meal while checking out the gorgeous view of the city.
Palm Jumeirah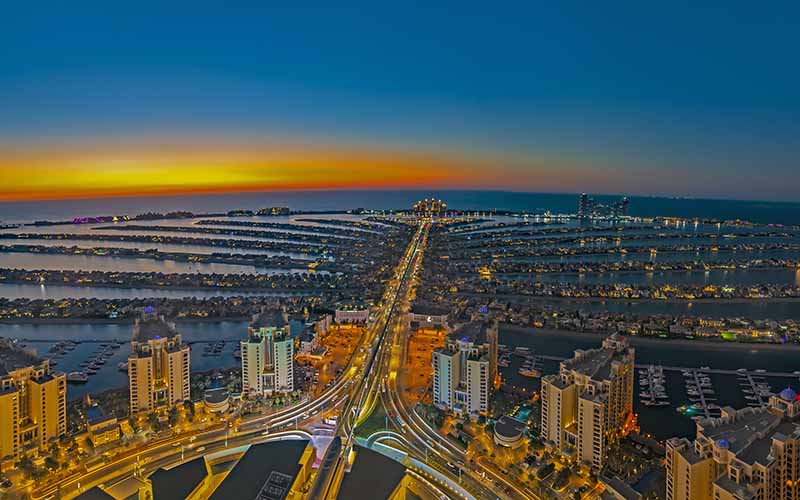 The largest manmade island on earth, the Palm Jumeirah is another architectural marvel that you will see in Dubai. Shaped like a palm tree, the Palm Jumeirah is home to luxurious hotels and resorts, world-class apartments and villas, enormous shopping malls and boutiques, white sandy beaches, fine dining restaurants, and unique cafes. The most popular attraction here is The View at Palm Jumeirah, which is an observation deck that gives you a bird's eye view of this island.
Dubai Parks & Resorts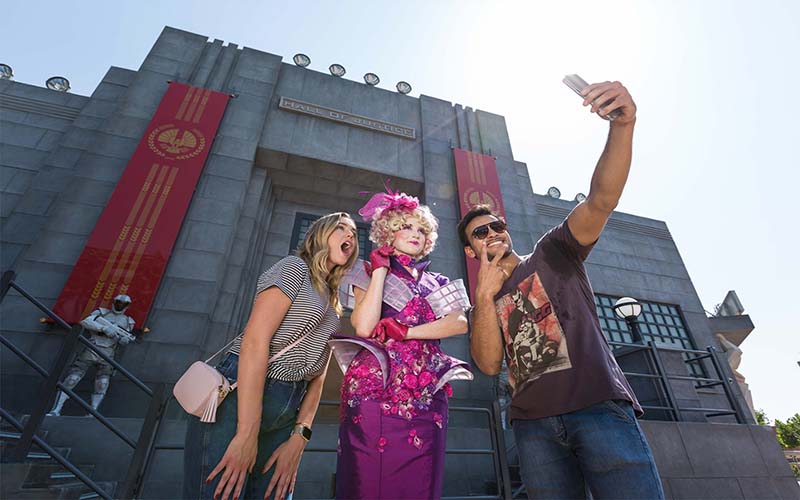 Apart from architectural marvels, Dubai is also one of the top entertainment destinations that is home to some world-class amusement parks. Dubai Parks & Resorts is one of them. This place has 3 theme parks (Motiongate Gate, Bollywood Parks Dubai, and Legoland Dubai) and a water park (Legoland Water Park). Dubai Parks & Resorts also houses luxurious hotels and resorts where you can stay while exploring the amusement parks.
Dubai Garden Glow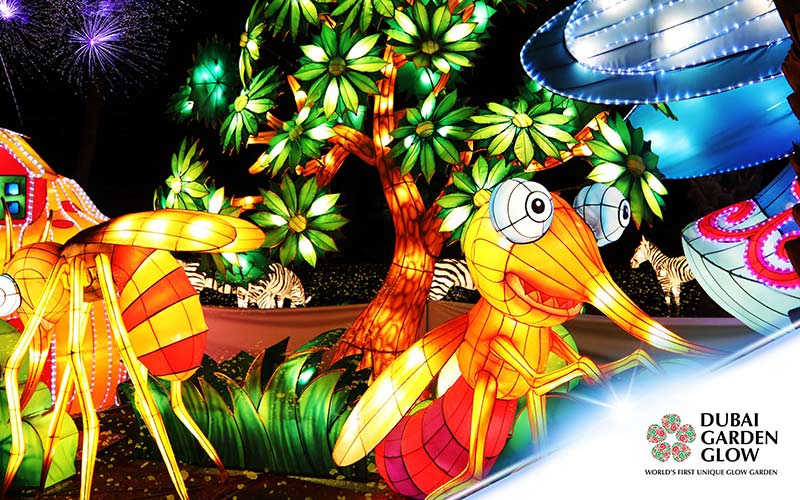 Dubai Garden Glow is a seasonal attraction that remains open from October to March, i.e., during the winter season. The largest glow park in the world, the Glow Garden is made of light installations and sculptures made in an eco-friendly way. You will also get to see a Magic Park, Ice Park, Art Park, and Dinosaur Park here. You should visit this park late in the evening to enjoy it to the fullest.
Global Village Dubai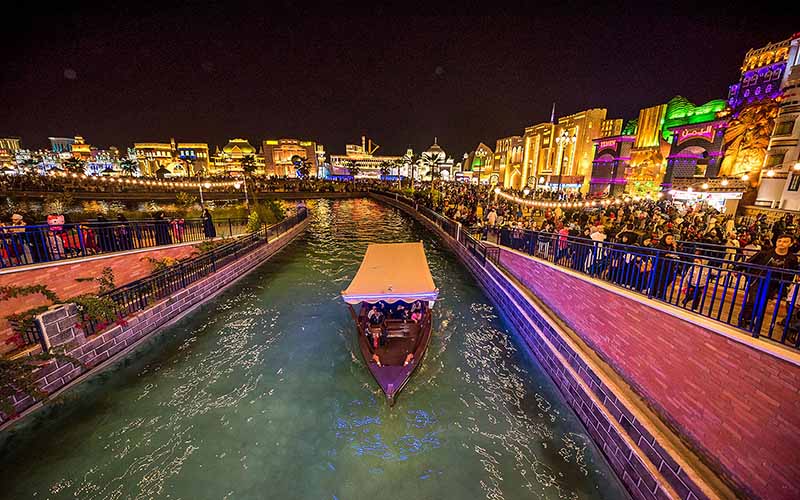 Global Village is another annual event that happens from October to April. It is a festival that includes shopping, entertainment, food, and fun activities as well. At the Global Village, you will get to visit pavilions of different countries where you can shop for local products and handicrafts. You also get to taste delicacies from different countries. You get to watch dance performances, musical concerts, comedy shows, etc. Moreover, you also get to witness amazing fireworks every week.
Desert Safari Dubai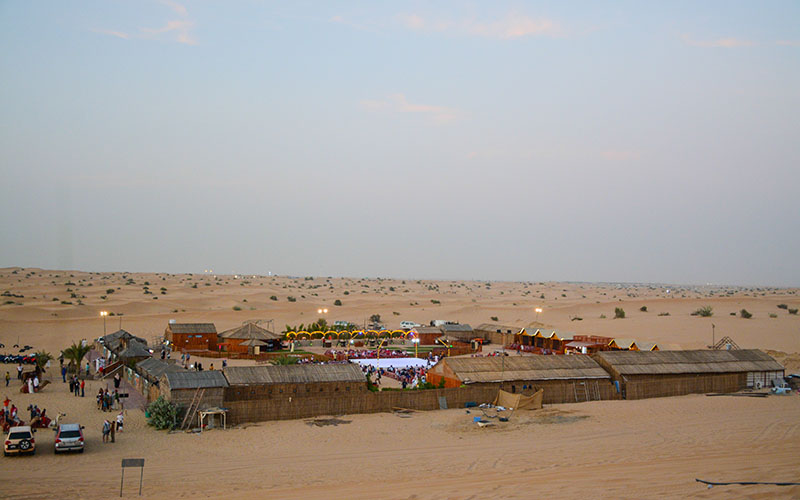 Another place to visit in Dubai in December is the desert. Go on an evening desert safari to enjoy the beauty of the desert as well as try out some fun and interesting activities. Whichever desert safari location you choose to visit, you will get to enjoy adventurous activities like dune bashing, camel riding, sandboarding, and quad biking. You also get to enjoy a delicious dinner in desert safari. Morning desert safaris and overnight desert safaris are also available.
Tips to Travel to Dubai in December
As December is the holiday season, it is important to make your flight bookings and hotel reservations well in advance. Last-minute bookings may lead to the cancellation of your entire holiday plans.
Although the evenings are pleasant in December, the days are warm. Hence, it is best to wear lightweight, cotton clothes while visiting Dubai during this month.
Do download the Dubai Shopping Festival app on your mobile phone, so that you do not miss the incredible deals and discounts that happen during the festival.
Apply sunscreen when you are heading out and keep yourself hydrated by drinking water throughout the day.
FAQs
Is December a good time to visit Dubai?
Yes, December is one of the best months to visit Dubai. The climate is great, giving you the chance to explore all the amazing attractions in the city. Moreover, you can also be part of the Dubai Shopping Festival as well as the myriads of Christmas and New Year celebrations.
Is Dubai busy in December?
Yes, Dubai is extremely busy in December, as the city hosts a number of events, festivals, and celebrations during this month.
Does it rain in December in Dubai?
Yes, there is a slight chance of rain during December in Dubai.
Can I indulge in outdoor activities in Dubai in December?
December is the perfect time to indulge in outdoor activities like
dune bashing
, kite surfing, paragliding,
sky diving
, etc. It is also a great time to go beach hopping in the city.
Conclusion
So, what are you waiting for? The year is almost up, and this is the best opportunity to put those stacked-up leave days from work to good use. So, pack your bags and come down to Dubai and experience the best way to say goodbye to this year and kick start a new one.