The Dubai Emirate features glittering skyscrapers, a gorgeous skyline, state-of-the-art architecture marvels, a rich cultural heritage, and great traditions that oozes off in several places in Dubai. The Dubai deserts are home to the best-kept secrets of Dubai that are vying to be uncovered by the tourist population. Discover amazing facts about the Bedouin culture and get a sneak peek into their lifestyle in this massive desert terrain. The best part is that the desert safari is for people of all ages, as there are several best things to do on a desert safari with kids as well. If you are looking to explore the Dubai desert terrains for the first time, there are some key points that you should note to make this a truly memorable journey. The points collated by us will help you uncover amazing cultural aspects of Bedouin life and give you unique experiences that you would have never experienced in your lifetime.
Types of Dubai Desert Safari
Basis your taste, preference, and requirements, you can opt for the morning, evening, and overnight desert safari. Each safari on a 4×4 desert terrain air-conditioned vehicle offers magnificent views and a thrilling set of activities and is loaded with plenty of entertainment all through the journey. All Dubai Desert Safaris provide a pickup and drop-off to your hotel or any other place of your convenience.
Morning Dubai Desert Safari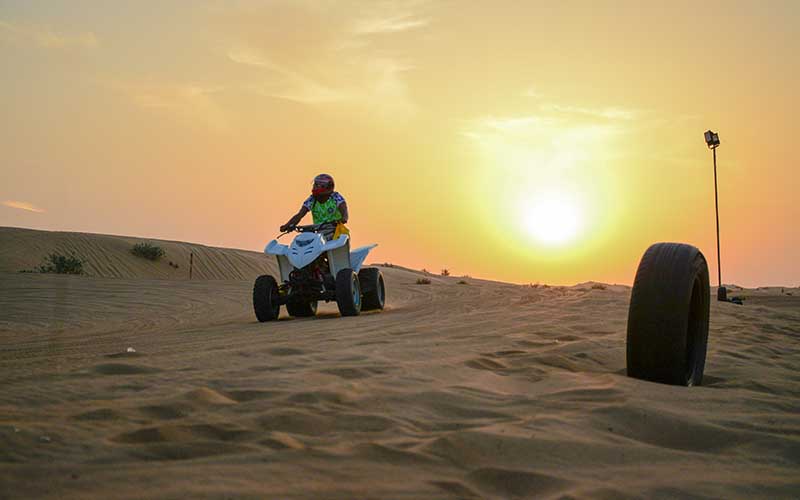 This tour kicks off at 4:30 am in the heart of the Grand Arabian Desert. Catch hold of the spectacular views of the sunrise among very few crowds in the desert. Then, enjoy an amazing set of desert sports before the harsh hot sunsets. Some must-try activities are hot air balloon rides, scrumptious breakfast with Arabic coffee, traditional sweets, and dates in a Bedouin-type desert camp. For all the early birds, this tour is the perfect recipe.
Evening Dubai Desert Safari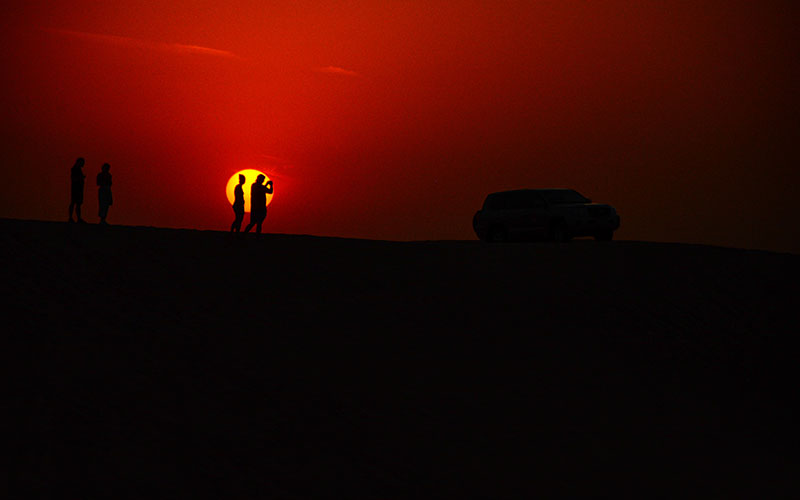 This tour kicks off post-lunch around 3 to 4 pm. First, explore the amazing wildlife in the desert and indulge in several special activities like falconry, sand skiing, sandboarding, quad biking, and dune bashing. Next, you can enjoy a camel ride at the desert camp as you navigate the fine dunes. Post that, you can enjoy cultural activities like applying henna on your hands & legs, clicking a photograph in traditional Arabic attire, superb belly dancing performances, and feasting on a delicious barbecue dinner.
Overnight Dubai Desert Safari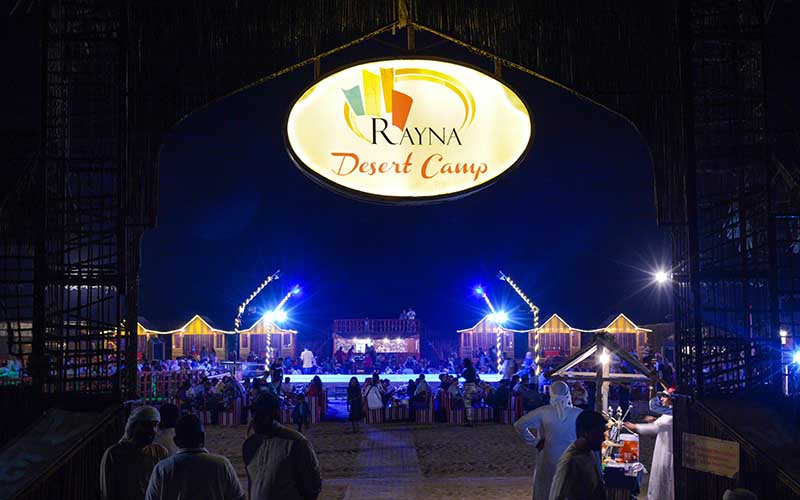 This tour starts close to sunset, and a full range of entertainment and cultural activities await you in the heart of the grand Arabian desert. Over the next 12 hours, you will enjoy live performances, a delightful barbecue dinner, and a unique camping-style tent where you will spend a night under the starlit sky. Finally, take some rest overnight and wake up to the fresh smell of Arabic coffee before winding your tour.
Dubai Desert Safari cost
You will get different variations in the Dubai Desert Safari based on the indulgences and activities you opt for as part of your journey and the length of your tour. There are several budget-friendly options, starting from AED 36 onwards per person, with a hotel pickup and drop off. The cost would subsequently increase as you add more activities and experiences to your tour. For an elegant, rich, and royal experience in the grand Arabian desert, you can get your package from AED 367 onwards per person. Spend a romantic date, celebrate an occasion, or bask in the royal retreat in the desert.
Best time for a Dubai Desert Safari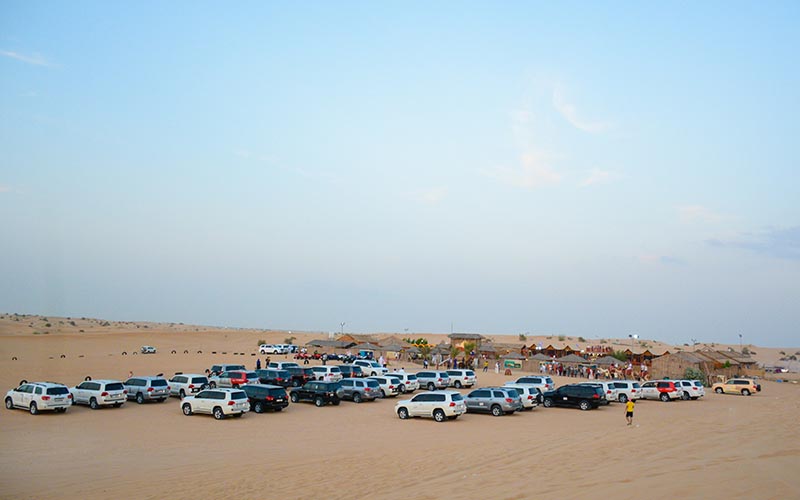 The months between November and March bring in milder afternoons perfect for a desert safari. As the weather is pleasant, you are bound to get more crowds. The late evenings and nights bring in a little chill much lower than you will experience in the main city. Avoid the summer months if you are not used to the Dubai heat. Due to very few crowds, many tour operators don't provide the Dubai Desert Safari tours in the summer months.
Accessories and Essentials to be carried along
When venturing into the grand Arabian desert, photos are a must, so either bring your phone or your camera to capture these precious moments. In addition, sunscreen lotion, sunglasses, a bottle of water for hydration, and sanitiser are key essentials to pack when travelling to the deserts of Dubai.
Desert dressing code
You can wade up the glitzy nature of Dubai city in the desert. The desert landscape expects you to wear breathable and lightweight clothes that will permit you to indulge in Desert sports and activities easily. Also, wear clothes that will provide you protection from the scorching sun. If you are venturing into the desert during late evenings and nights, do carry some warm clothes as it is chilly compared to the main Dubai city. For footwear, wear something that will be easy for you to clean up as you navigate through the desert terrain. The fine sand gravel can easily get into footwear, keeping you very uncomfortable on your journey.
Research about your tour operator well before finalization
The Dubai Desert Safari is one of the most anticipated journeys people undertake in their lifetime, so let is not spoiled because of the tour operator's poor facilities and bad reputation. Research well and read the customer reviews well, and don't go by just word-of-mouth recommendations. This journey can change your entire perception of the Desert landscape.
Surreal expectations
You will experience several unique experiences in the Desert landscape as you leave the glitz and glamour of Dubai city far behind. The entire journey is in an air-conditioned desert terrain 4×4 vehicle. Get ready for some high-octane thrills as you venture into some adventurous stuff like dune bashing, quad biking, sandboarding, and dune buggy. Don't miss the chance to spot some amazing wildlife in the desert like the gazelles, Arabian Oryx, camels, and desert eagle owl. If you may have missed it, don't worry at the desert camp, take a camel ride, and enjoy the desert landscape like never before. Indulge in the several cultural activities on display at the desert camp that will match the taste and preferences of all global travellers. The meal at the desert camp is the ultimate icing on the cake as it features several tantalizing international and local barbecue delicacies. These are definitely some of the top reasons to try the desert safari in Dubai.