The majestic city of Dubai is not only about high rises and luxury complexes. It also is a playground for all adventure lovers and thrill seekers.
Hence if you are someone who craves adventure and wants to get away from the concrete jungle for some pulse-pounding activity, then you must try the Dune Buggy safari in Dubai. It is your ticket to an adrenaline-pumping desert escape like none other.
A Glimpse of Dune Buggy Safari in Dubai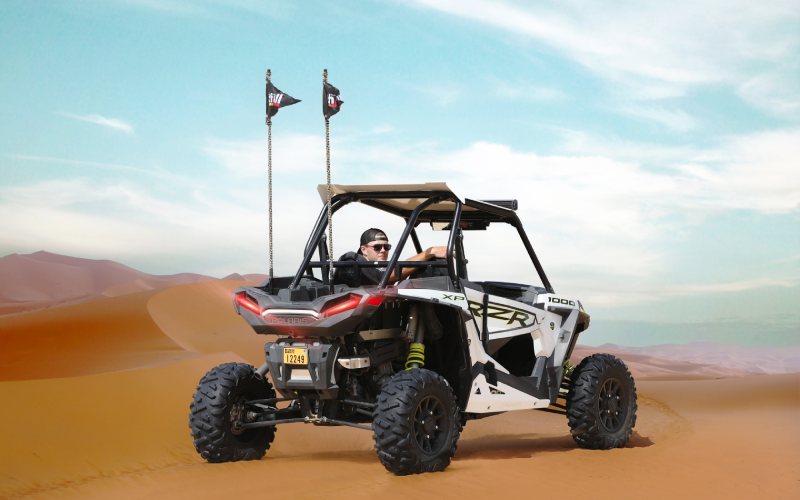 Get ready for an offbeat adventure that allows you to command a dune buggy through the sand dunes of the beautiful golden Arabian desert. In most desert safaris, you are just a passenger. But this time, you will be taking the helm.
Just imagine yourself driving over the gigantic sand dunes, feeling the cold wind against your face, and navigating through an ever-changing terrain in a powerful buggy.
Dune Buggy Safari Dubai: The Inside Scoop
Now let us dive into the intricate details of the safari. If you are panicking that you are not a seasoned driver, relax. Before embarking on the safari, instructors will spend some time teaching you the basics. Once you are confident and ready, it is time to rev the engines and let the beast run free!
Now talking about the duration of your safari, it will totally depend on the package that you choose. Whether you want two or three hours of adrenaline rush or a half-day desert odyssey, there is a package for everyone.
The Dune Buggy safari isn't only about conquering the dunes. It is about soaking in the raw beauty of the desert, observing its beauty, and then charging forward.
What's Included in Your Dune Buggy Safari?
But wait, there's more! Beyond the thrill of handling your own buggy, most Dune Buggy safari packages come with exciting extras.
Imagine getting picked up from your hotel and dropped off after your adventure. Think about sipping on refreshing beverages in the middle of nowhere, taking a breather from your sandy exploits.
And for those who crave more desert vibes, some packages even offer sandboarding or camel riding as part of the deal. It's like a buffet of desert adventures!
Prepping for the Dune Buggy safari
Before you rev your engines, here are a few essentials to keep in mind:
Dress the Part: Comfort is key. Slip into light, breathable clothing that's desert-friendly. Don't forget the shades and sunscreen – the sun here means business.
The Right Kicks: Closed-toe shoes are your best friends during this ride. Protect those feet!
Capture the Magic: Pack your camera or phone. The desert's golden hues and your exhilarating expressions need to be captured.
Age and Health Matters: Different operators have different age and health criteria. Make sure you're eligible to embark on this sandy adventure.
Plan Ahead: With the popularity of Dune Buggy safaris, it's wise to book in advance, especially during peak tourist seasons.
The Dune Buggy safari isn't just an adventure; it's a passport to a realm where the desert becomes your playground, and the dunes become your challenges.
Sunset Desert safari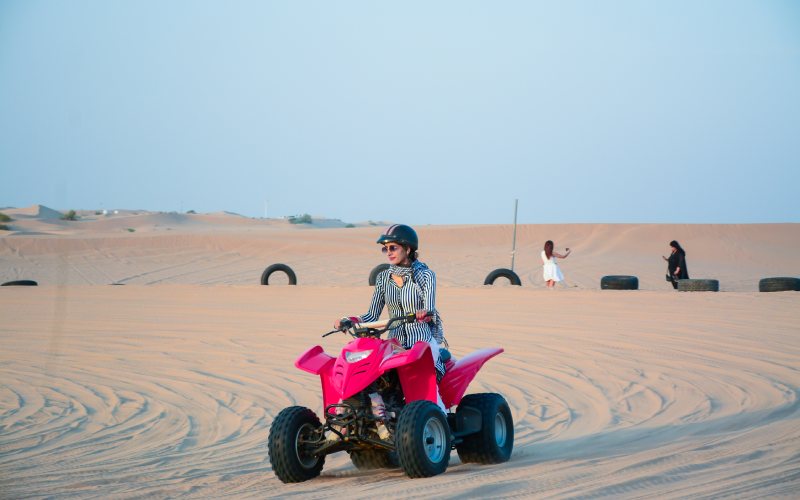 Imagine the sun beginning its descent, casting a warm golden glow over the endless dunes. Many Dune Buggy safari operators offer sunset packages, allowing you to experience the desert's transformation as day turns into night.
This magical transition with the colors of the sand and the blues sky blending is just mesmerizing.
Things You Can Do While Participating in the Dune Buggy Safari
Tales Around the Campfire
An integral part of the Dune Buggy safari is the opportunity to connect with the desert's rich culture. After an exhilarating ride, gather around a traditional campsite where stories are shared, and friendships are formed.
Delight in a sumptuous Arabian feast, complete with grilled delicacies and aromatic spices. As the stars twinkle above, immerse yourself in the charm of Arabian hospitality.
Capturing Memories
Your Dune Buggy safari experience isn't just etched in your memory; it's also captured through the lens of your camera. Don't miss the chance to document your adventure – from the wide grins before you set off to the sandy tales you'll recount later.
These snapshots aren't just pictures; they're tokens of an experience that will become a part of your personal narrative.
FAQS
Do I need prior driving experience for the Dune Buggy safari in Dubai
Not at all; the Dune Buggy safari adventure has been specially designed, keeping in mind the driving skills of both novice and experienced drivers. Before every ride, the instructors will share the briefing and hands-on instructions that will help you feel confident and get ready.
What is the best time of day to experience the Dune Buggy safari
One can enjoy the Dune Buggy safari during the daytime and sunset. The daytime safari is ideal for everyone who wants to witness the golden desert, while the sunset safari allows you to enjoy the desert in the dark.
Are there age restrictions for participating in the Dune Buggy safari
Participants are expected to be at least 18 years old with a valid driver's license. Some operators may also offer family-friendly packages where younger participants can join as passengers.
What should I wear and bring for the Dune Buggy safari
Opt for lightweight, breathable clothing that covers your arms and legs to protect you from sun exposure. Closed-toe shoes are a must to ensure safety during the ride. Don't forget essentials like sunglasses, sunscreen, a hat, and a camera or smartphone to capture the exhilarating moments. We recommend that you wear lightweight, breathable, and long sleeve clothes. Also, wear closed-toe shoes, and do not forget to bring essentials like sunscreen, sunglasses, a hat, and a camera.
How do I book a Dune Buggy safari in Dubai?
Most tour operators have their online website. You can visit them, fill out your personal details, select a preferred date, time, and package, and then book your safari.


Conclusion
The Dubai Dune Buggy safari is not your regular ride. It offers an immersive one-of-a-lifetime experience that will tap into your inner adventurer.
The safari is all about feeling the pulse of the golden desert, embracing its raw beauty, and thereby creating memories that will last forever.
So are you ready to let loose and feel the desert sun? Well, your Dune Buggy safari awaits. Just remember to pack your essentials and respect the local traditions and customs.
Your ultimate desert escape beckons – are you ready to take the wheel?