If you have booked your Dubai tour tickets, you should prepare for your first Dubai desert safari. Apart from choosing the right desert safari for you, it is important to ensure that you maintain the perfect balance between practicality, etiquette, and cultural sensitivity by knowing what to wear in the desert. This article will serve you perfectly if you want to garner more details about dressing.
Here's Your Guide to What to Wear On a Desert Safari Dubai Tour:
Dressing in Dubai for an event and occasion can be tricky at times, as you need to dress with modesty since you are in a Muslim country, and at the same time, you also have people showing up in half-dressed clothes, enjoying the warmth of the sun. It becomes confusing as the travel forum advice looks contradictory to what is seen but is not. You can easily tackle such scenarios by knowing the exact dress code of what to wear in the desert. A Dubai desert safari brings in a new set of wardrobe challenges or dilemmas if you do not have clarity about what to wear on the desert safari. Additionally, you must maintain the perfect balance between modesty and cultural sensitivity, keeping fashion way behind.
Dress Code for Desert Safari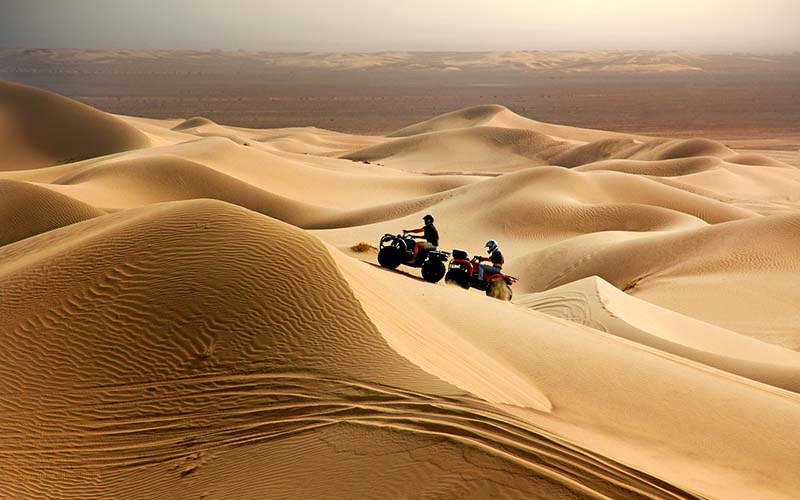 The temperature changes rapidly in Dubai, even when you travel a short distance from the skyscrapers. The winters witness almost ten-degree cooler temperatures if you are away from the city. A pair of comfortable jeans with a cardigan or pullover will be your answer to what to wear on a desert safari during winter. A thicker down coat and a long sleeve top or t-shirt will meet the criteria for a cold night.
On the contrary, summers are hot and can reach extremes at times that are too hard for individuals visiting Dubai for the first time. Wearing breathable material fabric that will easily work in tandem with profuse perspiring like cotton, rayon, and linen will be your answer to what to wear on a desert safari during summer. Culottes and loose cotton trousers should also be ideal for hot summers. If you perspire profoundly, it is much more required to wear clothing that will maintain an easy airflow.
Ideally, wear whatever you are comfortable wearing. But then, follow these tips for the best experience:
Avoid tight, and clingy clothing that reveals skin should be strictly avoided. A sleeveless tank top or shirt should do absolutely fine.
Loose clothing made from natural fibers is the best fabric to deal with fine sand, gravel, and heat.
Use a head wrap or hat to cover and protect your face from the sand dust, especially during desert sports and other adventure activities.
Outfit for a desert safari while embracing adventurous and entertainment activities: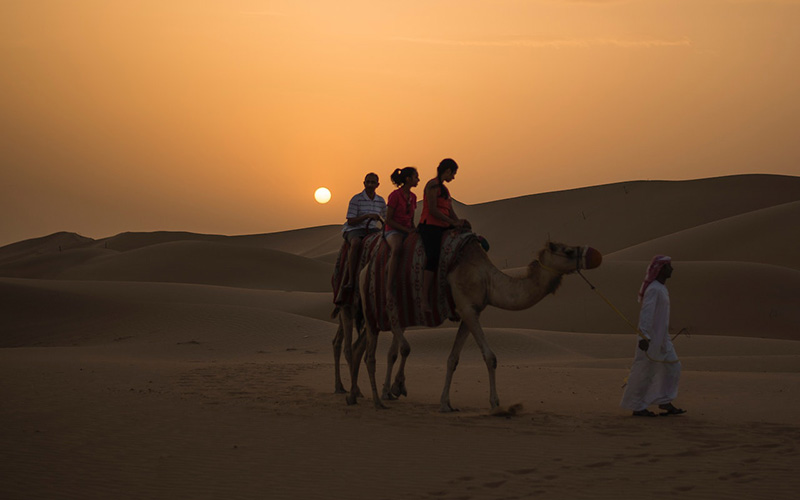 Your desert safari includes various adventures and indulgences that require an outfit that will keep you comfortable and not spoil your experience.
Camel riding – camel riding may not be one of the elegant rides you would indulge in your journey. It could be bumpy and rough at times. Consider wearing shorts and trousers.
Dune bashing – this adrenaline-pumping activity will surely be a nerve-wracking one. Make sure you are well supported because it becomes bumpy as it moves up and down the sand dunes. Light, breathable, and comfortable clothing is always recommended for this activity.
Sandboarding – your thrilling adventure comes with sand loads. Closed-toe footwear is recommended, as fine gravel or sand can be easily waded off at the end of your adventure. This is because they are collated where the sand is collated by the end.
Quad biking with desert safari – some camps mandate closed-toe footwear. If you wear short clothes, indulging in such an activity is practically impossible. Sportswear clothing is best suited for these activities.
Barbecue Dinner & Entertainment – The lavish dinner meal is consumed sitting on the floor rugs. Wear clothing that you will be comfortable sitting down in. A fresh shirt with loose trousers or leggings would be the ideal code.
Your answer to what to wear in the desert is clothes that are easily adjustable, breathable, and neutral for all temperatures – summers and winters. Deserts are hot in the mornings, and evenings are freezing cold.
Female Desert Safari Outfit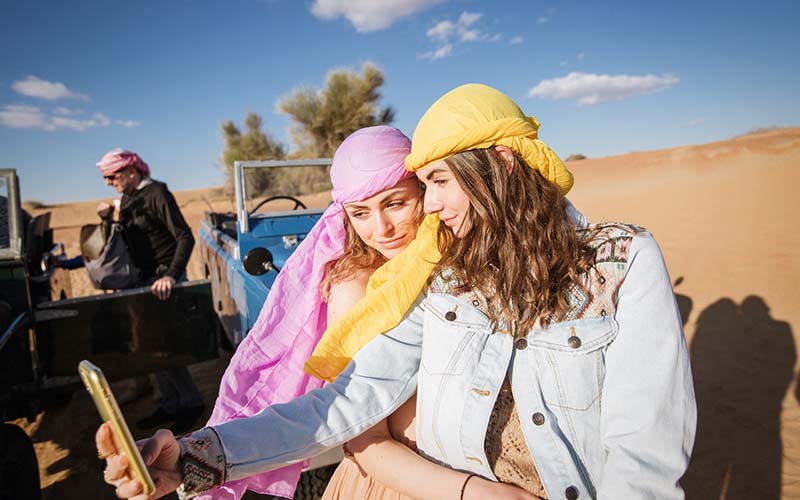 The dress code in Dubai does not require women to be wrapped all the time, nor are short clothes forbidden here. People should cover their shoulders and knees as a standard thumb rule, but it can be flexible depending on the occasion and destination.
Wearing short or half-dressed clothing on a desert safari is not very practical as the meals are consumed sitting on the floor. Try keeping shorts or skirts at least mid-thigh in length if you still intend to wear them. You do not want to garner unwanted attention and imagination to take place that will make you uncomfortable during your entire desert safari. This will end up spoiling your complete desert experience. So, whatever you wear, ensure you are comfortable wearing them, and it doesn't raise eyeballs from other people.
Ladies can look to wear something more structured like a sports bra if they are looking to indulge in adventurous activities like dune bashing and other desert sports.
---
---
Dubai in the Month of August
August is the peak of the summer season; hence many global tourists shy away from the extreme heat. It also coincides with the school and college summer vacation; hence, you will find a reduced crowd density. If you looking to indulge in a Dubai desert safari, we recommend you try the overnight safari to avoid the extreme heat, when touring Dubai in August.
Tips for Travellers:
Your desert safari tour will include food, refreshments, and water unless you have opted out. We also bring you some important things you should note before embarking on your Dubai holiday.
Maintaining cultural sensitivity is the key when you are visiting Dubai. A balance is always maintained between practicality and cultural sensitivity while dressing. In addition, dressing up for the weather is important, especially when embarking on a desert safari.
We bring you some key things to carry for a desert safari that will make you feel comfortable and enjoy the complete desert adventure to the fullest. These are some important things every traveler should know before coming to Dubai.
Antiperspirant wipes or a sweat towel can be handy during the peak summers.
Coat your legs with talc or beach powder to wade off the sand
Keep extra cash if you want to add extra indulgences on your trip apart from the package you opted for. Dune buggies, fat bikes, sand boarding, and quad biking are all additional extras.
Keep your camera or phone fully charged. You should not miss out on these unforgettable click moments in your journey.
Lip balm, shades, sunscreen, and a hat or head wrap will be your best friend for most of your desert adventure.
Sanitize your hands after touching camels
Use wet wipes and tissues, especially if you are traveling with young kids
Carry a sand proof bag to carry all the above
Leave your valuables and accessories in the hotel. Finding your missing earring or your favourite watch is next to impossible.
The desert safari in Dubai is the best way to spend an evening away from the city. It is also great for special occasions. In fact, you can also celebrate New Year's eve in the desert. Whatever the reason you are visiting the desert, ensure that you dress comfortably to have a memorable and hassle-free trip.