Dubai engages tourists like no other city in the world. Here, you can pick and choose your options for fun and entertainment throughout your stay. Desert Safari Dubai is the best option for both. Whether you wish to get out of the rut or jazz up your mood, it is the perfect choice for both.
But when it comes to Desert Safari, there are many locations in Dubai. You might want to go to the best ones for an invaluable experience. Given the long list of locations for desert safari in Dubai, you may come across the problem of choice. Read on to know about the best locations for the ultimate experience of taking part in Dubai desert safari activities.
What Makes Dubai Desert Safari a Truly Memorable Experience?
A Dubai desert safari is an unforgettable experience due to the size of the Arabian desert, the rich experiences found among the sand dunes, and the variety of thrilling activities offered every day. Choose from a variety of blue-lit photography tours, daring desert safari excursions, thrilling night safari excursions, and spectacular desert nights. Dubai Night Safari showcases the finest of Arabian nights & is unquestionably worthwhile to try. It is embellished with daring rides, Arabian music, and delectable food. A variety of activities are available during Dubai's desert safari, which beams with picture-perfect mornings & vibrant evenings.
Duration of a Typical Dubai Desert Safari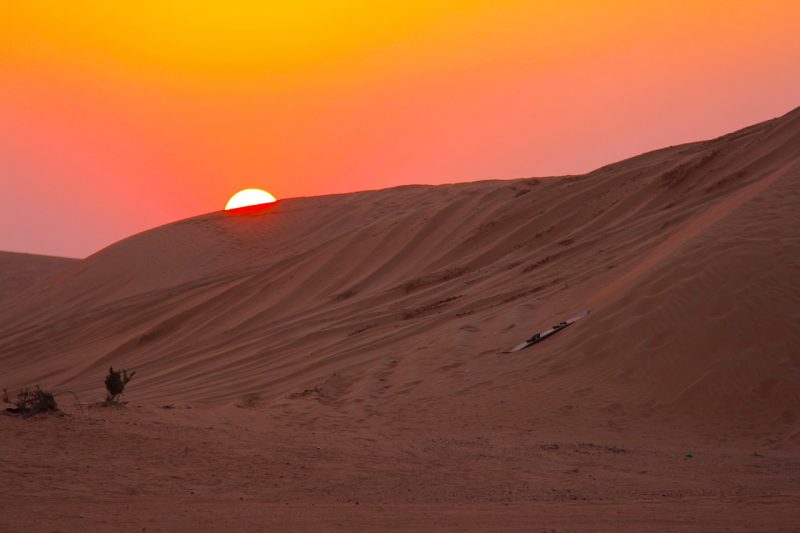 The Safari typically lasts for 6 hours, during which the guests can partake in a variety of desert activities. The majority of Dubai's desert safaris should begin at 3/4 pm, especially when the sun has started to slowly sink below the horizon, and last until 10 or 11 pm. Overnight desert safaris nonetheless are well-liked and advised, allowing you to camp all night, have some Barbeque under the stars, and watch the sunrise before leaving.
How to Pick the Best Location for Dubai Desert Safari?
Dubai is famous for its desert safaris and there are many locations that offer this experience. Here are some factors to consider when picking the best location for your Dubai desert safari:
Accessibility: Choose a location which is easily accessible and not too far from your hotel or residence. The closer the location, the more convenient it will be for you.
Desert type: Dubai has different types of deserts, such as the red dunes, the golden dunes, and the fossil rocks. Each type offers a unique experience, so choose the one that interests you the most.
Tour operator: Research tour operators that offer desert safaris in Dubai and read reviews from previous customers. Look for operators that are licensed and experienced in the industry.
Time of day: Dubai desert safaris are offered during the morning, afternoon, and evening. Each time offers a different experience, so choose the one that fits your schedule and preferences.
Group size: Consider the size of the group you will be traveling with. If you prefer a more intimate experience, choose a tour operator that offers smaller group sizes.
Cost: Dubai desert safaris can vary in price, so consider your budget when selecting a location. Choose a location that offers a good value for money and includes activities that you are interested in.
Inclusions: Check the inclusions of the safari packages, such as camel rides, dune bashing, belly dancing, and dinner. Choose a package that includes activities that interest you.
Overall, the best location for your Dubai desert safari will depend on your preferences, budget, and schedule. Consider the factors above to help you make an informed decision.
The Best Locations for Dubai Desert Safari Activities
On average, Dubai Desert Safari lasts for six hours. However, it could be more, depending on the package you choose. Here are the top locations wherein you can get the true feel of Dubai Desert safari for kids and adults in the true sense of the term.
1. Al Qudra Desert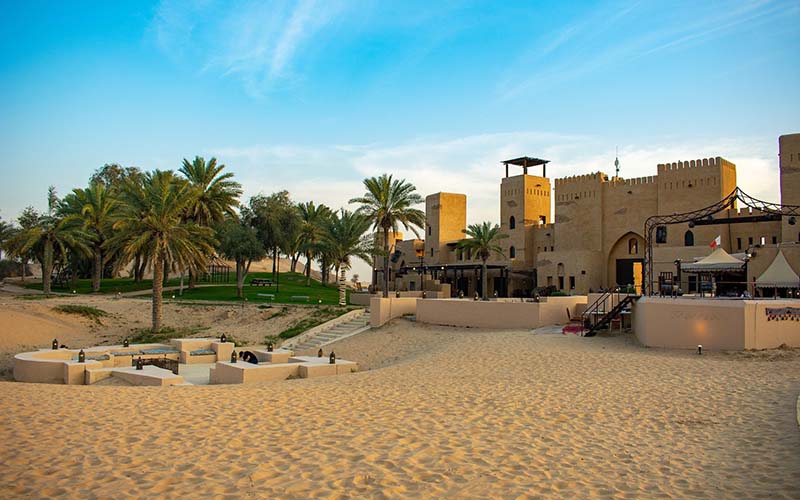 If you are fond of wildlife photography, quad biking, and camping, the Al Qudra Desert is the best place for these activities. You can come here between November and February. Other than beautiful dunes, this place is also popular for housing a rich variety of desert fauna. If you are a bird lover, this place is ideal for you as you can see more than 130 species of birds here.
2. Lahbab Desert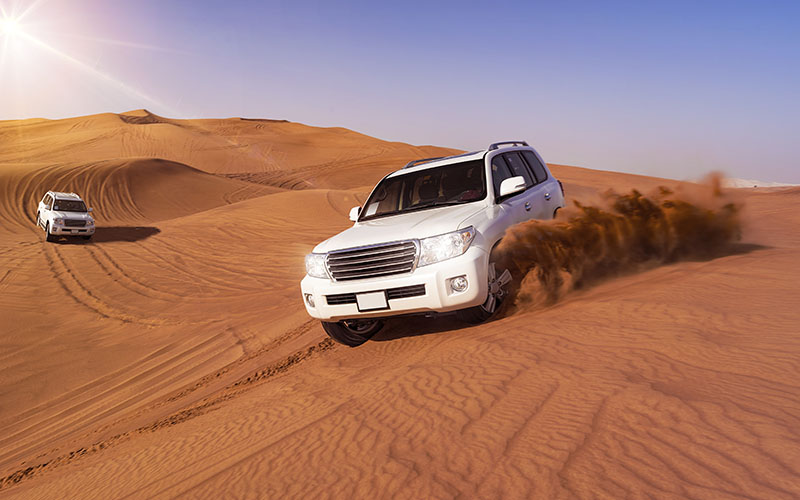 You will find many options for dune bashing and sandboarding in Dubai. But if you want to enjoy the experience of camping in Bedouin style along with these activities, you must visit the Lahbab Desert. The desert stretches over 2000 kilometers and is home to a rich diversity of wildlife. The history of the Lahbab Desert is about 6000 years old. You can visit this place between November and February.
3. Bidayer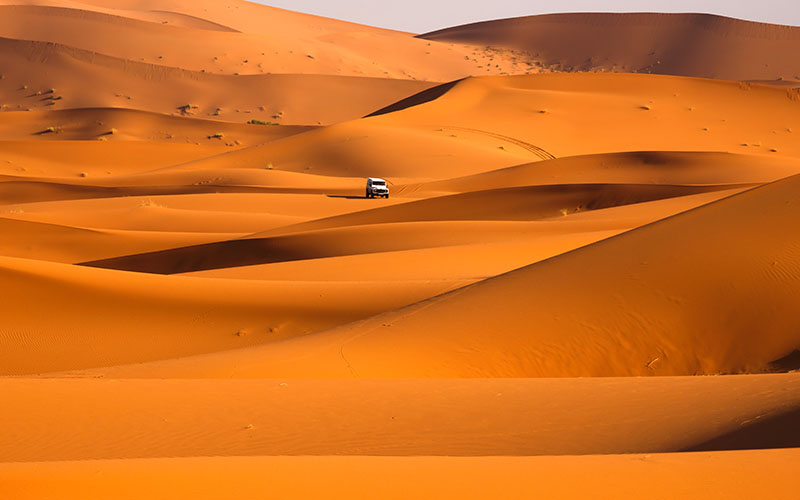 Are you a 4×4 enthusiast? If yes, Bidayer is a Dubai desert safari place name that would come to your mind. It is a must-visit place for you between November and February for several activities. These include camping, dune bashing, and quad biking. It is a spot that is popular among tourists for two reasons: its smooth dunes and terracotta red color. Compared to the dunes of the other regions in the Middle East, the ones in Bidayer are the smoothest.
The best thing about the desert is its location along the Hatta Oman Road, which makes it easily accessible. Because it has the smoothest dunes, you do not need to worry about handling a dune after arriving at this place. Whether you are professional or not, you can handle them with ease.
4. Sweihan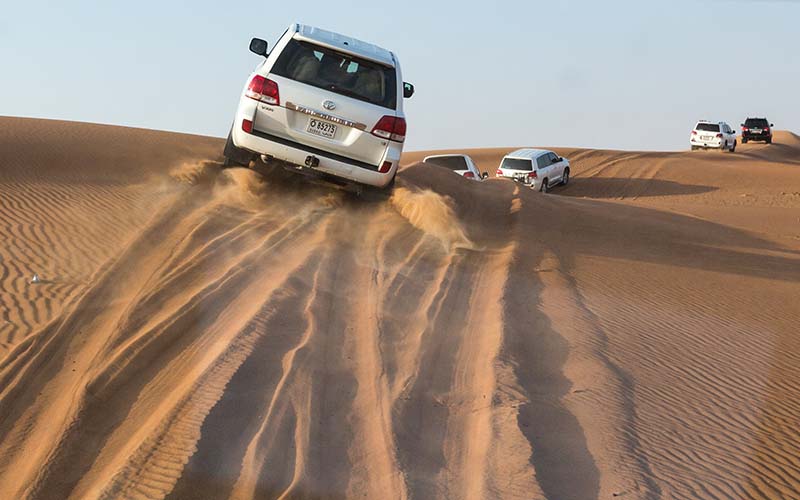 If you have been looking for the best desert safari location in Dubai between November and February, especially in terms of exploring a place on a vehicle, Sweihan is where you would want to be. The hallmark feature of the training ground is its location which borders three popular emirates, namely Al Ain, Abu Dhabi, and Dubai.
Sweihan presents a challenging surface for driving. It is for those who are experienced in the art of driving. Consider exploring this desert in a vehicle if you are used to driving on the rough surface of deserts. You may have already seen people walking with camels. If you wish to witness it practically you can do so in the Sweihan Desert. It is also perfect for dune bashing and off-roading. The desert safari in this place lasts for an hour and a half.
5. Jebel Maleihah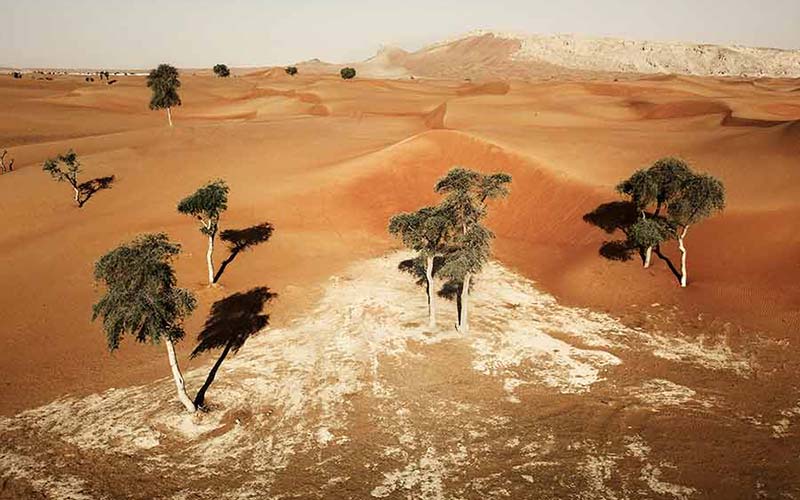 Image Credit: www.theroadreel.com
A world heritage site nominated by UNESCO, Jebel Maleihah is a major desert safari Dubai location. Due to its rich deposits of marine fossils, it is also known by the name of 'Fossil Rock'. It is a place of historic importance as many archaeological items have been found in this place.
The items primarily found in this place include camel skeletons, utensils, and tools. The Mleiha Archeological Center is located here. Researchers of this institution undertake the study of the history of this region.
Visiting Jebel Maleihah will benefit you in two ways. Other than enjoying the desert safari here, you will also get to learn about the historic facts linked with this region. Besides, you can also indulge in activities such as photography and off-roading.
7. Al Faya Desert
If you like seeing large-sized dunes, you should visit this desert. Due to this feature, the local people also call it the "Big Fall". Unlike in the past, a lot has changed in this desert. These days, it is used for sports activities (extreme sports). Visiting this place during the weekend would be ideal for you if you don't prefer a crowded atmosphere. On other days of the week, it remains full of people and activities. Some popular activities in which you can indulge here are buggy racing, dune bashing, and sandboarding.
FAQs
Q1. Where on a Desert Safari can you have the best Off-Roading adventures?
The best place to go off-roading is Sweihan. Nonetheless, only seasoned drivers are advised to use it.
Q2. Which place on a Desert Safari is ideal for dune bashing?
The largest concentration of sand dunes can be found in the Liwa Desert. It is the UAE's premier location for dune bashing and serves as a playground.
Q3. What is the duration of Dubai Desert Safari?
Depending on the type of package you choose, the safari can take anywhere from four to six hours.
Q4. Which Desert Safari campsite is suggested for family camping?
Given its proximity to Dubai and the variety of activities it offers, like bicycle trails, bird viewing, a lake, and more, the Al Qudra Desert undoubtedly is a top pick for both young and elderly.
Q5. Where on a Desert Safari should photographers look out for?
Although all of Dubai's deserts are attractive, the Al Qudra desert, with its man-made lakes, dunes, and wildlife, is the finest place for those interested in wildlife photography. The Bedouin culture and massive fossil collections in the magnificent Mleiha Desert, also known as "Fossil Rock," are well-known.
Q6. Which spot in Dubai's Desert Safari is ideal for quad biking?
Due to its manageable dunes, the "Big Red" or The Bidayer is the finest location for quad biking. On weekends, the location is crowded with motorcycle enthusiasts.
Conclusion
Sandboarding and camel riding are the two most popular Dubai desert safari activities. It also offers other exciting activities to visitors and the best places for a desert safari to choose from. If you visit Dubai to get the feel of a desert safari, do not forget to go through the Dubai desert safari guide for the best experience.