A desert safari in Dubai is ideal for all tastes and requirements. It only gives you the much-needed adrenaline rush but also delights you with the most amazing experiences that are unmatched. Yes, you can look forward to enjoy a spectrum of things on your desert safari, including 4X4 dune bashing, camel ride, falconry, quad biking, sandboarding, and desert camp activities. In this post, we bring you the best things to do on a Dubai desert safari that will last a lifetime.
Top Desert Activities and Experiences
Spend a Night in the Desert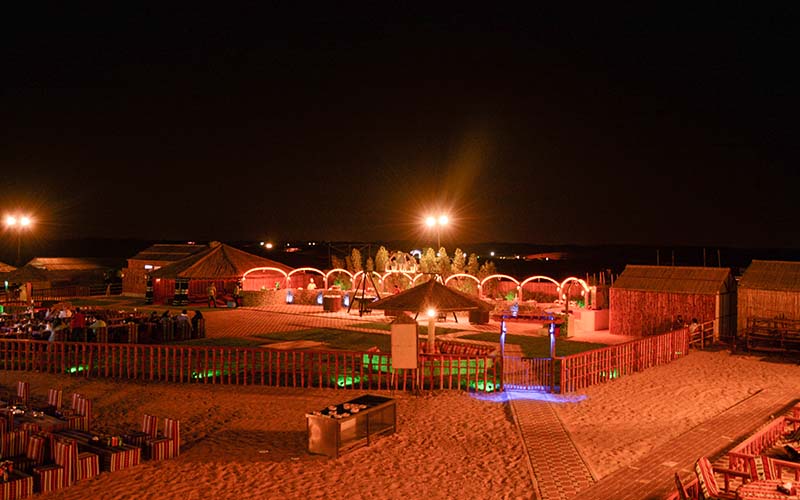 You may have yet to come across this special indulgence as this is a unique way to experience the best of Bedouin culture and hospitality. It lets you put all your worries to rest and spend a night in the middle of nowhere. Sleepover at the royal retreat as you look to unwind after a tiring set of desert activities during the day. You can add luxurious elements and customize your overnight desert safari the way you want. Tour operators offer plenty of personalization choices to match their guests' tastes and requirements.
Stargazing at the Dubai skyline
The desert skyline gets beautifully decorated with many stars and the moon. It's a special feeling to witness the star-studded sky in the middle of the grand Arabian Desert. It is an ideal way to relax and unwind after indulging in the adrenaline-pumping desert activities during the daytime with extreme heat. There are exclusive tours if you want to take your stargazing experience in Dubai to the next level.
The Dubai Astronomy Group arranges astronomy tours in collaboration with organizations. This allows you to explore futuristic and educational projects, along with themed events, workshops, and outdoor observations of key astronomical occurrences. This is a beautiful way to explore the gorgeous night star-studded sky.
Bask in the Tranquil Ambiance of the Hatta Heritage Village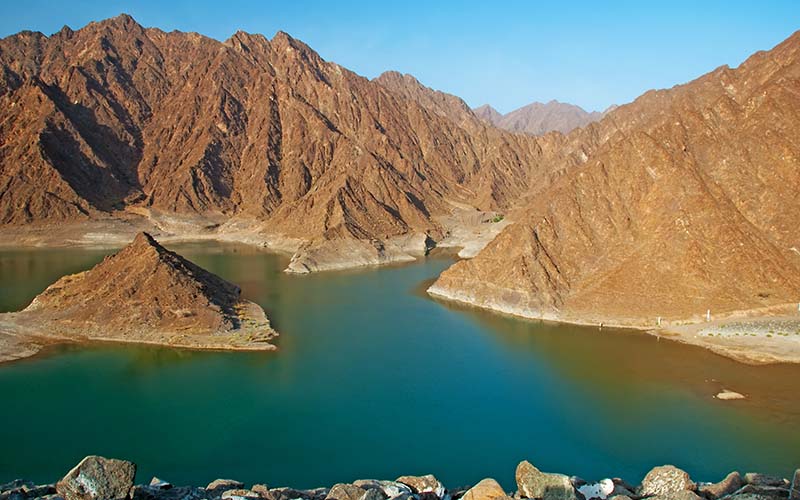 The Hatta Heritage Village is a beautifully restored mountain village with stone and mud houses dotting its landscape. It demonstrates the Emirati's way of life centuries ago. These are among the oldest villages in Dubai, where visitors and tourists can get deeper insights into the lifestyle, clothing, weaponry, artifacts, and furnishing used in the bygone era. Maximize your experience by exploring Hatta Lake and the mountains with a 4×4 air-conditioned vehicle.
Encounter Fascinating Desert Wildlife at the Dubai Desert Conservation Reserve
Get a professional safari guide as you navigate the desert landscape. You will encounter a variety of flora and fauna that have mastered the art of surviving in the desert. The Dubai Desert Conservation Reserve is a protected area that will help discover the pristine desert ecosystem and wildlife that has been restored and carefully preserved after a great round of efforts by its authorities.
Enjoy Delightful Local and International Cuisines!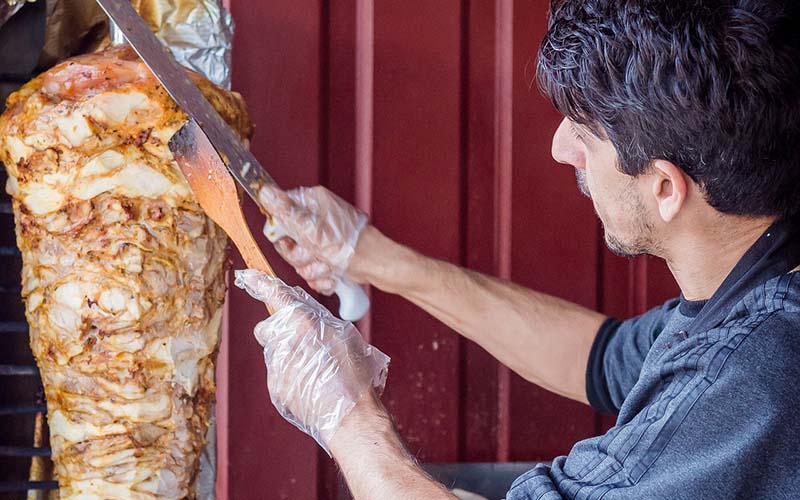 This stands among the highlights of the desert safari as the perfectly grilled barbecue and international and local cuisines will set your gastronomic juices flowing like a merry. There are plenty of options, both veg and non-vegetarian, with unlimited beverages and Arabic coffee available at your disposal. Food is a great way to explore the local culture, and there is no better way than to dine in the heart of the grand Arabian Desert. If you have booked a private safari, you will also get an option to enjoy eco-friendly dining amidst the sands as the chef prepares a curated menu that satisfies your taste and preferences. The top sellers include fusion lamb asador, black truffle, beef tacos, grilled chicken shawarma, dulce de leche pie – a local dessert, and several other options for vegans.
Sunset and Arabic Attire Photography
The desert also lets you capture the mesmerizing sun and go down in the sands as the dunes transform from a golden hue to a reddish color. In addition to the sunset, you will get plenty of opportunities to capture unforgettable moments throughout your journey. At the desert camp, you also get to wear traditional Arabic attire.
Enjoy Falconry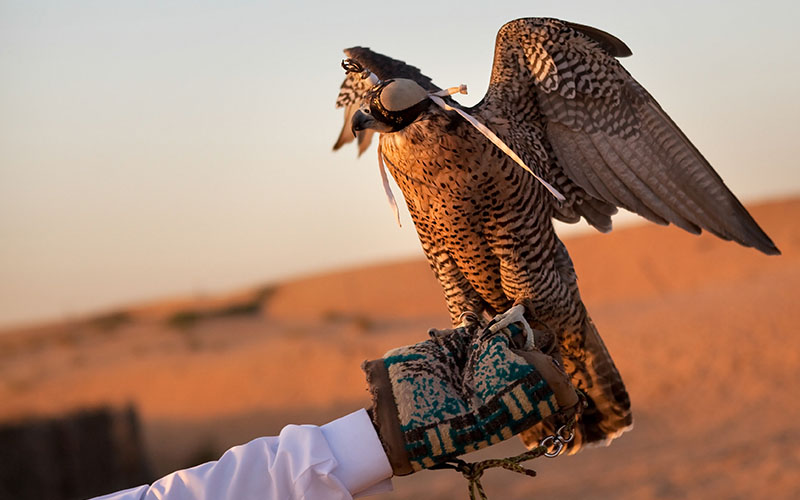 Falcons are closely associated with the Bedouins, who used to train wild falcons and use their speed and agility in hunting and tracking down their prey. Over time, the bond between the falcon and the falconers has become inseparable, which is clearly visible in the Dubai falconry shows. We recommend you try the falcon display with a hot air balloon flight for the best desert experience.
Adventurous Desert Activities
Camel Safari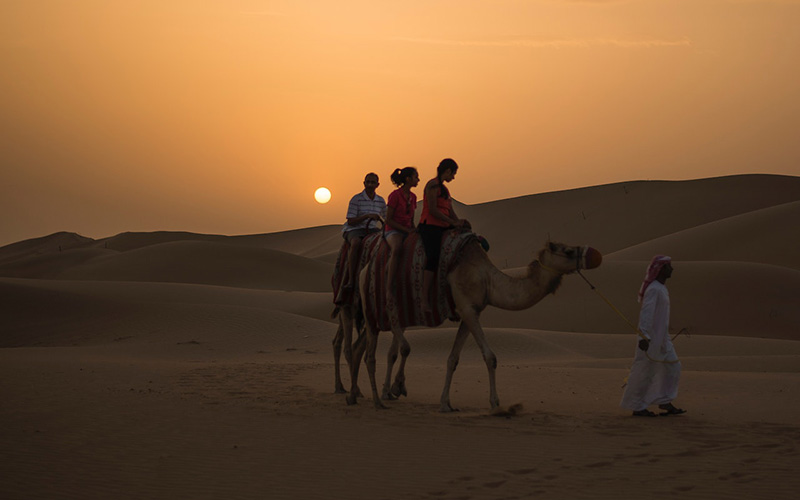 Camels have been used for navigating through the harsh desert landscape since ancient times. It has eventually transformed into an adventure ride. The camel is a very calm and loving animal. The camel owners will offer special instructions on boarding a camel, along with the dos and don'ts that you must follow as part of this experience. The camel safari is a beautiful way to explore the desert landscape and browse through various sights in the desert.
Dune Bashing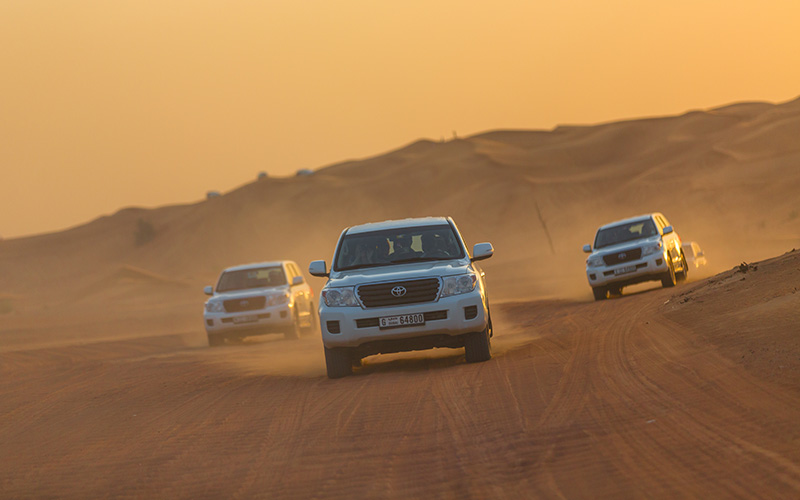 Experience the nerve-wracking moments as you indulge in a desert safari dune bashing Dubai with a professional driver who knows the code to give you the adrenaline rush you may have always wanted. The thrill of going up and down the dunes aboard a powerful 4X4 vehicle leave a silken trail that is both beautiful to watch and experience. You can pick the right safari location for an exciting experience.
Hot Air Balloon Ride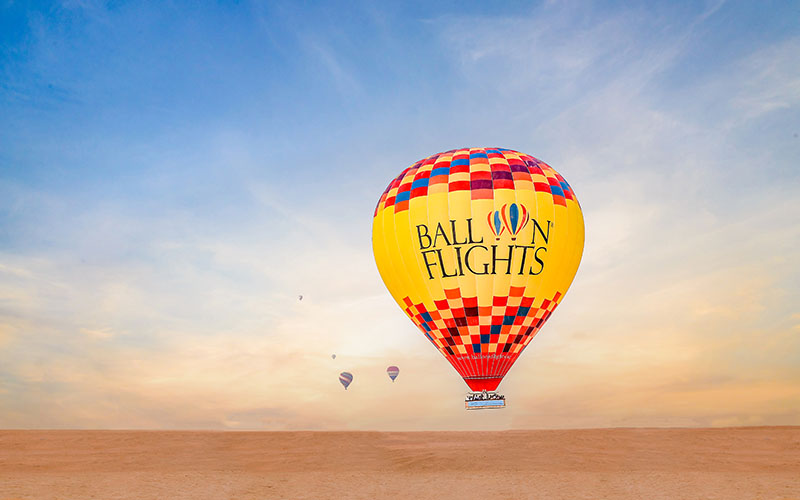 The hot air balloon ride is a beautiful way to check out the entire desert landscape as you witness them from a different perspective going up and away into the sky. The hot air balloon rides are arranged only as part of the early morning desert safari activities before the sun rises to lighten up the sand dunes. Capture these precious moments, and you can use this opportunity to celebrate a special occasion with your loved one(s). You will also be able to spot various desert animals that inhabit the region.
Try Henna Painting
Henna is a fairly well-known art form in Dubai. The interesting part is that getting a henna tattoo is included in your desert safari camp. The henna painter there may produce tattoos on your hands or feet, and it is absolutely painless and natural.
Fat Bike Riding
It is now possible to cycle across the desert! Your transportation when cycling through Dubai's sand deserts is the Fat Bike. Using a bicycle with big tires or a fat bike, fat biking is an exhilarating adventure activity. The ultimate pleasure of navigating uncharted terrain is provided by the Fat bikes, which are designed to travel on sand and snow. You can ride a bicycle through the sand dunes and pause to gaze at an oryx herd. Every rider's endurance is put to the test by the desert's immense expanse and seamlessness. The bicycle trips are led by professionals who can manage the terrain & let you see the desert in a brand-new way!
Quad Biking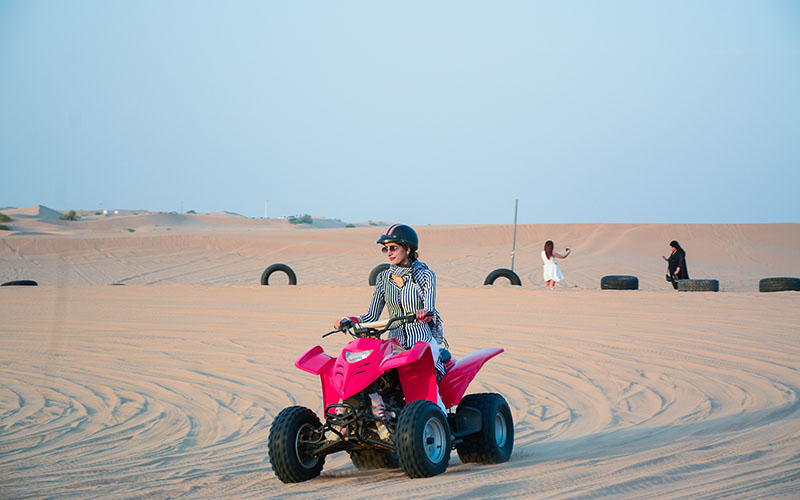 A quad biking adventure allows you to experience is the true taste of adventure in the middle of the grand Arabian Desert. So take control of the wheel and hit the dunes for heart-pumping action with your family or friends in a dune buggy. You will never be short of action as you get sweeping views of this majestic desert landscape as you are up and down the golden dunes.
Sandboarding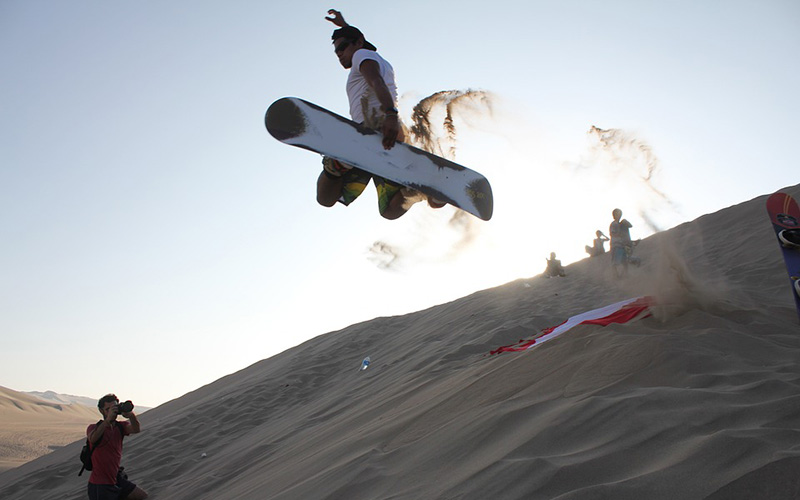 This is a super exciting activity in the desert. It is one of the best desert safari activities you can indulge in for true adrenaline seekers. The snowboard-like contraption stuck to your feet challenges you to maintain your balance as you glide down the fine dunes, just like you would experience at Ski Dubai. Most desert activities like sandboarding are part of the desert safari in Dubai packages.
Is Dubai Adventure Safari Safe for Children?
The Desert Safari trip companies operate on the tenet of adventure with care. They work extremely hard to give their visitors the most exciting activities while paying close attention to every last detail. Each desert activity that is offered by the operators has undergone safety testing. The vehicles utilized for the activities have a strong safety record, are tested to international standards, and are maintained accordingly. The teachers and drivers for the desert activities indeed are professionals in their fields who are familiar with the topography and natural history of the desert. Each path has been carefully selected to offer the best entertainment while maintaining safety. The tour companies have been operating in the area for decades and offer qualified services.
Some Useful Tips for Desert Safari
You can dress comfortably and loosely, but you should stay away from flowing materials because you do not want them getting caught in adventure vehicles. There are no dress code restrictions in the desert, however, being fully covered will help you prevent getting a sunburn.
To protect yourself from the midday sun, wear sunscreen, and keep a hat and sunglasses with you at all times.
It is wise to bring a lightweight jacket because the desert gets chilly in the evening.
As you will be stepping in and out of the sand frequently, it is best to wear sandals, floaters, or open shoes. If you wear shoes, the fine sand could seep inside, forcing you to keep taking them off.
Adventure sports like quad biking, dune buggy riding, and dune bashing can be physically taxing. To prevent motion sickness or an upset stomach, try to avoid eating a substantial meal before the exercise or stick to a small lunch.
Concentrate on knowledgeable, experienced lecturers. To prevent any accidents, inform the instructors if you have any medical conditions or past medical history.
To purchase mementos or participate in additional desert activities such as henna painting, you can bring cash and a credit card.
If you plan to participate in any entertainment, choose a decent location at the camp that is close to the stage.
You will have plenty of chances to stop and click pictures, so bring your camera.
Although you might think the camel ride is brief, remember that camels are animals and can only take so much stress. Please treat them with respect.
FAQs
Q1. What kinds of desert safaris can you do in Dubai?
In Dubai, you can choose between a morning, an evening, an overnight, or an adventurous desert safari. A combined tour, which enables you to see well-known sites like Palm Jumeirah and the Burj Khalifa is another option.
Q2. What is included in Dubai Desert Safari Tour?
Every Dubai desert safari may have a different set of activities. You might receive pick-up & drop-off in your hotel, sandboarding, quad biking, dune-bashing, camel rides, buffet lunch or supper, belly dancing, and more depending on the specifics of your ticket.
Q3. Are there any specific areas where hotel drop-offs are prohibited?
The return transfer service does not include hotels located in Sharjah & Abu Dhabi.
Q4. Where can you go on a desert safari in Dubai?
Lahbab Desert, Al Awir Desert, & Dubai Desert Conservation Area are just a few of the places where you may go on a desert safari in Dubai. You may plan your experience likewise by using the location details on your Dubai desert safari tickets.
Q5. Who can go on a desert safari in Dubai?
A safari in the Dubai desert is open to everyone. Pregnant women, kids below 2 years, and anyone over the age of 70 are subject to some limitations. So it is advisable to plan your experience appropriately.
Q6. On a Dubai desert safari, are alcoholic beverages offered?
Alcoholic beverages are not part of your package; they are sold individually.
Q7. Is there a minimum age to do dune bashing in Dubai?
Yes. In Dubai, dune-bashing is not authorized for kids below four years. For Kids between 3-16 must be accompanied by an adult.
Q8. Is sandboarding safe in Dubai?
Dune-bashing is a safe pastime because the 4×4 SUV is fitted with safety equipment for your protection.
Conclusion
The Dubai desert safari offers a wonderful combination of eventful and adventurous activities to match all tastes and preferences of global customers. You can be guaranteed a wonderful time irrespective of the type of desert safari activities or experiences you indulge in.