Dubai is blessed with vast expanses of spectacular deserts. The allure of the magnificent golden dunes desert beckons all travelers to the UAE. The Arabian desert landscape looks different during various times of the day. But no matter at what time you visit the desert, it still manages to captivate you with its splendor. Though you can enjoy a desert safari at any time of the day, there is a certain charm and fulfillment in starting your day with a drive to the depths of the deserts. And if you add a fun and adventurous camel ride session to this experience, it is like an icing on the cake. So, let's take a look at what the morning desert safari has in store for you.
What does a typical Morning Desert Safari look like?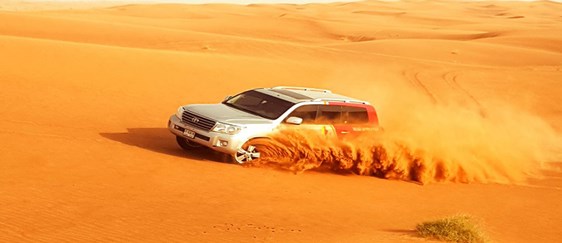 Start your day on a refreshing note as a 4×4 chauffeured vehicle picks you up from your hotel. Leave the mundane city life behind you as you slowly begin your journey to the heart of the desert. The landscape completely transforms as you are gifted with scenic vistas all around you. You can see some interesting wildlife, rare species of birds, and breathtaking flora and fauna. You can witness a glorious sunrise that covers the shimmering sands in various colors. You will be mesmerized with the sheer grandeur of the desert all around you.
Activities in the Morning Desert Safari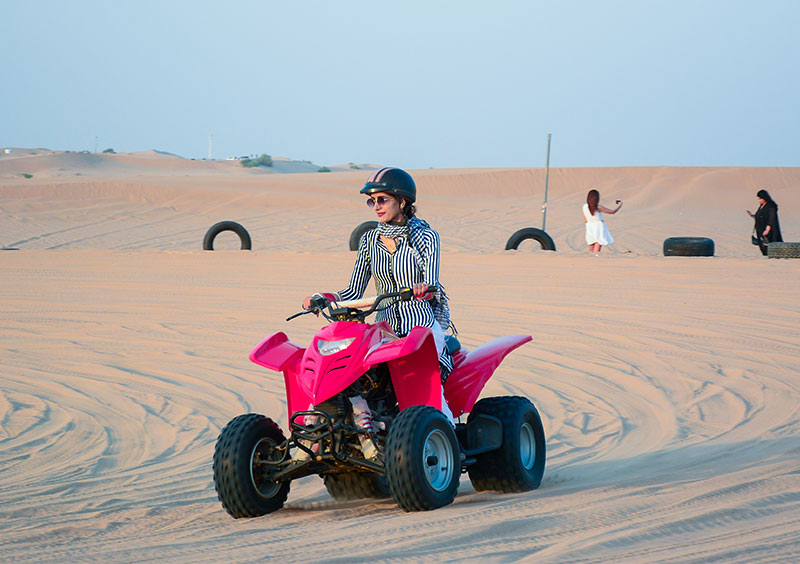 There is a plethora of activities that are part of the morning desert safari. You can customize your packages and include or exclude the activities as per your interests, budget, and convenience. Choose a morning safari that is custom made for you. You can also include a morning safari with camel riding.
The morning desert safari usually starts with a dune bashing session. You sit back in awe as the driver expertly navigates his way up and down the steep dunes. You get to experience the thrill and exhilaration when you ascend and descend the dunes. Before you get over all the excitement of the ride, you are in for some more thrilling activities. You can try your hand at sandboarding, quad biking, or even dune buggy riding. All these activities are a lot of fun and will give you an adrenaline rush.
Camel Ride experience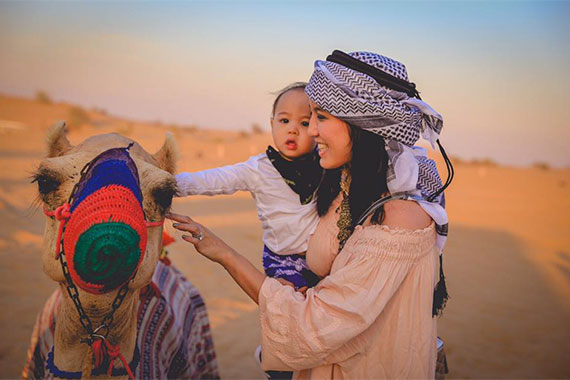 Camels are known as 'The Ship of the Desert' for a reason. Camels are strong animals and have been an integral part of Arabic life for centuries. They are well-known for traveling long distances without food and water for days together. They are extremely resilient creatures, and this is what made them a vital form of transport in the bygone days. The impressive sands of Dubai are the perfect setting to get a glimpse of this tradition, spend time with these incredible creatures, and observe them in their natural habitat.
Irrespective of whether you are a first-timer or an experienced camel rider, our expert guide will give you a set of instructions to be followed. This ensures that your ride is smooth and hassle-free. Once done, you are ready to hop on the back of a camel and head out to discover the secrets of the desert. Feel the cool morning breeze on your face, while our knowledgeable guide gives you interesting insights into the early life of the people in this region. Keep your eyes open as if you are lucky, you may be able to spot animals such as gazelles and Arabian oryxes. We promise you this unique camel ride is filled with loads of fun and will bring a smile to your face. If you are interested, you can even visit a camel farm and learn more about the various breeds of these beautiful animals. This activity is more enjoyable when you travel in a group with your family or friends.
A memorable cultural experience
A morning desert safari also offers you an amazing opportunity to get a sneak peek into the delightful Bedouin culture and Arabian hospitality. You can enjoy henna tattooing, smoke flavorful hookah pipes, and click pictures by sporting beautiful Arabian garments. Our guide will also acquaint you with the history, customs, and traditions of Emirati life. After all the fun and frolic, it is time to satiate your hunger. A scrumptious English breakfast consisting of many mouthwatering local and international dishes awaits you. (Please note that breakfast is included only if it is part of your chosen package). After breakfast, you are dropped back at your hotel and this concludes your morning desert safari experience.
Conclusion
A morning desert safari is ideal for people who are pressed for time. Unlike an evening desert safari which is more elaborate and can take up to 6 hours, a morning desert safari allows you to explore the remarkable sands of Dubai and take part in activities within a few hours. If you are planning a holiday in Dubai, ensure that you opt for a morning desert safari in case you don't have time for an evening one. Although there is no strict dress code for desert safari in Dubai, make sure that you wear comfortable clothes and footwear. Moreover, keep yourself hydrated, carry sunglasses, and apply a good amount of sunscreen.
A desert safari experience is a perfect blend of nature, adventure, and fun. Choose a package that lets you experience the magic of the desert to the fullest. We assure you that you will come back with a bag full of beautiful memories.