When someone thinks about planning a holiday in Dubai, the first thing that causes stress is that the holiday might turn expensive. The reason is that Dubai always seems like a sophisticated place and has always been linked with luxury lifestyle. However, there are many things to do in Dubai that require no money or a nominal amount of money to explore and enjoy. Once you go through this list of tourist attractions and places to visit in Dubai, you will realize that the only major chunk of your expenses will be spent on flight tickets and accommodation on a Dubai trip. For example, if you book your Dubai desert safari tour or your Dubai water park tickets in advance, it will work out quite reasonably. Plan your trip consciously and smartly and you will really enjoy a budget-friendly holiday in Dubai. Here are our 7 top picks of cheap or free things to do in Dubai on a budget holiday.
1. Take a stroll through Old Dubai

Dubai is of course known for its glitzy and classy ambiance. It is portrayed as the perfect futuristic city. But when you come closer and have a look beyond this contemporary ambiance, you will find so many sights and places nestled within the city that has preserved the old world charm of Dubai. Stroll around the Al Fahidi Historical district where you come across earthy toned structures and wind towers built by pearl merchants way back when Dubai had a humble way of life. Wander around and you will find yourself getting acquainted with these rustic sights of Dubai. You can even take a break and check out the courtyard cafes with charming Arabian vibes and relish on some dates and Arabian coffee if you wish to on extra expenses. These attractions have kept the old heritage of Dubai alive and offer a refreshing break from Dubai city life.
2. Visit the museums and art scene of Dubai
There are several cultural hotspots in Dubai, and the city is dotted with amazing museums, street art, and galleries. For instance, you can start with the Dubai Museum housed within Al Fahidi Fort which happens to be the oldest structure in Dubai. There is a nominal entrance fee of AED 3 for adults and AED 1 for children, but the experience is totally worth it. You get a glimpse of modest Emirati culture and lifestyle before Dubai became a global city. There are other free museums such as the coffee museum, camel museum, coin museum, and Al Ahmadiya School and Heritage house to name a few which are free of cost to visit. Coming to the art scene, you can wander around City Walk & JBR to view fascinating works of street art and al frescos murals. You can even check out the XVA Art gallery which has some fascinating displays of sculptures and paintings on free exhibitions.
3. Marvel at Dubai Fountain's spectacular performance

It is quite impossible to miss visiting one of the most popular places to visit in Dubai – The Dubai Fountains. Strategically located next to the iconic Dubai attraction – Burj Khalifa and the largest shopping mall in the emirate – Dubai Mall, the Dubai Fountain is the largest dancing fountain in the world. The spectacle consists of a synchronized medley of illuminations, music and water jets weaving a mesmerizing performance for all its visitors. Visit early and grab a convenient spot before it gets crowded so that you can marvel at this grand performance without any hassles.
4. Discover Ras Al Khor Wildlife Sanctuary
Head to the outskirts of Dubai city, to a warm wetland where you can enjoy fantastic sightings of more than 170 species of birds. Known as the 'Cape of the Creek, this 6.2 sqkm landscape of mangroves, mudflats, lagoons, and salt flats is a protected wildlife reserve. It is particularly famous for the flamboyance of flamingoes making it their home during winter months. A perfect spot for nature lovers to spend a day amid nature and keen birdwatchers can have a great time here spotting grey herons, reef herons, black-winged stilts, sandpipers, cormorants, osprey to name a few.
5. Laze around on the beaches of Dubai
Dubai has a beautiful coastline and some wonderful beaches for visitors to explore. While most beach shores are included as private area affiliated with luxury beach hotels and resorts, there are quite a few beaches open free for the public such as JBR Open Beach, Umm Suqeim Beach, Al Mamzar Beach Park, Kite Beach, and Al Sufouh Beach. These beaches are expansive and offer a host of facilities such as kid's area, food outlets, showers and changing rooms. Spend a day at these beaches and gear up for some water sport adventures or simply enjoy the stunning city skyline vistas of Dubai.
6. Wander around Dubai Souks and in Dubai Mall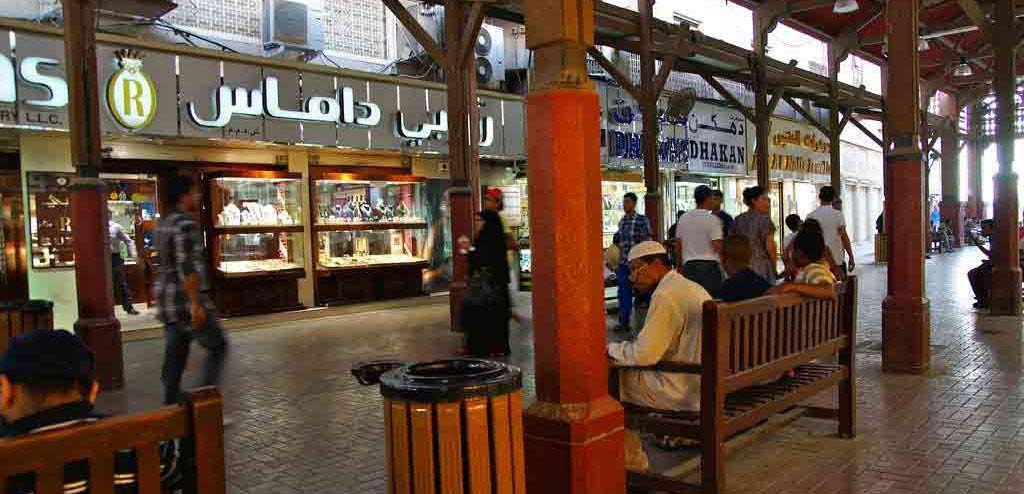 Even if you are on a budget conscious vacation or are not keen on shopping, still you should visit Dubai's Souks and Dubai Mall just for the experience. These places are some of the popular places to visit in Dubai as tourist attractions. The Dubai Souks such as Gold Souks, Spice Souks, Perfume Souks to name a few present a cluster of bazaars and shops set along winding alleys that showcases a vibrant and traditional atmosphere of Middle Eastern trading. At Dubai Mall, the scene is absolutely contrasted. This extravagant, air-conditioned mall exudes a sophisticated flair and offers an amazing array of shopping, dining, and recreational facilities. Dubai Mall lets its window shoppers have a great time viewing the Dubai Aquarium tank and the famous 'Human Waterfall' installation, which is set adjacent to Dubai Fountain and Burj Khalifa. But, do keep your wallet a bit flexible as there can be strong urges to go shopping at Dubai Mall and Dubai Souks.
7. Spend a fun day at Jumeirah Beach Corniche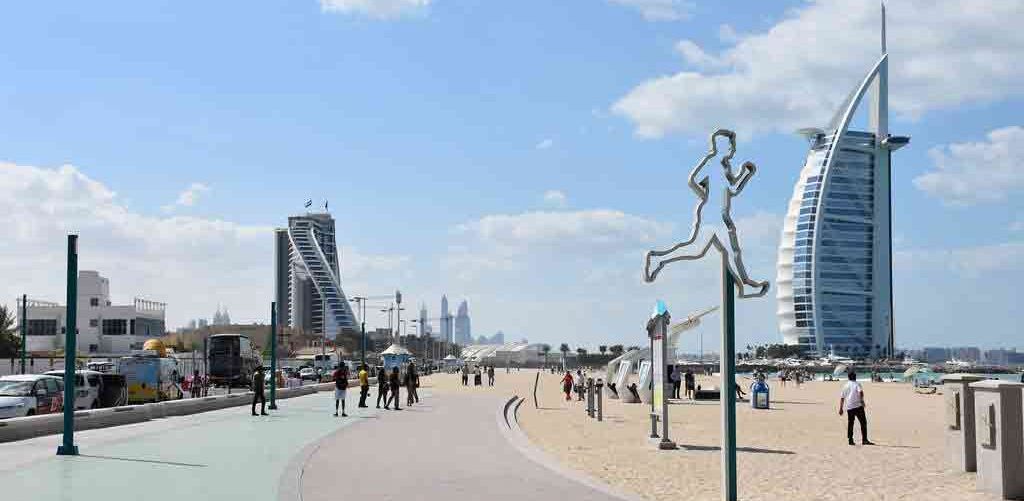 Jumeirah Beach Corniche is the city's longest cornice sprawling 14 kilometres starting from Jumeirah Mosque till Burj Al Arab. It offers a jogging track, a cycling track, kid's play areas, and shaded picnic spots along the beach shore, making it one of the best things to do in Dubai with family. This place is a perfect spot to spend some time with family and friends, strolling along the coastline or lazing around in sea breeze and to enjoy some water sport activities like kayaking as well.