Dubai is beyond tall skyscrapers, mind-blowing attractions, splendid indulgences, and busy streets. Instead, there lies a world of tranquil deserts far away from the hustle and modernity of city life that entices you to indulge in a wonderful desert journey. Of course, the desert will be plain and dull in nature, but the wonderful adventurous sports, entertainment programs, and delicious dinner in the desert make it all worthwhile. One of the adventure sports to look forward to during the desert safari in Dubai is sandboarding.
What is sandboarding?
Sandboarding is similar to snowboarding, surfing, and skateboarding, where you ride across the dunes while standing on the golden dunes. This outdoor sand activity is extremely popular in the desert area, especially in Dubai, Egypt, and Qatar. This is a must-do indulgence if you are anywhere near the silky sand. The Egyptians practiced this activity centuries ago, using wooden planks to slide heavy cargo across the desert landscape. This trading activity eventually turned out to be fun and adventurous, and you can indulge in the desert. Sandboarding in the Dubai desert was a lost activity before it was revived as part of an exciting desert excursion named the Dubai Safari.
Why should you try sandboarding in the Dubai desert?
Sandboarding is a fun desert sport as it does not require intense skill or training. You can be guaranteed fewer injuries as the sand texture are soft and harmless. In addition, you can indulge in this sport at a nominal cost. This activity is also a great sport to indulge in as a solo sport.
---
---
Types of Sandboards Found in The Dubai Market
You will find three types of sandboarding available to choose from while indulging in Dubai sandboarding. The sandboards are available in different sizes, with the biggest size used by professionals to garner more speed and is tougher to maneuver. The basic sandboard size starts from 115 cm to 158 cm.
Artisan sandboard – this is used by learners and is handmade with a rustic deck used for sandboarding in Dubai desert dunes that are very small in nature. The average cost of an artisan or basic sandboard would be around AED 700.
Intermediate or semi-professional sandboard – this is also a handmade sandboard using Velcro and other similar pads as the sand boarders stand on the board and learn the basics of balance and maintaining composure while sandboarding in Dubai.
Professional sandboard – these sandboards are prepared using snowboard technology, which professionals hone and use for sandboarding in Dubai over giant dunes. The average cost of a professional sandboard would be around AED 1500.
The sand can be abrasive and puts a good amount of friction on the board. A round of board wax helps smoothen the sandboard's bottom surface. Many professionals who intend to speed through the sand dunes should use board wax on their sandboards.
Types of Sandboarding in Dubai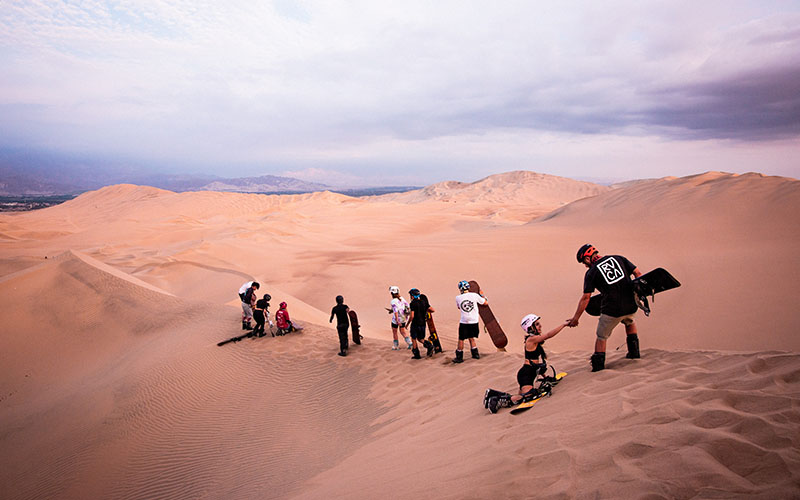 Sit-down sandboarding
This sandboarding is done for old citizens and young children who do not have to balance themselves on the sandboard as it goes down the slopes of the dunes. Here people sit on the board as they slide down the fine dunes.
Stand-up boarding
Among the most common types of sandboarding are indulged by a wide variety of visitors and tourists. Your feet will be strapped onto the board as you slide down the fine dunes. Try some slips if you are a pro. Different sandboards are optimized for this activity's control, balance, and speed. You can choose the most comfortable one as per your skill level.
Tow boarding
This form of sandboarding is only applicable to professionals and strict adventurists. Enthusiasts hold on to a rope connected to a dune buggy or a 4×4 desert terrain vehicle like a Landcruiser as they go up and down the dunes at great speeds. Professionals perform magnificent tricks in this form of sandboarding. Do not try this unless you have received professional training.
Best Places for Sandboarding in The Dubai Desert
Al Aweer desert
This desert is nearest to the Dubai emirate and is famous for its desert safari tours. Most Bedouin-style desert camps for the desert safari are placed within this desert. The grand sand dunes are not very big in stature, and if you are a learner while undertaking Dubai sandboarding activities, then this is the desert for you.
Al Badayer Oasis
Placed an hour's drive from downtown Dubai, the Al Badayer Oasis is considered one of the best places for Dubai sandboarding. There are multiple desert camps, and many tourism companies head here for dune bashing and sand surfing activities. The tallest sand dune here is the Big Red for its ruby-red texture that is popular for some sandy adventures.
Al Faya desert
The sand dunes of the Al Faya desert are red in color, and you will find a cluster of tall fine dunes in the heart of the desert. This is where the 4×4 desert terrain vehicle indulges in some desert adventures like dune bashing, quad biking, and sandboarding. The winters are more packed than the summers, so getting an opportunity to indulge in sandboarding will be on a first-come, first-served basis or with prior online booking only.
Fossil Rocks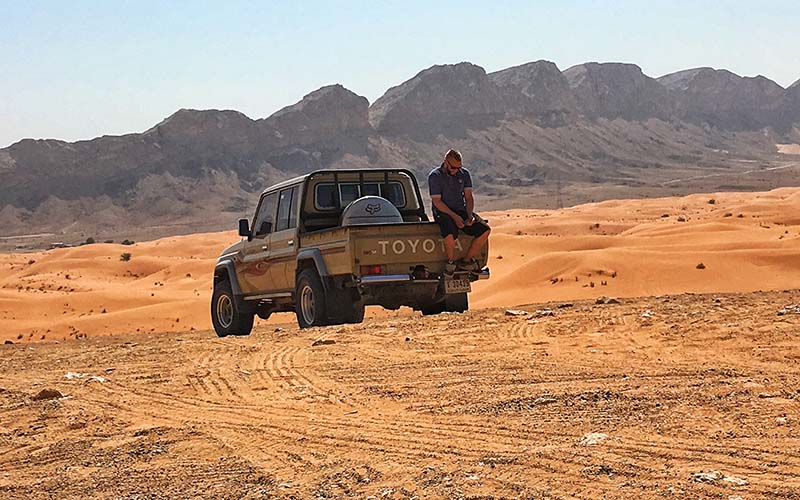 Also known as Jebel Maleihah on the outskirts of Sharjah, there is sufficient scientific evidence of fossils of marine animals that existed millions of years ago, suggesting the Arabian Desert was under the sea at one point in time, which the geologists call the sea Tethys. This desert is also extremely popular for desert sports like dune bashing, quad biking, and sandboarding in Dubai.
---
---
Lahbab desert
Placed just 45 minutes' drive from downtown Dubai, the Lahbab desert is known as the red dune desert. This desert is very popular for desert adventures like dune bashing and sandboarding in Dubai. The sand dunes here range within 10-30 meters, with a few touching 100 meters. A red dune desert safari in the Lahbab desert is a popular excursion that offers an immersive experience in the desert landscape.
Liwa Oasis
This desert oasis in Abu Dhabi is popular for its gigantic Moreeb dune. The single largest dune worldwide stands proudly 300 meters tall and almost 1.6 kilometers long in the heart of the grand Arabian Desert. A 4×4 desert terrain vehicle will take you through a winding road to the bottom of this dune. Being a vast dune, the Moreeb dune will test your sandboarding skills to the core.
Sweihen desert
The Little Liwa in Abu Dhabi is conveniently spread at equal distances from all three emirate cities, Abu Dhabi, Dubai, and Al Ain. The sand dunes are big and soft, hence you can get stuck in the sand landscape while driving. Overall, this desert also brings in several opportunities for sandboarding and dune bashing.
Attire for Sandboarding Tour
Sand being fine, can get into your clothing and shoes very easily. In addition, you may also fall and roll on the sand during this activity. Ensure that you keep your best clothes away from this desert adventure. Use some casual, comfortable, and breathable clothing where you feel light and don't mind getting soiled and spoiled with sand textures.
When it comes to footwear, use high-top shoes as the desert landscape doesn't give you the much need traction when you walk through the fine sands. Low-top shoes guarantee loads of sand inside your shoes, kissing your feet and making walking through the sand landscape even more challenging. You can also try wearing open-toe shoes to prevent them from accumulating inside your shoes. Avoid sandals, as it is not meant for a desert landscape.
---
---