It's impossible to weary of the sights of Dubai. That's true! But it's likely that even the most devoted Dubaiites crave for a refreshing escape from its non-stop actions and throttling crowd. If you wish to break away from the swanky opulence and chaos of Dubai for at least a day, here we list a handful of cool, easy trips to get you started.
1. Hatta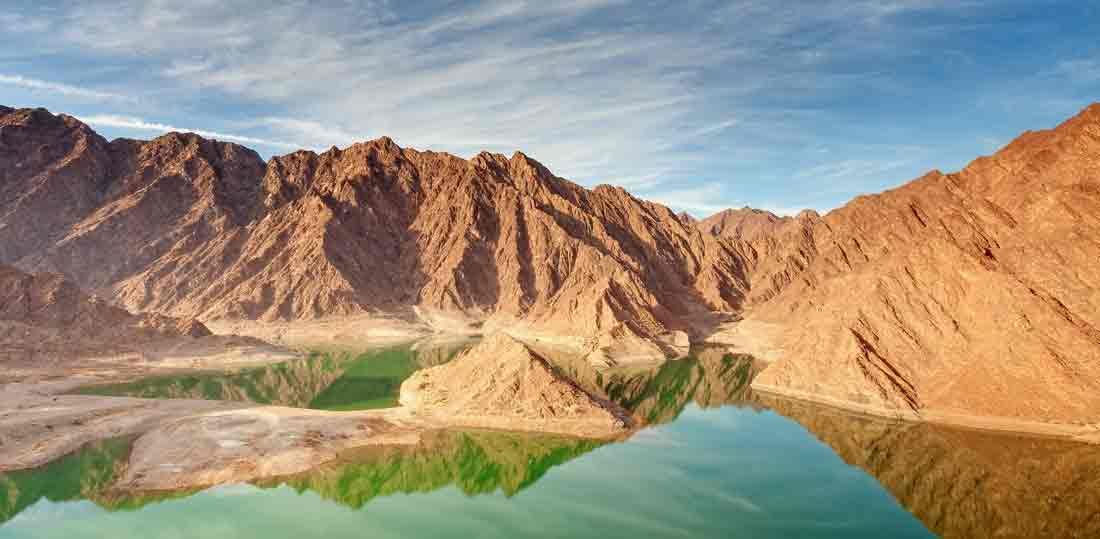 The quaint enclave of Hatta is still within Dubai, but it feels a whole world away from the tinsel glamor of city life. With its unpretentious allure and mind-blowing scenery against the Hajjar Mountains, it continues to lure quiet types as well as in-the-know visitors.
Admire: It's refreshing to see the rich culture and heritage of Emiratis alive at the 16th-century Hatta Heritage Village. A traditional fort and a courtyard house along with a string of Barasti structures constitute this beautifully preserved settlement.
Do: Go on a 4X4 drive along the contrasting landscape with beautiful desert and mountain views and also stop to take a plunge in one of its high-altitude natural pools.
Distance from Dubai: Approximately 140 kilometers
2. Sharjah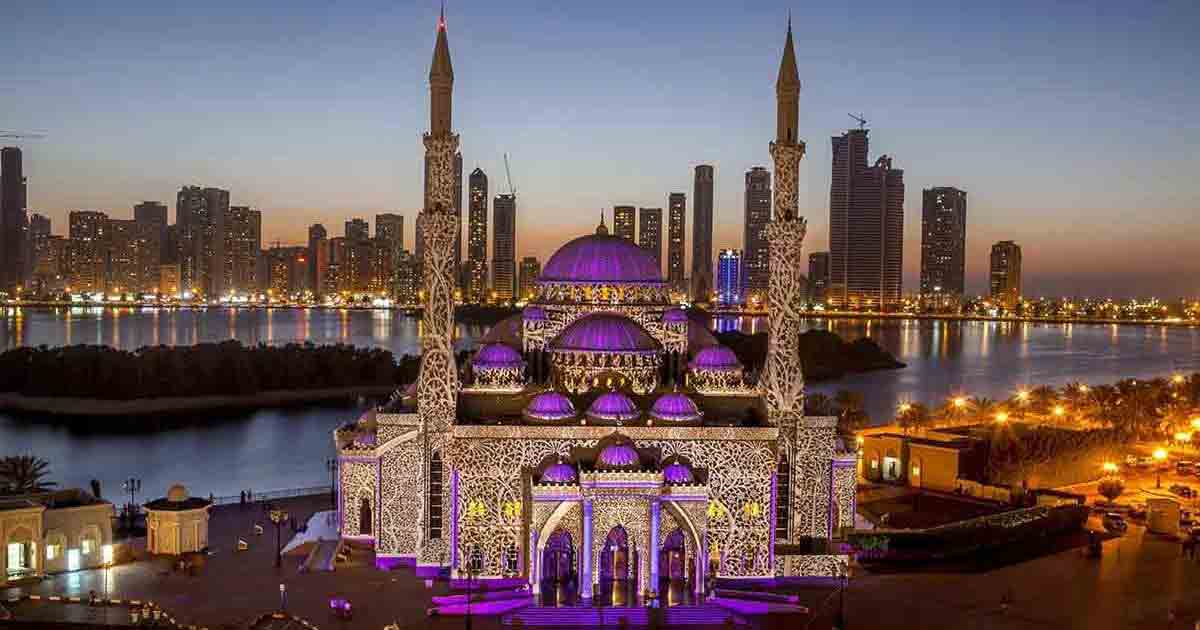 Sharjah rightly fits the bill, if you wish to venture beyond Dubai's avant-garde structures, shopping malls, and leisure attractions. There are a wealth of places to visit in Sharjah, including heritage sites, monumental attractions, insightful museums, etc – and it's only a 30-minute drive from Dubai. It's no wonder that this emirate has been chosen as the Capital of the Islamic Culture by UNESCO.
Admire: Blue Souk, Sharjah Heritage Area, Sharjah Aquarium, Khalid Lagoon, Al Jazeera Park, and the quaint village of Kalba are the main attractions.
Do: Visit its many art galleries and museums including Sharjah Maritime Museum, Sharjah Archaeology Museum, and Sharjah Science Museum. Car lovers should definitely stop by Sharjah Classic Car Museum. Take a stimulating ride in Eye of the Emirates at Al Qasba – the hub of fun and entertainment activities in Sharjah.
Distance from Dubai: Approximately 40 kilometers
3. Ras Al Khaimah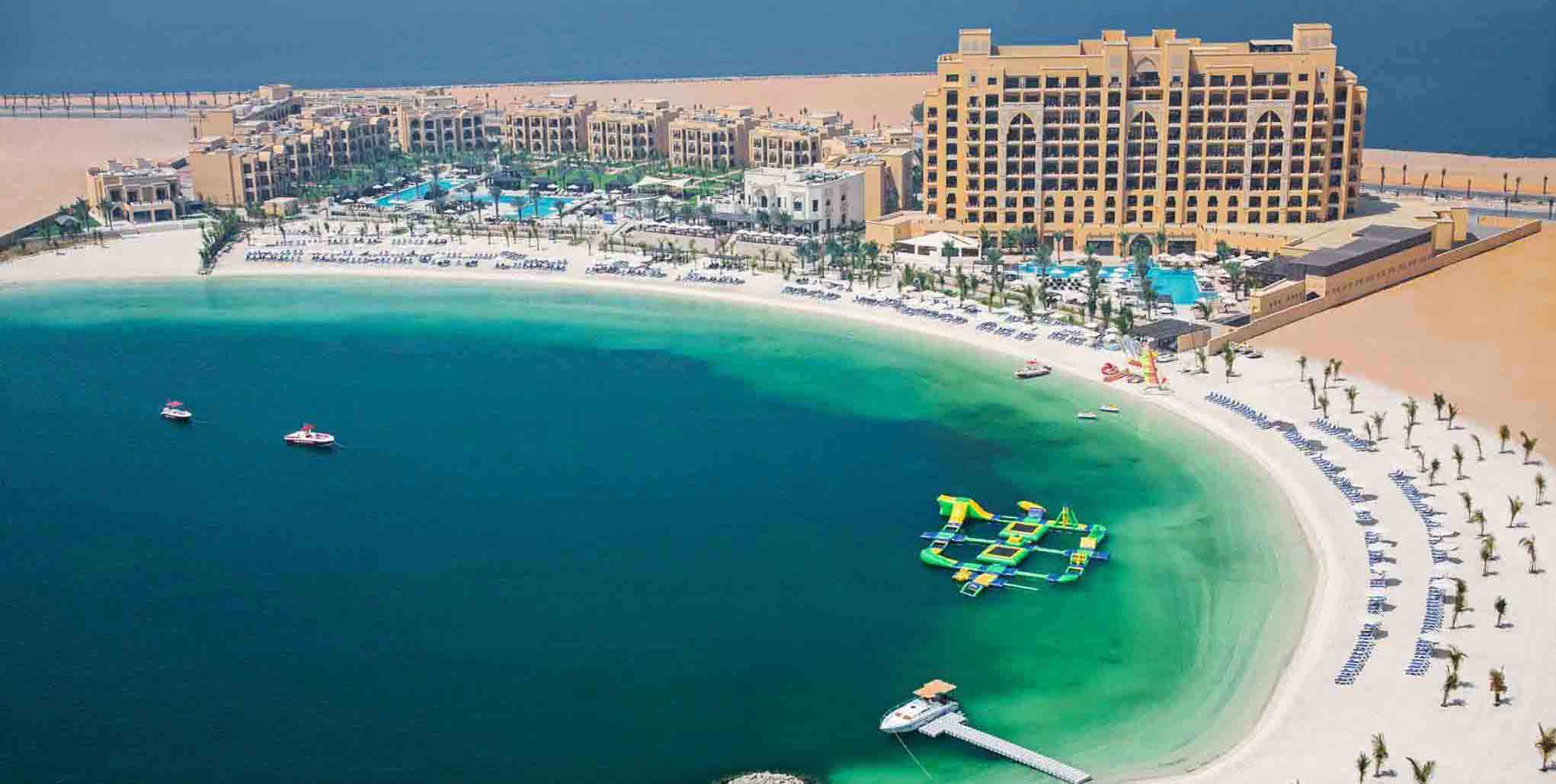 A blend of luxe living and picturesque beauty makes Ras Al Khaimah a perfect day trip destination. The soothing backdrop of the Hajjar Mountains and its mesmerizing landscape endowed with stretches of golden sand beaches and serene lagoons ensures that it holds enough to instantly delight stressed-out visitors. Plus you get to choose among the numerous things to do in Ras Al Khaimah.
Admire: Ras Al Khaimah abounds with historic, cultural, and scenic attractions, and not to miss among them are the National Museum of Ras Al Khaimah, Dhow Building Station, Dhayah Fort, and beautiful Khatt Hot Springs.
Do: Hang out at Saqr Park or Iceland Water Park and head over to Banyan Tree Al Wadi for a unique cultural experience with a falcon show and a desert nature walk. To relive the history of the UAE's rich pearl farming industry, visit RAK Pearl Museum. Nature lovers and adventurists can go for a trek up to the Hajjar Mountains. Now if you wish to soar to the skies, there is Jazira Aviation Club.
Distance from Dubai: Approximately 110 kilometers
4. Abu Dhabi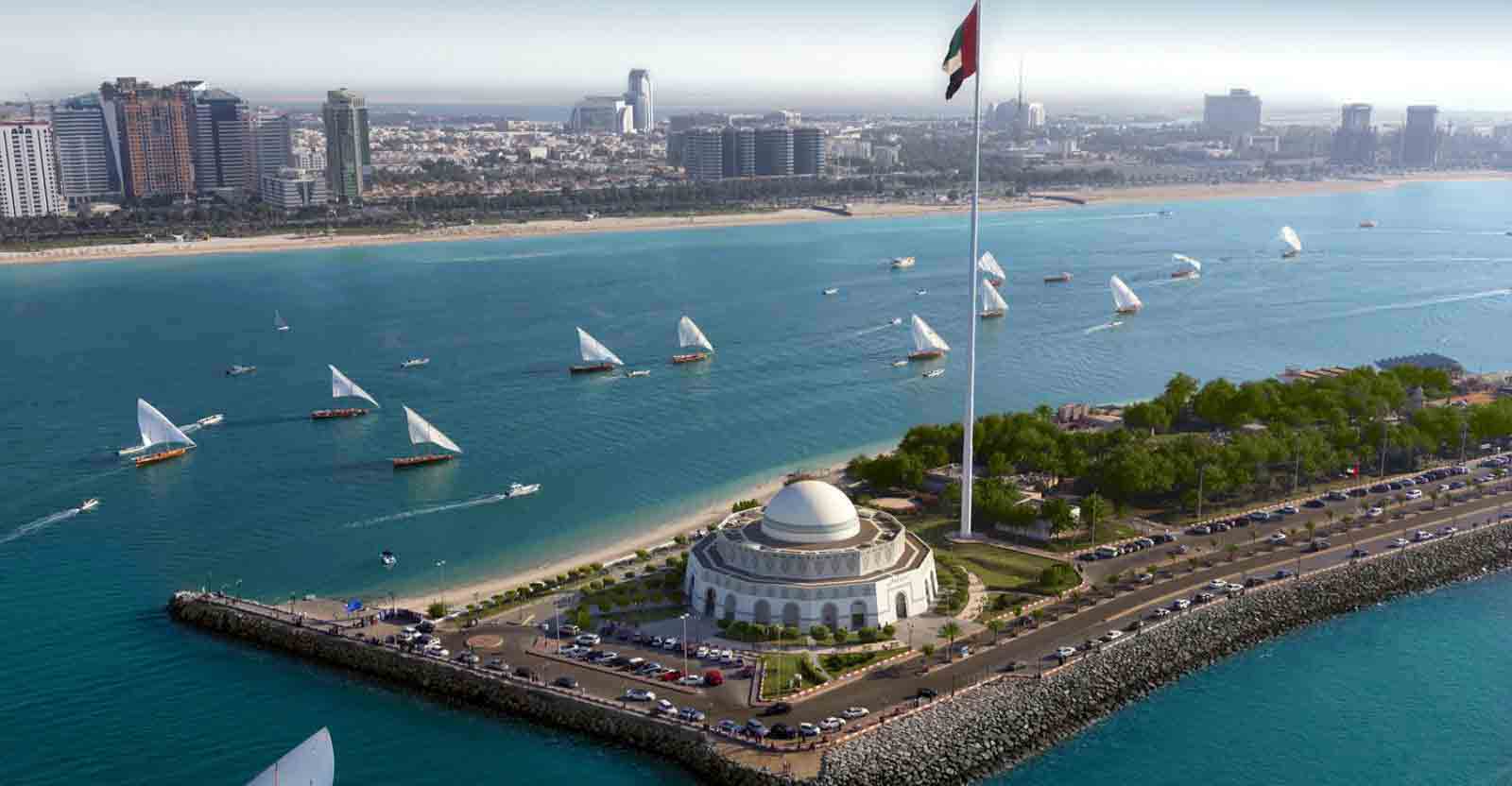 Only 150 kilometers from Dubai, the capital city of UAE presents you with something to see and experience at every turn. It is also one of the world's richest cities, which is reflected in its spellbinding architecture and artistic opulence.
Admire: This includes a long list of attractions, from Emirates Palace and Heritage Village to Emirates Park Zoo and Women's Craft Centre. Most of all, it is impossible to miss the magnificent Sheik Zayed Mosque which will take your breath away with its awe-inspiring vastness, tranquility, and architectural brilliance.
Do: Take a leisurely walk along the striking Abu Dhabi Corniche bursting with good views and activities. Enjoy kayaking along the mangroves or tour Abu Dhabi Falcon Hospital to know about the significance of falcons in Emirati culture. And to entertain your kids or even the kid within you, a must-visit is Yas Park with Yas Water World and Ferrari World where you can ride the fastest roller coaster, among others.
Distance from Dubai: Less than two hours
5. Fujairah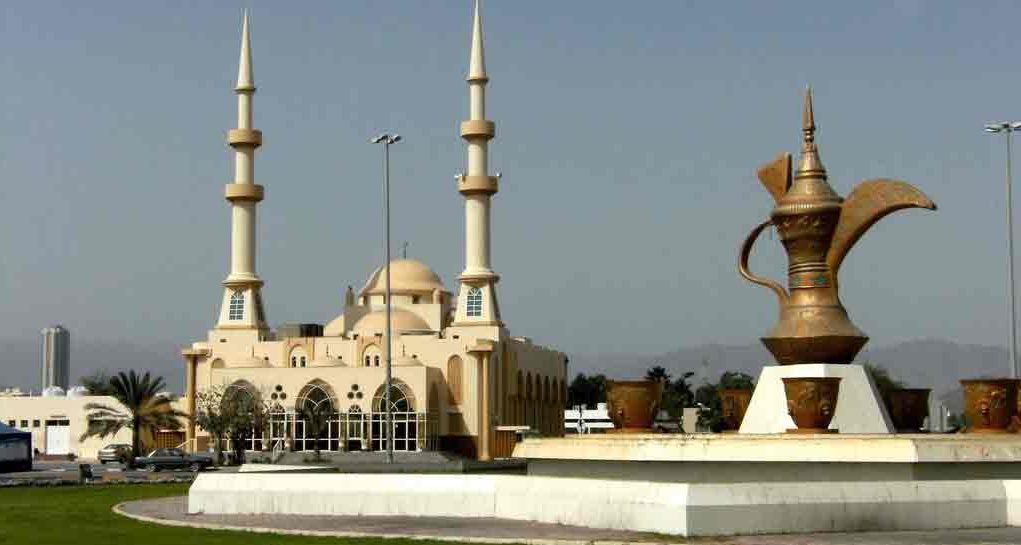 The striking wadis and craggy mountains of Fujairah are just a two-hour drive from Dubai. The region's mix of best hiking trails, exuberant marine life, and historic sites draws day-trippers looking for an easy-to-reach tranquil retreat from Dubai.
Admire: Fujairah Fort, Al Bidya Mosque, Al Hayl Castle, Fujairah Museum, and Bithnah Fort are some of the main attractions of Fujairah.
Do: Watching Portuguese-inspired bullfighting, which is held here every Friday, and shopping at Friday Masafi Market are some of the best things to do in Fujairah. You can further take a boat ride to absorb the spectacular beauty of Fujairah's coastline or opt for a snorkeling or scuba diving tour to have a face-to-face encounter with sharks and turtles.
Distance from Dubai: Approximately 175 kilometers from Dubai.
6. Ajman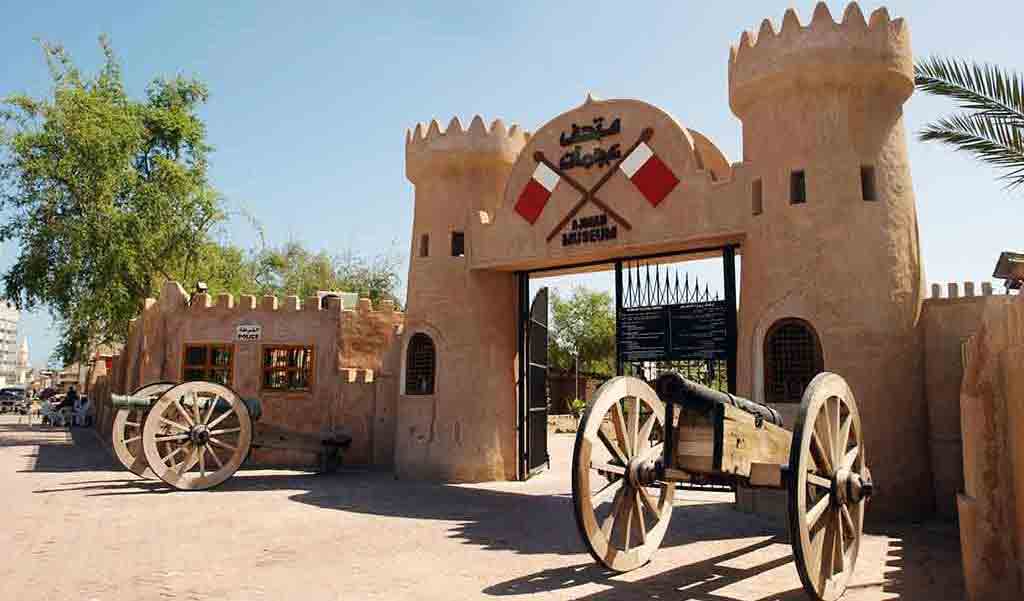 The UAE's smallest yet most adorable emirate is often overlooked by day trippers. It may not be overly flashy as Dubai, but it makes up for this with its pristine natural beauty and serene atmosphere.
Admire: Main points of interest are Ajman Museum housed within an ancient fort, Ajman Dhow Building Yard where you can see the iconic dhows or Arabian sailing vessels built using traditional methods, and the archeological site of Mowaihat lying on the city's outskirts.
Do: Ajman is home to one of the UAE's prettiest sandy beaches means you can have utmost fun, leisure, and relaxation here.
Distance from Dubai: Approximately 30 kilometers
7. Al Ain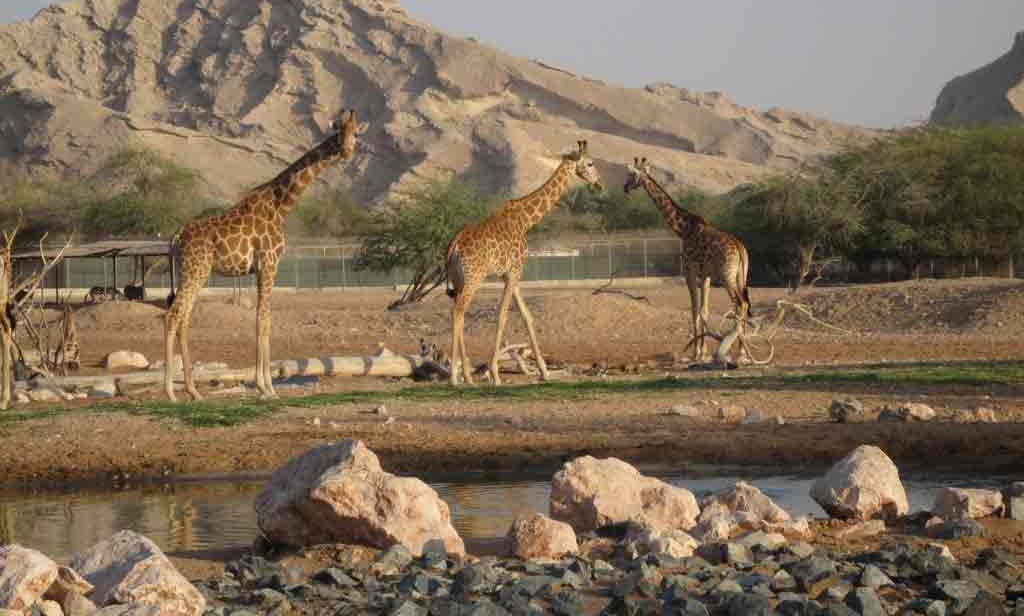 Old world allure, cool greenery, and mountainous backdrop characterize the oasis city of Al Ain, which is just 1.5 hours from Dubai.
Admire: Al Ain National Museum, Sheikh Zayed Palace Museum, Al-Jahili Fort, Hili Archaeological Park, and Mubazarah Park which is beneath the Jebel Hafeet are among the most visited highlights.
Do: Spectate camel racing, tour the city's main parks and gardens, meet rare mammal and reptile species, etc at Al Ain Zoo, enjoy an action-packed day at Wadi Adventure, and get a bird's eye view of the city, desert, and beyond from the Jebel Hadith rising up to a height of 1250 meter.
Distance from Dubai: Approximately 150 kilometers
8. Umm Al Quwain
Umm Al Quwain's untouched landscape with verdant mangroves, rolling dunes, and the enchanting oasis is a very good reason to take a 50-minute drive from Dubai.
Admire: See attractions like UAQ Motor Racing Club and Aquarium at Marine Research Centre, and also take time to marvel at the intriguing collection of arts and artifacts at Umm Al Quwain Museum.
Do: Go bird watching at Khor al Beidah or take a guided crab hunting tour or have some fun moments at the UAE's largest water park, Dreamland. Thrill seekers can take advantage of facilities, including UAQ Aeroclub to try ultimate adventurous activities like sky diving, parachuting, hot air balloon ride, etc.
Distance from Dubai: Approximately 70 kilometers
9. Musandam, Oman
This list of day trips would be incomplete without mentioning Musandam, although it's not in the UAE. Placed in Oman's extreme northern region and just a two-hour ride from Dubai, Musandam comprising four districts is on the Strait of Hormuz. It's easily recognized for its rugged mountains, emerald seas, and fascinating marine treasures, making it the ideal getaway to kick back.
Admire: Musandam offers a unique beauty just as its location, which is isolated from mainland Oman by the UAE's east coastline. It is often called the Norway of the Middle East for its striking fjords. With Khasab as its capital, it has many attractions worth visiting, such as Khasab Castle, Bukha Fort, and Kumza.
Do: Board a traditional Omani dhow to best appreciate the breathtaking charm of Musandam and also spot dolphins as well as marine creatures as you cruise down the fjords. Water sports lovers can further venture deep into the riches of marine life with activities like scuba diving.
Distance from Dubai: Approximately 200 kilometers
10. Al Awir Desert Dubai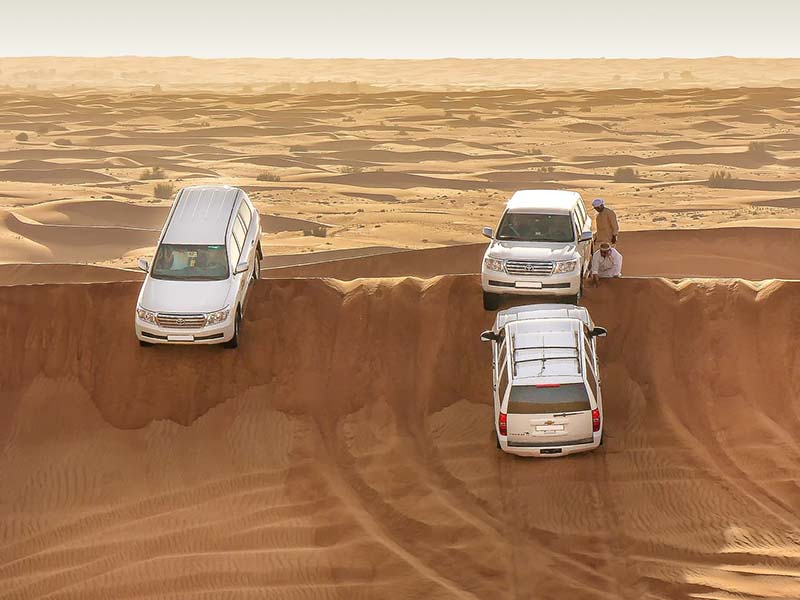 Just a short distance away from Dubai is the beautiful Al Awir desert, which is open for desert safari tours. This desert is the hub for agriculture and camel breeding in Dubai. However, most people visit this place to enjoy the numerous activities of the desert safari.
Admire: The gorgeous sand dunes that stretch for miles at the amazing Al Awir desert. You will get to enjoy beautifully decorated Bedouin tents where you can relax and enjoy the entertainment programs.
Do: The Al Awir desert is most popular for its adventurous activities, especially quad biking and dune bashing. You will also get to go on a camel ride and try your hand at sandboarding. You will also get to enjoy Tanoura and belly dance performances here.
Distance from Dubai: Approximately 35 kilometers
Take one of these Dubai day trips to discover extraordinary landscapes and distinctive styles and see what a revitalizing difference it can make in a day!