Abu Dhabi is a remarkable Emirate consisting of cultural monuments, pristine beaches, extravagant shopping malls, magnificent mosques, and more. It has a plethora of experiences waiting to be explored. But if there is something truly fascinating about the place, then it is the vast stretches of Arabian deserts. There is something truly magical about the red sand dunes of Abu Dhabi. The allure of the deserts beckons all visitors to experience them at least once in their lifetime. So, if you are planning a vacation to this fantastic place, then here are some amazing Abu Dhabi desert safari options that you can indulge in.
How to select the best desert safaris in Abu Dhabi?
There are several desert safari packages and you can select one based on your interest, time, activities, and budget among other things.
Sunrise desert safari
You will be picked up from your hotel in a 4×4 vehicle and thus starts your journey. There is no better way than starting your day with a brilliant view of the sun rising over the dunes of the desert. Witnessing the sands shimmer as the rays of the sun hits them is an unbelievable experience. It is one of the most spectacular sights you will ever experience in your life. Capture these splendid moments in your phone or camera and treasure them for life. Participate in some thrilling dune bashing experience. You will be then welcomed at the desert camp with refreshments such as Arabic coffee and snacks. Enjoy some camelback riding before you leave for your hotel.
Morning desert safari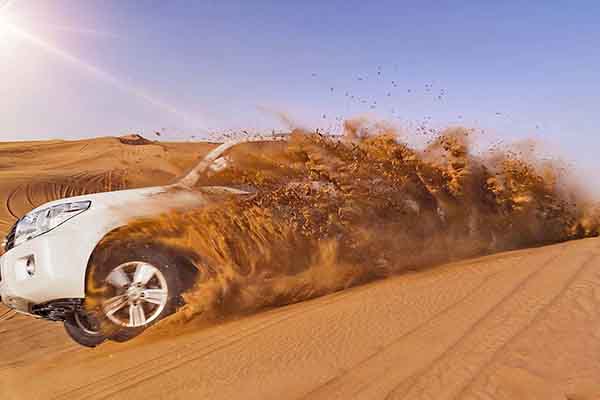 Mornings are a wonderful time to embark on a desert safari journey as the temperature is relatively cool. You will be picked from your hotel in the morning in a chauffeured vehicle. Hold on to your seats tightly as you go on a roller-coaster ride of the dunes. Enjoy a beautiful sunrise and click plenty of pictures against the backdrop of the blazing orange ball. There are adventure sports such as quad biking, and sandboarding that will give you an adrenaline rush. After that you will be taken to the Bedouin style campsite where you can try camel riding. Enjoy the stunning sights of the deserts and soak in the serenity of your surroundings. Relish a delicious breakfast before you are dropped back to your hotel. A morning desert safari is ideal for people who don't have a lot of time in their hands but still want a slice of the desert.
---
---
Evening desert safari
This is one of the best desert safari packages that combines leisure, adventure, fun, and entertainment. It provides an authentic feel of the mysterious deserts and also gives you a glimpse into the Emirati culture and life. Venture into the depths of the deserts in a 4×4 vehicle. Indulge in electrifying adventure sports such as sandboarding, dune bashing, and quad biking. Hop on the back of the camel and explore the dunes while you watch the dazzling sunset on the horizon. Retire into the Arabian campsite and sink into soft, luxurious cushions and enjoy the true hospitality of the Emiratis. Get dressed in colorful and traditional Arabic costumes and click plenty of selfies and pictures. Smoke flavorful shisha pipes watch some falconry and adorn your hands with intricate henna patterns. Watch splendid cultural performances and conclude your evening with a delectable BBQ dinner.
Overnight desert safari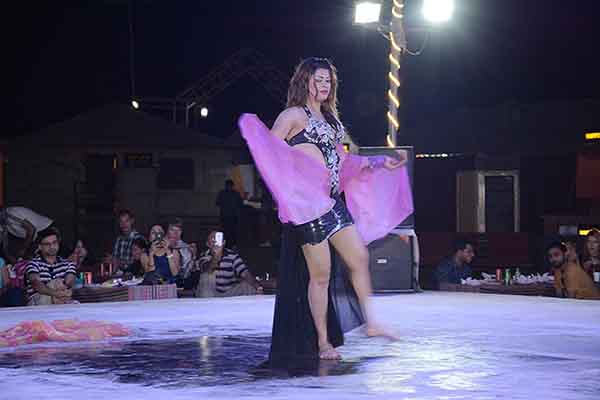 Discover the secrets of the deserts of Abu Dhabi with an incredible expedition into its heart with an overnight desert safari. Let the beauty and magic engulf you while you treat your senses with the mesmerizing views all around you. It is perfect for people who are in no hurry and have all the time in their hands to experience the desert. Your journey begins with some exhilarating dune bashing session in a hummer at the end of which you will be gifted with a picturesque view of the setting sun.
Head to the campsite for the ultimate Emirati hospitality experience. There are multiple activities to keep you engaged – riding a camel, smoking shisha pipes, getting your hands painted with henna, taking pictures in traditional Arabian costumes, and more. Sit back and enjoy live entertainment such as Belly dancing, Tanura dance show, and Fire show. Savor a mouthwatering BBQ buffet dinner before retiring for the night. Spend the night under the glittering stars and wake up to a breathtaking sunrise. Your desert safari culminates with a delicious English style breakfast. This is a truly unique experience and you will depart the campsite with unforgettable memories.
---
---
Tips for desert safari in Abu Dhabi
Choose a safari according to your convenience for the best experience
It is advisable to travel during the winter months of December-January as the weather is beautiful, and you can enjoy the outdoors
Wear comfortable cotton clothes, carry sunscreen, sunglasses, a hat, to protect yourself from the sun
Keep yourself hydrated as you will be outdoors for long
Wear comfortable footwear such as flipflops, sandals, or any other kind of open shoes as you will be spending a lot of time on the sand
The weather may get a bit chilly in the evenings and nights, so it is advisable to carry a light jacket or shawl
Conclusion
As you can see, though desert safari in Dubai is extremely popular, Abu Dhabi is not far behind. A desert safari is an ideal way to take an invigorating break from the hustle and bustle of daily life and connect with nature.