The small city of Khorfakkan facing the Oman sea in Sharjah is popular for its fertile land, the only natural deep seaport, and the iconic Hajar Mountains. If you want to uncover this little gem in Sharjah, we recommend starting early morning from Dubai in an air-conditioned land cruiser. Then, drive towards the northeast. So, let's take you through one of the best attractions in Sharjah, Khorfakkan beach, which is also considered one of the best places to visit in the UAE.
Traveling to Khorfakkan
You should spend a full day exploring the Khorfakkan beach from Dubai. If you start early from Dubai, you will easily reach here within 40 minutes. Then, take the new road constructed by the Sharjah Government that will reduce your travel time by almost half. Each tunnel on the E311 or the Bypass Road cuts through the rugged Hajar Mountains making driving a real pleasure. There are five tunnels in the route, and the longest will take you 2.5 km, which is also the longest land-based tunnel in the entire Gulf region. You will find sand-swept roads as you move closer to Khorfakkan. Stop by one of the roadside cafes to grab a quick bite. As you reach the Hajar Mountains, you will feel the wind saltier and with a plunge smell as well. The Hajar Mountains stand among the oldest mountain ranges worldwide. They are rugged and crusted but not very tall in stature.
Everything About Khorfakkan Beach
Featuring among the most gorgeous beaches in the entire UAE region, the Khorfakkan beach features among the top places to visit in the UAE with its serene, silent, and calm waters against the backdrop of the Hajar Mountains. You can simply bask in the aura of the beautiful hamlet or indulge in numerous beach activities for some fun. Nestled among mountains, coral reefs, vibrant marine life, and crystal clear water, the Khorfakkan beach features golden sun-cooked sand and blue seawater. The mesmerizing clouds that form several natural patterns on the beach make the beach even more enchanting and captivating to witness. The beach is the perfect balance between fun, entertainment, and relaxation, making it one of the preferred holiday getaway spots in the region.
What Is So Unique About Khorfakkan Beach?
The location of Khor Fakkan Beach itself is one of the key reasons why it is so unique. Its location in a quiet cove, surrounded by thick vegetation and high cliffs, offers a sense of seclusion and tranquilly that is uncommon in other areas of Dubai. The beach is a great place for swimming, sunbathing, & other water sports because it is protected from the high winds that can be present in other regions of the UAE. The variety of aquatic life at Khor Fakkan Beach in fact is another distinctive feature. It is a well-liked location for snorkelling and diving because of the area's clean waters, which are home to numerous colorful fish, corals, and other aquatic life. For those who love the outdoors, a visit to the underwater scenery indeed is a must.
Entry Ticket
Such tickets are not required to enter Khorfakkan Beach. Nonetheless, you can speak with any reputable travel agency if you want to reserve your Khorfakkan vacation in advance. Everything, including the beach trip, will be included in the package.
Timing of Khorfakkan Beach 
There is not ever a good time to go to the beach. But if you wish to engage in water sports, it is best to go early in the day.
Accommodation Neat Khorfakkan Beach
You will find several hotels in Fujairah, but none will be better than the Oceanic Resort and Spa of Khorfakkan. One of the best Khorfakkan beach resorts known for its secluded beaches, idyllic sunsets, and peaceful getaway. You have a temperature-controlled swimming pool to relax in the ocean waters. There are plenty of beach sports like volleyball or tennis you can look to engage in here. If you are tired of your exploration journey, refresh your batteries at the spa and sauna for a good night's sleep.
Khorfakkan Beach Activities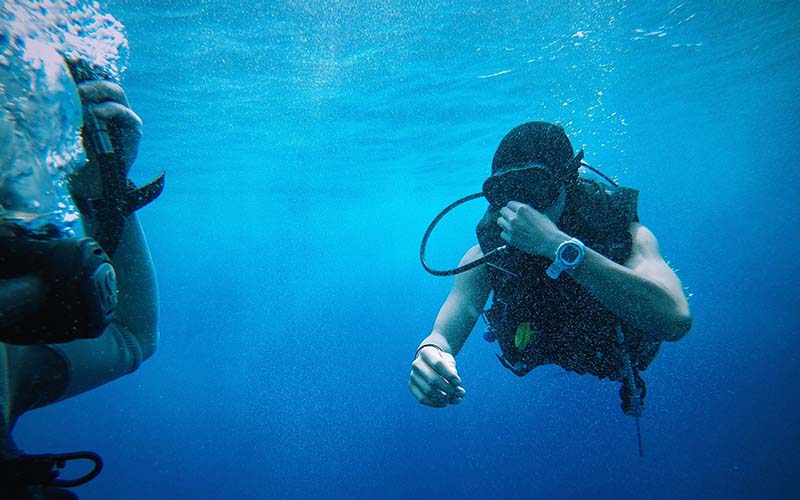 There are plentiful activities that you can look to indulge in on the beautiful Khorfakkan beach. From viewing the amazing marine life to enjoying the soft waves hitting the coastline, simply basking in the sun's warmth, or putting on your exploration hat to browse through various water sports, the Khorfakkan beach activities cover the taste and choices of all global travelers. Here is the popular list of Khorfakkan beach activities that you can look to indulge in:
1. Anemone Gardens
Placed just on the northeastern side of Shark Island, the Anemone Garden has a slightly higher water depth of 20 meters in a popular snorkelling spot near the Khorfakkan heart beach. Get ready to be welcomed by jacks, juvenile barracudas, and shy seahorses. These aquatic creatures are shy, and your presence in the water can be intimating to them, which would scare them away.
2. Coral Gardens
the gorgeous coral reefs on the Khorfakkan beach further enhance the aquatic beauty of the waters apart from the beautiful marine life that will surely leave you spellbound at first sight. Guitarfish and crocodile fish are some of the aquatic animals that you will find near the coral reefs.
3. Dibba Island
the visually appealing marine life found on the Khorfakkan beach is the highlight of Dibba Island. You will have amazing opportunities for snorkeling to explore the aesthetic marine life. However, you need to be underwater to witness the underwater magic here. On this island, you will find a range of boulder corals and a range of aquatic marine life like turtles, batfish, clownfish, jawfish, and much more.
4. Diving and snorkeling
The Khorfakkan heart beach will have plenty of opportunities for snorkeling and diving enthusiasts to explore the beautiful aquatic marine life and the coral reefs decorating the underwater landscape of the region.
5. Shark Island
the name may sound or bring in an element of fear or doubt in your mind, but there have been zero sharks found in Khorfakkan beach. The only sharks found here are black-tip reef sharks who migrate between November and April. However, this island makes up for a great opportunity for snorkelling and diving as you witness the odd turtle, fish, and other marine animals on the beach.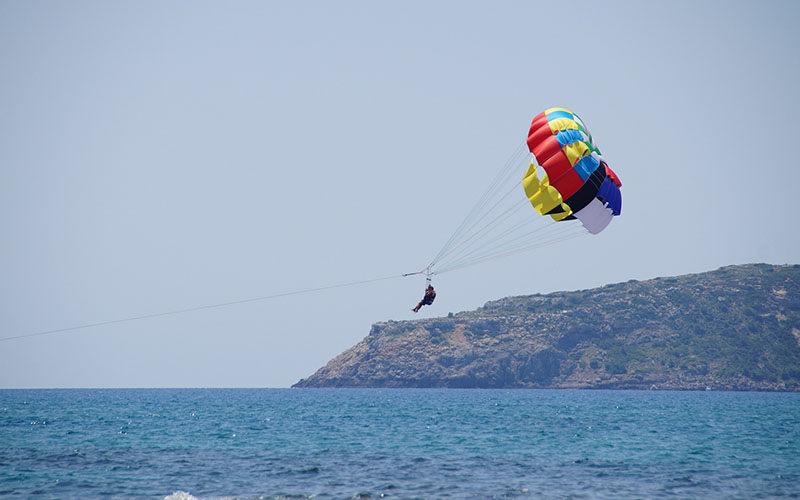 6. Water sports
You will find a range of water sports here at the Khorfakkan beach, like parasailing, diving, kite surfing, snorkelling, jet skiing, and much more. Of course, you can set the tents and bring in some beach mats, and prepare some barbecue to have some fun as well. It features among the best places to visit when the temperature outdoors gets a little tolerant for a day out in the open, i.e., from October. So if you happen to visit Dubai in October until March, Khorfakkan should be on your bucket list. The locals do frequent this splendid attraction throughout the year as the beach is buzzing with activity always.
7. Treat Yourself to Zen the Spa
A location that will help you pamper yourself and relieve all of your tension from the busy pace of your life is located 9.3 kilometers from the Khor Fakkan beach. The spa offers good service and, despite being somewhat pricey, is worthwhile. The Rotana hotel is widely recognized for its meals, swimming pool, and clean rooms in addition to its upscale spa. The spa has a separate area for men and women, as well as a shared area for wet and dry heat. The spa's lobby is elegant, and some of the suites come with Jacuzzis. The bedrooms are large and airy. The way the employees conduct themselves and the experience is truly invaluable.
8. Enjoy Sunbathing
Khor Fakkan Beach is a wonderful area for spending the day soaking in the sun because of its immaculate beach and serene surroundings. You will find the ideal position on this gorgeous beach, whether you want to read a book, relax, or get a tan.
9. Camping Opportunities
For those seeking an adventurous getaway, camping is also possible at Khorfakkan Beach! You will have an unforgettable experience if you pitch a tent & spend the night here on the lovely beach. Check out the amenities offered by the numerous campgrounds in the area before deciding where to stay!
10. Fishing
The shallow waters along the beach in Khorfakkan are ideal for fishing because there are lots of fish there. In order to find their catch, fishermen can either rent boats or pay guides. Also, you may guarantee that you possess everything you require for your fishing expedition by purchasing a selection of tackle and bait from nearby stores. Each angler will have a memorable time at Khorfakkan, whether they choose a start early morning or a quiet evening spent outside.
11. Nature Strolls
Khorfakkan Beach is a fantastic location for nature treks because it is surrounded by rich vegetation. The area's unique environment can be explored, and you can see the numerous plants and animals there in their natural settings. You will not get lost while you stroll through this gorgeous area because the routes are clearly signposted. There are numerous photo possibilities, so make sure to carry your camera with you!
12. Spend Time with Those you Love
You can attempt something different if you are not interested in fun activities or water sports. So you may relax and enjoy some quality time in the beach with your partner. Whenever the wind blows down, you feel renewed. In the meantime, you can take in the beauty of nature and take some close friends some Instagram-worthy photos.
13. See the Auto Cemetery
Wish to experience automobile racing in the real world in the Car Cemetery. It is very difficult to get through the underwater spot site due to the limited visibility and the presence of deadly animals. But if you continue, you will see rare marine animals and over 150 abandoned automobiles, trucks, and other auto pieces scattered across the algae-covered seabed.
14. Area of Play for Kids
There are playgrounds designed specifically for kids. Sunlight only filtered through because palm trees encircled these grounds. Children can therefore spend hours there imitating their football stars. If your youngster is a big fan of Messi or Ronaldo, he or she will not want to quit playing until they have scored a good number of goals. You should not skip out on this because it is one of Khorfakkan's family-friendly activities. You can take a sunbathe on the sandy beach & get some rays while the youngsters play. But do not forget to bring sunscreen!
15. Other Activities
You get to rent small boats to head to different islands. Several local vendors provide fins, masks, and snorkels on rent. The vendors are very friendly with the tourists. However, don't just give the price they demand. They can be a touch expensive at times on their demands.
Khorfakkan Places to Visit Nearby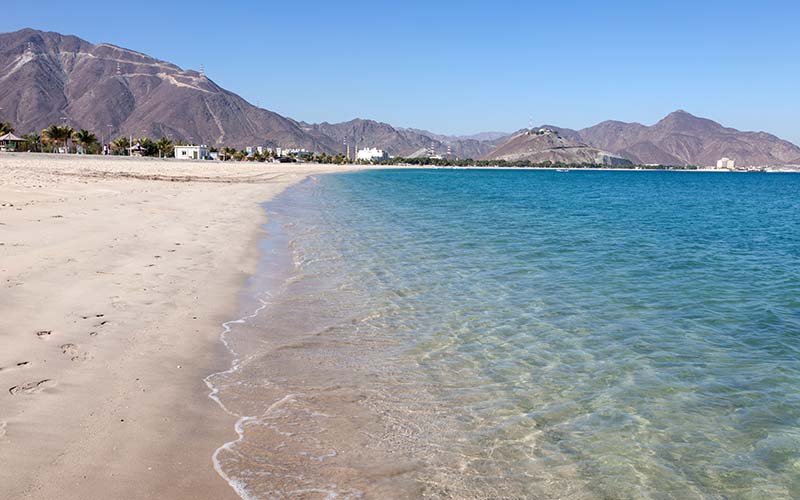 Al Rufisah Dam
This gorgeous dam is still yet to be discovered fully by the tourist population. However, there is a serene and calming ambiance around this dam that will give you a peaceful feeling of solitude, making it among the best things to do in Sharjah. During the winter, the active monsoons fill the dam with blue water that will also fill up your heart and soul. Visiting this dam right in the desert is quite a unique proposition. You can enjoy the lush green environment and give yourself the quality me-time you cannot take out during your busy city life. Take pictures of the sunset, sunrise, the dam, the sky, and the sun – all the elements that create a beautiful orchestra.
Friday Market
When you have an array of affordable items at your disposal, you will be forced to indulge in some tempting shopping indulgence. The Friday Market unleashes the best of carpets, fruits, and earthen potteries, along with several other cheap stuff to add to your collection. Take your camera along as you browse through the vibrant colors at the Friday Market. Like any other market, haggling is a norm here, so you can go ahead and bargain without any guilt. After your round of shopping, head to the nearby cafes and restaurants where you can grab some rolls and the ubiquitous cup of tea.
You can also check out Sharjah Desert Park.
FAQs
How far is Dubai from Khorfakkan?
The distance from Dubai to Khorfakkan by car is 163.1 kilometres. In contrast, it is 270.1 kilometres from Abu Dhabi and 127 miles from Sharjah.
How can I travel from Dubai to Khorfakkan?
There are numerous transportation choices available. You can travel there by car, taxi, or bus. While there is little public transportation in Khorfakkan, driving your own automobile is the most popular choice.
How long does it take to reach from Khorfakkan to Dubai?
It will take about two hours because of a recently built tunnel. From Dubai, the cost of a cab to Khorfakkan might range from AED 300 to 350. It would be based on traffic, etc.
Can I travel from Dubai to Khorfakkan by bus or metro?
Yes. To get to the bus terminal in Al Fahidi, utilize the Dubai metro. After this you may travel by bus to the Khorfakkan through Fujairah. To travel to Khorfakkan once you have arrived in Fujairah, you will require taking a taxi. It would cost between AED 100 and 115 and take three hours.
What fun activities can you engage in Khorfakkan?
The most well-liked sports in Khorfakkan are water sports because the area has a beach. Guests can also check out the tranquil baths in Fujairah hotels and visit the nearby Al Badiyah Mosque.
Is the Khor Fakkan Beach a good place for kids to play?
Khor Fakkan Beach is appropriate for families because it offers a protected and safe environment for swimming & other water sports. The nearby cliffs and trees provide a lovely backdrop for a picnic and quality time with friends.
At Khor Fakkan Beach, are there amenities?
Indeed, amenities including restrooms, showers, & changing rooms are present at Khor Fakkan Beach. Also, there are eateries and cafes nearby where you can get something to drink or eat.