Known for its Arabian Gulf beaches, Ras Al Khaimah is the favorite destination for locals living in Dubai. Situated near the mighty Hajar Mountains, Ras Al Khaimah has become a great place for exploring and sightseeing in the northern part of the United Arab Emirates. Present since the early 3rd millennium BC, Ras Al Khaimah is a historic place consisting of archaeological excavations and historical places.
Here's the things to do in RAK on your next holiday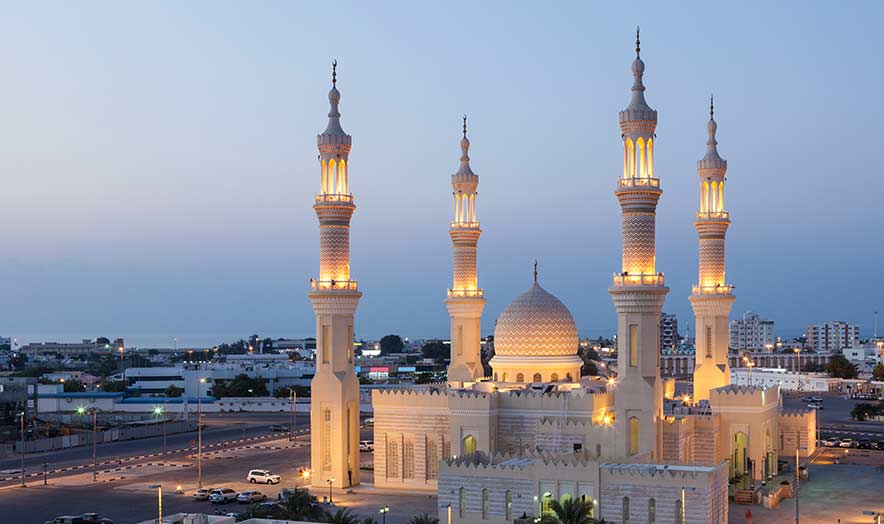 1. Ras Al Khaimah Pearl Museum
One of the major occupations and industries of Ras Al Khaimah locals is pearl diving. The museum teaches the history and techniques of collecting pearls and provides information on how pearl diving became a huge part of their economy. Pearl diving is a risky job and requires special equipment, but the pearls collected are really beautiful and worth all the trouble.
2. The Hajar Mountains
The Hajar Mountains provide a beautiful landscape to the locals of Ras Al Khaimah and is the major attraction for the locals and tourists. The highest point of the mountain, at approximately 1537m, is called Jabal Yibir, which is a favorite spot for geologists. One of the main advantages of Hajar Mountain is that you get to see various igneous rocks which further offer a magnificent view of the surrounding desert. Take pictures from this place.
3. Café La Luna
This café restaurant offers Italian delicacies like pasta and pizzas. With pasta and pizza, you can also opt for a sip of their excellent coffees, along with a small breakfast consisting of croissants and omelets. You will also enjoy the view of the dipping yachts of Al Hamra Marina.
4. Breakers on the beach
Breakers on the beach is a beach bar in Ras Al Khaimah, where you can chill with some coffee, mocktails, or cocktails. Step into this bar, and enjoy your drinks by wiggling your toes on the sand, or just count the number of waves. This beach bar is located on the main highway at the Cove Rotana Resort between Jazirat Al Hamra and RAK city.
5. Iceland Water Park
One of the best places to visit if you have your young ones, and also a cheaper option compared to Wild Wadi and Aquaventure Waterpark in Dubai. All the rides here are safe and perfect for both, adrenaline and non-adrenaline junkies. You can opt for splash rides,  pools, along with all-around entertainment for your family.
6. Sho Fee Rooftop Bar
Another good place to hang out if you want to spend the perfect evening with a few cocktails, and watch the sunset by the sea. Sho Fee Rooftop bar is located on the 9th-floor terrace at the famous Double Tree on Marjan Island. In the evening, you can enjoy good music with live DJs spinning into action, along with Arabic snacks and shisha.
7. Khatt Springs
Situated next to Hajar Mountain, Khatt Springs is the perfect place to refresh your mind, body, and soul. The main feature of Khatt springs is the natural hot pools, which are rich in minerals. It also offers facilities to relax such as therapeutic hot springs, hot stone treatment, and Ayurvedic treatment. Located about 20km away from Ras Al Khaimah city, it's a definite place to visit.
8.Ras Al Khaimah National Museum
This list wouldn't have been complete without mentioning about Ras Al Khaimah National Museum. Until the 1960s, this place once was the residence of a former ruler. Ras Al Khaimah is a historical wonder and has a vast collection of archaeological items. There are about 3 rooms exhibiting various items. The Natural History Room exhibits items like clothes, shells, seashore creatures, jewelry, costumes, etc. Qawasim Room, situated on the first floor, is famous among tourists and exhibits a collection of documents, treaties, and manuscripts between Great Britain and the rulers of Ras Al Khaimah. While Ethnographic Room displays information on the traditional life of the Emirati people along with date growth and architecture. This place is historically and culturally rich.
Unlike its glitzy neighbors, Ras Al Khaimah lets its rich natural landscape speak for itself. With so many amazing places to see in Ras Al Khaimah, it is a must-visit place if you are on a vacation in U.A.E.