Dubai is an amazing choice for a great vacation, as there are lots of different things to see and do. While there are Dubai desert safaris, shopping malls, and beaches, if you're on the look out of a bit more adventure and action, the emirate also provides access to an assortment of entertainment centers. Here is our exclusive guide that covers features and tips on some of the best amusement parks in Dubai.
1. Wild Wadi Park
Overlooks the majestic sail-shaped Burj Al Arab!
It is one of most visited theme parks in Dubai, with over 30 pulse-pounding rides including the highest water slide in the world. Modeled to resemble an Arabian oasis, it brings life to some of the Emirati folklore's most loved and well-known characters including Juha and Sinbad. Full of treasured moments, Wide Wadi guarantees absolute fun, thrill and excitement to the whole family. It also has a range of souvenir shops, food and beverage outlets, and unique promotion programs such as Cabanas and Ladies' Night.
Opening times
June to August: 10:00 hrs to 20:00 hrs
September to October: 10:00 hrs to 19:00 hrs
November to February: 10:00 hrs to 18:00 hrs
March to May: 10:00 hrs to 19:00 hrs
Ticket Prices
Depending on the visitors' height, the ticket rates range from AED 260 to AED 295. But the entry is free for kids under three years of age.
2. Kidzania Dubai
Set within the world's biggest mall – Dubai Mall!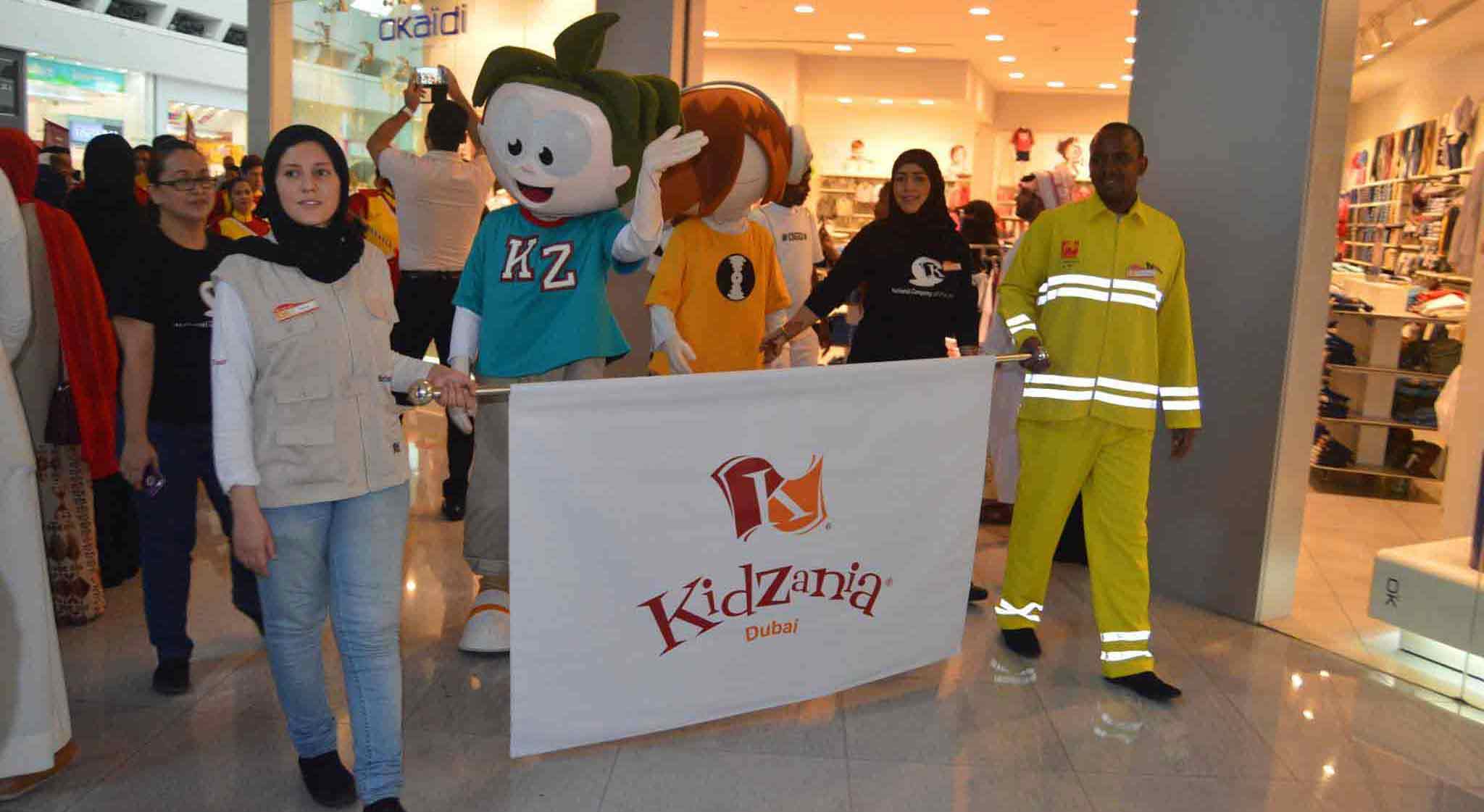 This 80,000-square-foot facility resembling an exclusive city is aptly referred to an edutainment centre. It makes a great choice to visit with your little ones, as it unveils for them an enormous world of imagination. Your child can indulge here in 80 plus real life professions thus benefitting from role play. So let your kids' dreams and thoughts soar as they open their own account, play a role of detective or journalist, fly a plane or shop at the supermarket, among others. There is also a separate area for tots.
Opening Times
Sunday through Wednesday: 10:00 hrs to 23:00 hrs
Thursday through Saturday: 10:00 hrs to 24:00 hrs
Ticket Prices
Entry is free for kids aged below two
For kids aged between 4 and 16: AED 140
For adults above 17 years: AED 95
For toddlers aged from two to three years: AED 95
3. Ski Dubai
The first indoor ski resort in the Middle East!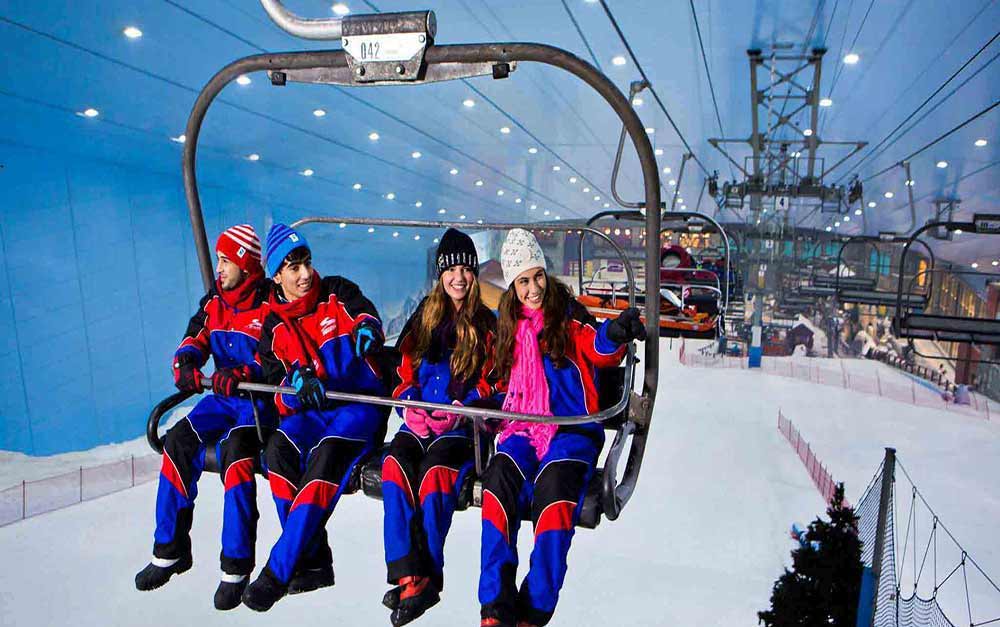 A trip to this enormously popular amusement park will surely enthuse and impress your entire family. Part of Mall of the Emirates, it provides you with a true Scandinavian feel even if you visit this desert city during the blistering summer. The panoramic slopes and attractions at this snow-filled mountain-themed facility allows for some breathtaking moments. Besides enjoying usual winter activities like skiing and snowboarding, you can swim with penguins and even enroll your kids for ski lesson programs at Ski School. There are also a plenty of restaurants and boutiques dotted around the resort.
Opening Times
Sunday through Wednesday: 10:00 hrs to 23:00 hrs
Thursdays: 10:00 hrs to 24:00 hrs
Fridays: 09:00 to 24:00 hrs
Saturdays: 09:00 to 23:00 hrs
Ticket Prices
With several passes to choose from: Super Pass, Power Pass, and Ski Dubai Experience, the rates range from AED 250 to AED 500.
You may also like -> VR Park Dubai 
4. Fun City
It has seven locations in Dubai alone! These include Arabian Centre, Ibn Batutta Mall, Lamcy Plaza, Oasis Centre, Century Mall, Mercato Mall, and Reef Mall.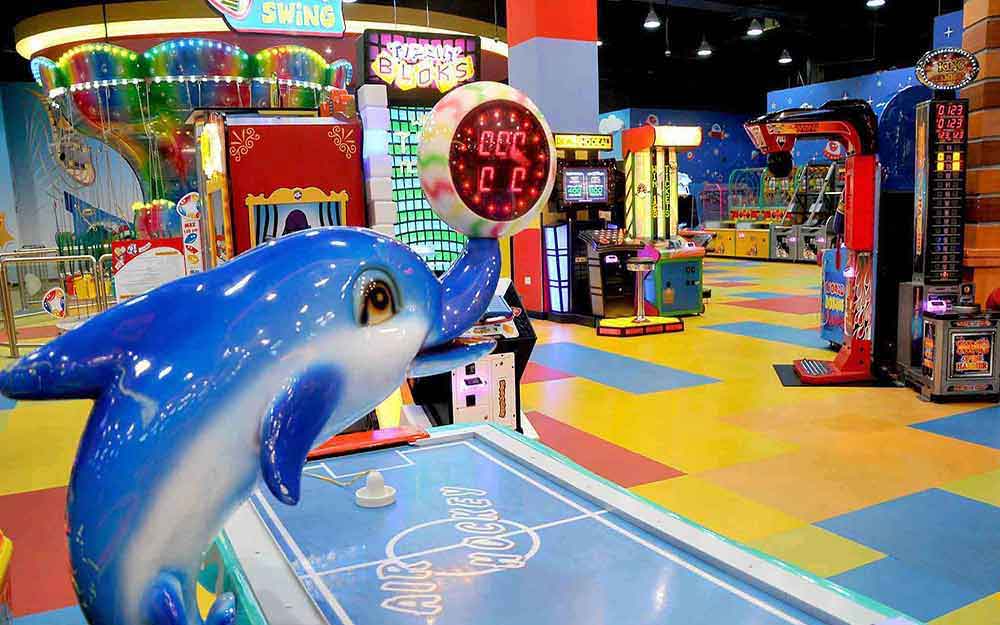 The reason why Fun City made it to this list is due to many hands-on activities, kiddie rides, and gaming attractions that it offers for ultimate fun and entertainment. While 'Fun n Learn' zone is created for kids below 4 years of age, the 'Play Zone' area makes for a great choice for kids to indulge in a variety of activities in the safest manner possible.
Opening Times
10 hrs to 22:00 hrs
Ticket Prices
Purchase Powercard worth AED 3 and recharge it according to your budget. Get bonus credits as you recharge it for AED 100 and above.
5. Sega Republic
Located within the Dubai Mall!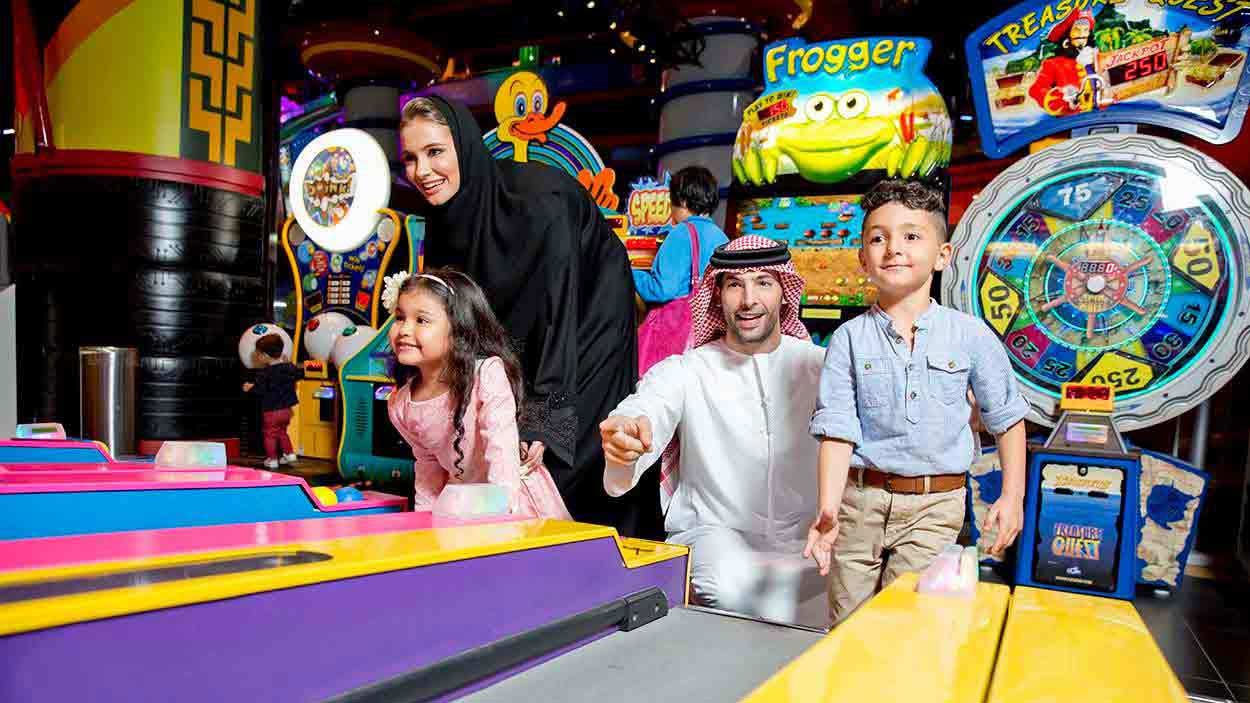 Another best amusement park in Dubai is Sega Republic which is suitable for all age groups. The rides are classified as per the likes and fright levels of visitors. Attractions like House of the Dead, American Hi-Striker, Storm-G, Sonic Hopper, and Mini Rider promise to get thrill-seekers' adrenaline pumping. If you aren't that brave, resort to such family-oriented rides as Sega UFO Catcher and Wild Jungle.
Opening Times
It is open every day from 10:00 hrs to 01:00 hrs.
Ticket Prices
There are many passes that you can choose to suit your needs and budget levels, such as Power Pass, Platinum Power Pass, and Family Pass.
6. Aquaventure
One of the major attractions of Atlantis, The Palm!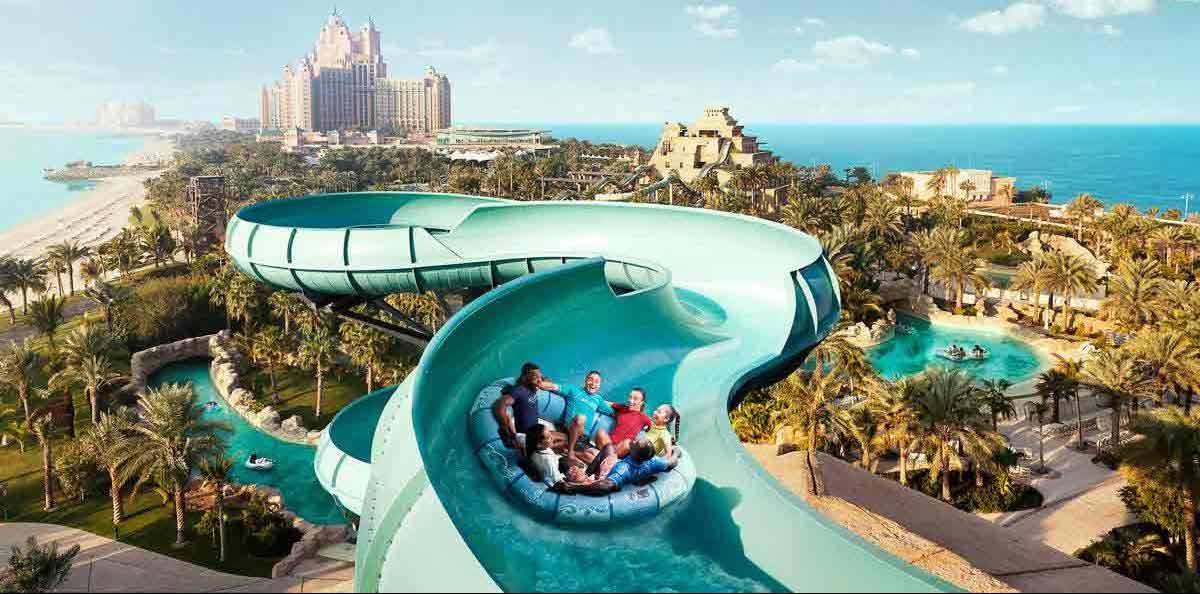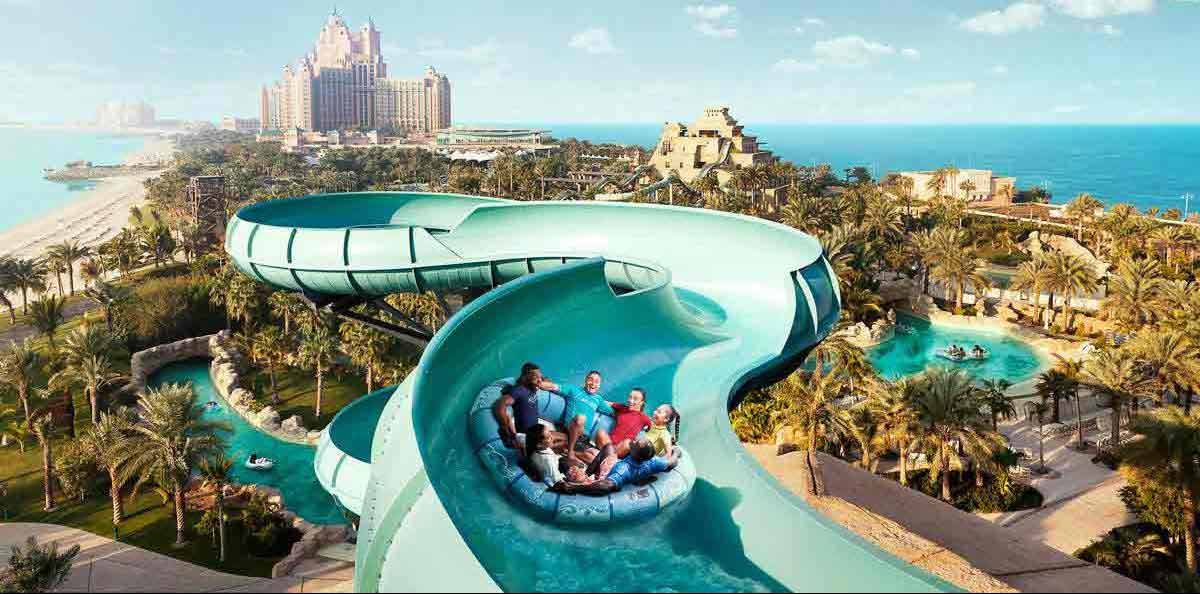 There is no doubt that Aquaventure boasts one of the Dubai's most complete and enhanced amusement park experiences. Main attractions are Ziggurat Pool surrounded by rays and sharks, Rapids, and Splashers that is mainly designed for little ones. But for many, the best part of visiting the park is feeding Cownose Ray Feeding at its Shark Lagoon and enjoying underwater wonders with a shark safari or snorkeling session. Also, of note among attractions is its zip line – Atlantean – which will take you on a great ride over the exquisite sights of Atlantis as well as its striking surroundings. Interestingly, it is the largest of its kind in the world.
Opening Times
It usually depends on time of year.
Ticket Prices
Entry fee is AED 205 for kids and AED 250 for adults.
Entry is free for kids below two years of age.
Entry is free for guests staying at Atlantis, The Palm
7. Dubai Dolphinarium
It is a segment of Dubai Creek Side Park, in Bur Dubai!
Dubai Dolphinarium is much more than an amusement park. With its sophisticated marine mammal facility complemented by a 180 degree amphitheater as well as the latest sound and lighting system, it will fling you into a world of enchanting surprises. Sure, you'll enjoy the spellbinding acts and performances by its gorgeous residents including dolphins, seals, and exotic birds.
Opening Times
The show is from 11.00 hrs to 18.00 hrs on all weekdays except for Sundays.
Ticket Prices
Entry is free for kids under two years of age.
Read more – Best Water Parks in Dubai