Despite being a desert city, Dubai grabs the world's attention for its sweeping coastline and Persian Gulf views. The Persian Gulf's shorelines, located on its western side, have become a soothing spot for city dwellers to relax, unwind, and take a break from modern life. Along its length, there is a breath-taking collection of public and private beaches that are popular hangouts for both locals and tourists. There are, however, a select few public beaches that continue to be hidden from curious tourists. Al Sufouh Beach is one of them. Here's a brief overview of this Dubai beach.
About Al Sufouh Beach

Dubai's Al Sufouh Beach goes by many names;, it is mostly called the Secret Beach and Black Palace Beach. This beach is about 2.5 kilometres long and is located near Palm Jumeriah. It is located on a shoreline that is easily hidden from view due to a swath of palm tree wilderness flanking its entrance. The beach is left in its natural state, with no artificial props or activities teeming along its shores. The beach is simply a haven for those seeking a peaceful stroll away from the hustle and bustle of the modern Dubai. It is an amazing spot to enjoy a gorgeous sunset on the Arabian horizon, with soft white grainy sands sheathed throughout the unspoilt stretch flanked by the calm waters of the Persian Gulf and an amazing view of Palm Jumeirah, Burj Al Arab, and Dubai's magnificent city skyline. The beach is open to the public and is free of cost to explore. Al Sufouh Beach timings are not restricted; the beach is open daily 24 hours.
Location and How to Reach
Al Sufouh Beach Dubai is located at a stretch of coastline between Palm Jumeirah and Wild Wadi Water Park. Thus, it is easily accessible within 10 minutes from Dubai Marina and Palm Jumeirah, whereas it takes approximately 20 minutes by road from Downtown Dubai and Old Dubai.
By Road: Taxis are the most convenient way to get to this beach, but they can be expensive. If you are driving on your own, take King Salman Bin Abdulaziz Al Saud Street if you are coming from Palm Jumeirah or Dubai Marina. Drive along Sheikh Zayed Road if you are arriving from Downtown Dubai or Old Dubai. The bus stop at Dubai College 1 is the closest bus station to Al Sufouh beach if you intend to travel by bus.
By Metro: The Dubai Metro is the most convenient and cost-effective way to get to this beach. You can take the Metro Redline to Dubai Internet City Station, which is only a 5-minute walk from the beach.
---
---
Things to do in Al Sufouh Beach Dubai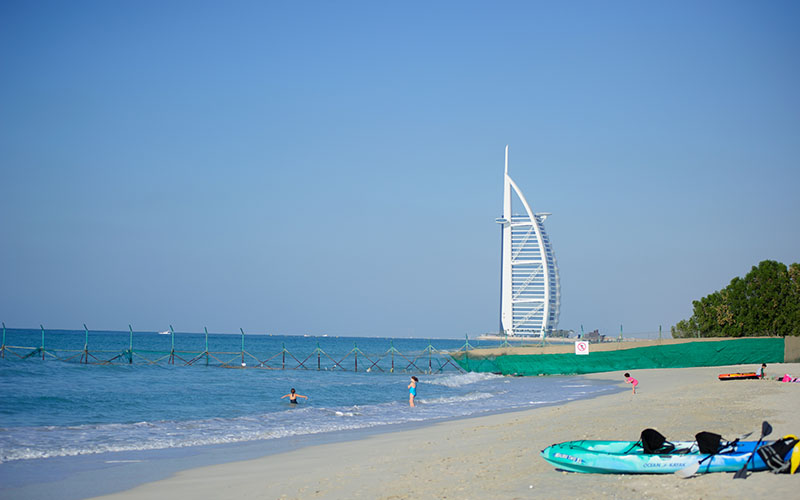 A photo stop for perfect social media shots
Set perfectly between the panoramas of Palm Jumeirah and Burj Al Arab, this beach, with its less crowded setting, is ideal for some photo ops during your Dubai vacation. Al Sufouh beach, which is hardly ever crowded, provides a clear backdrop of the captivating sail-shaped Burj Al Arab, and you can click poses to your heart's content and hashtag them on your social media handle. At this beach, the evenings are especially beautiful for photography.
Fantastic spot for a fun picnic get-together
Pack a picnic basket and enjoy this Dubai beach with friends and family. With fewer activities, fewer people, and less noise, it is a wonderful location to enjoy nonchalant moments and have some fun times with your near and dear ones. The beach is also an amazing spot to try activities like fishing.
Join the kids for a swim in the gulf
Al Sufouh Beach Dubai is one of the best beaches for families with kids. The beach gently tapers into the Persian Gulf, making it easy for children to swim in the warm blue waters. However, it is best to stay with children at all times and make sure they do not venture too far into the water.
Catch Magnificent Sunset Views
Lastly, during the sunset hours, the stellar scenery of Burj Al Arab looming in the panorama of a brilliantly amber painted sky is spellbinding to watch. The beach is one of the best places in Dubai to see spectacular sunsets amid salty breezes and peaceful surroundings.
Tips for visitors
The beach is isolated and lacks amenities such as shaded lounge chairs, sun beds, and food stalls. As a result, it is essential to bring all necessary items, such as food and water, for your convenience. Sunscreen, sunglasses, water bottles, and a hat are some of the must-have items when visiting any Dubai beach.
The dress code should be modest because it is a public beach. At this beach, avoid wearing see-through or revealing clothing or bathing suits.
It is best to visit Al Sufouh Beach during the cooler months of Dubai, which are from October to March. Additionally, the mornings and evenings are quite pleasant and offer refreshing picturesque views of the sun rays sparkling on water surface as they play across the horizon during dusk and dawn.
Conclusion
Dubai is stunningly beautiful, and there's so much more to discover. However, the emirate encourages visitors to consider the serene experiences of Dubai beaches among its scintillating modern beauty. While it shows visitors many of its beautiful beaches, a few have escaped the spotlight and have undoubtedly become the space that best suits visitors who would love sublime moments to relax in salty sea breeze and hushed surrounds enhanced by a magnificent sunset. Al Sufouh Beach might be a low-key tourist spot but it is unquestionably the ideal setting for a serene, laid-back beach experience. If you want to enjoy the beauty of Dubai's shore and city views in peace, head to this hidden gem of Dubai. It would be an unforgettable experience!