What comes to mind when you think of beaches? Resting under the sun and soothing yourself with the humid sea breeze, while sipping a cool drink. How about spending some relaxing time on the beaches of Dubai? In fact, visiting the beautiful beaches in the city is one of the best things to do in Dubai. So brace yourself for an amazing vacation exploring the Dubai beaches with your loved ones.
Before you make your plans, get a complete guide on the splendid beaches of Dubai, where you can rest, relax and have loads of fun.
Jumeirah Beach
Jumeirah Beach is one of the most popular beaches in Dubai. An ideal picnic spot for your loved ones, this beach has been awarded the Blue Flag Beach certification, owing to the international standards that it meets. It has a round-the-clock security guard service and sports facilities. To make the beach visit more enlightening, there is a library facility on the beach, where one can borrow books and read while resting on the sand. The books here can be borrowed for free. The Jumeirah Beach Park, which is adjacent to the beach, offers a desert garden, children's playground, cafes, barbeque areas, and much more to add to your fun.
Umm Suqeim Beach (Sunset Beach)
Sunset Beach is known for its stunning view of the Burj Al Arab due to its proximity. This beach is equipped with changing rooms and shades to prevent us from the scorching heat. Also, there are shower facilities and round-the-clock security guards and lifeguards. There are plenty of restaurants around the beach and also a lot of barbeque corners for you to savor some delicacies here. The barbeques also allow you to prepare some exquisite BBQ dishes, making it an ideal place for a beach picnic with family and friends.
---
---
Al Mamzar Beach Park
Al Mamzar Beach Park is one of the most desired picnic spots in Dubai. It offers large grass expanses of green grass picnic areas, an amphitheater, swimming pools, kids' play areas, barbeque and food spots, lagoons, and sheltered beach coves. Spread over about 106 hectares, the main characteristic of this park is that it offers five outstretched beaches with lifeguards and watch towers.
Kite Beach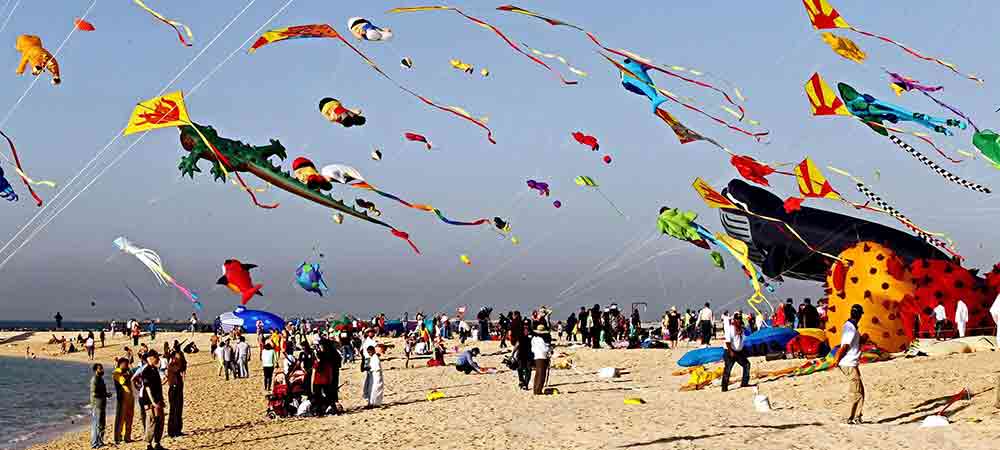 Kite Beach, also known as Wollongong Beach, is one of the biggest attractions for kite surfers, kayakers, and soccer and volleyball players, who flock here to enjoy the warm waters. You can also enjoy water sports like parasailing, jet skiing, etc. here. Other activities like mini bungee jumping and skating are also practiced by tourists here. This beach even offers a running track. To avoid the heat, it is advised to get your hats and other necessities.
---
---
Black Palace Beach
If water sports are not your thing, Black Palace Beach would be ideal for you. Also known as the Al Sufouh Beach, this beach is a quiet, private beach amidst a thick cover of five-star hotels. This is known for its tranquillity, privacy, calmness, and panoramic view. This beach is located near Palm Jumeirah and the Burj al-Arab.
The Marina Beach
Located in the busy area of Dubai Marina, this beach is surrounded by luxury residential waterfronts and resorts. Though a crowded place, this beach is known for its cleanliness and people flock here to take walks and jogs and dip in the crystal clear sea water on the beach. This is the best place to try an amazing range of food with some exquisite seaside restaurants.
Conclusion
Conclusion: So, what are you waiting for? Grab your Dubai tickets and visa and take out time to enjoy these amazing beaches with your family and friends.