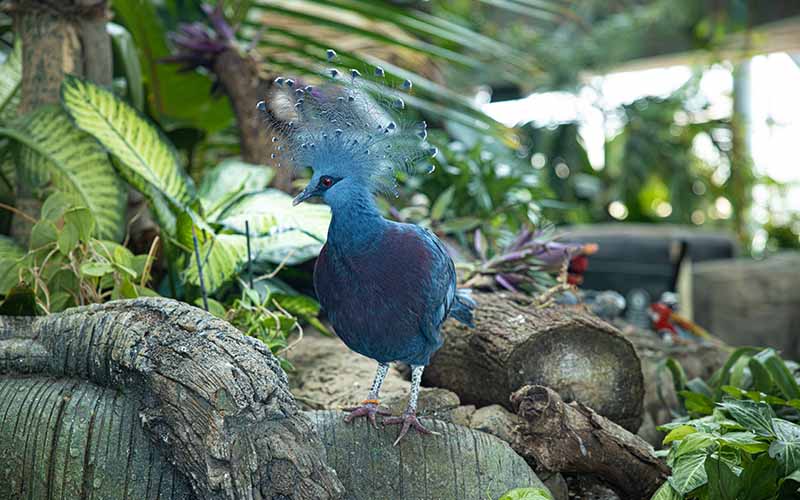 Dubai is a metropolis that has ascended from the Arabian sand supported by a thriving economy, innovative government, ground-breaking development, & pioneering contemporary culture. This city, a global metropolis of retail, banking, and luxury, provides its tourists with a one-of-a-kind experience thanks to its high hospitality standards. However, the region has long been a historical crossroads, serving as a link between Oriental & Western civilizations. Dubai's commitment to a global identity extends to its initiatives for environmental awareness, notably the Lush Planet Dubai, a project in which the pinnacle of design and planning led to a green tropical paradise in the beautiful Arabian Desert.
---
---
The Green Planet is the region's first bio-dome, recreating the enthralling world of the tropical forest having over 3,000 plants and animals. The confined habitat of CITY WALK provides guests with an immersive excursion into the tropics. Visitors can engage on four levels with various animal and plant species ranging from sloths, tree porcupines and tucans to South American vegetation, vines, reptiles, fish, and insects. It is a fantastic place for families and visitors of all ages.
The Green Planet in Dubai is an exquisite indoor rainforest. This rainforest is a gift for nature lovers, with over 3,000 types of unusual flora and fauna. It is an immersive tropical forest that operates as a true ecosystem under a vertical glass bio-dome fashioned as a folded origami sheet and is divided into four levels – 1)The Canopy, 2)The Mid Story, 3)The Forest Floor, and the 4)Flooded Rainforest. At the heart of this enthralling forest exist an artificial tree that is 82-foot-tall, which creates a thriving environment for wildlife and is connected to an indoor waterfall.
The flooded rainforest is a cavern of tanks with rare amphibian and marine animals including arapaima, fishes, Arowana, stingrays and tortoises that are generally found in underwater tropical conditions as you go on this enthralling trip.
Four Levels at the Green Planet
The Green Planet is divided into four levels;
Flooded Rain Forest
Midstory
Forest Floor
Canopy
World's Biggest Artificial Tree acts as the Centerpiece
Its centrepiece is the world's largest artificial tree, which creates a living habitat in which animals & plants can thrive. This life-sized and life-sustaining artificial tree is 82 feet tall.
Award-Winning
At the 2016 Middle East Consultant Awards, The Green Planet was named Project of the Year. The award recognizes the best project in Middle East in terms of design, planning, and execution in 2016.
The project was also immensely commended for the Mechanical Project of the Year in 2016 in the MEP Middle East Awards, the most prestigious honour in the Middle East's MEP field.
The Green Planet Timings
Sunday-Wednesday: 10:00 am to 7:00 pm
Thursday-Saturday: 10:00 am to 8:00 pm
Entry Fee to the Green Planet Dubai
Adults pay AED 99, AED 74 for children aged 3 and up. Children above 12 years of age will need to purchase an adult ticket. Children under 3 years of age have a free entry to the Green Planet.
Best Time to Visit the Green Planet Dubai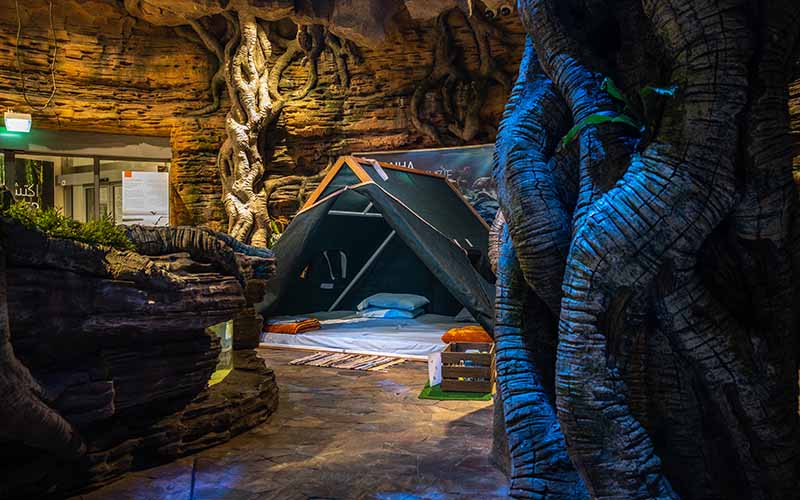 To avoid crowds, visit this rain forest the first thing in the morning. Weekdays are also preferable because they have less people than weekends. The holiday season in December brings a large number of travellers, and the charm will be fairly packed most of the day.
Reaching the Rainforest
By metro: Follow the red line metro to the nearest station, Dubai Mall Station, and then a short cab journey.
By transport, you can take the Subway, the line 106 bus, the line 81 bus, or the line 106 bus.
By Cab: You can take any private/ public taxi straight to City Walk.
Key Highlights in the Green Planet
Explore the Rainforest– The ideal way to spend time in this contained ecosystem is to explore the fascinating creation of the Green Planet. The Green Planet, divided into four floors, is a home for thousands of living animals ranging from South American plants, exotic flowers, parrots, toucans, to piranhas, Burmese pythons, sloths, tree boas, crocodile lizards, and several more species. Explore the jungle in the dome & get up close and personal with nature. It may be a thrilling and informative experience.
Piranha Experience– Enjoy a one-of-a-kind piranha experience in this rain forest, where you can see thousands of piranhas eat their prey with their razor-sharp fangs. To understand more about these intriguing critters, visitors can even converse with the experts on hand.
Sloth Encounter– The sloth experience allows visitors to get up close and personal with the creatures which sleep for more than 15 hours a day. These soft critters move slowly and frequently cling to branches upside down. Interact with and photograph these slow-moving mammals at the Green Planet.
The Bat Cave– Bats are known for their exceptional flying abilities, and in the Green Planet's Bat Cave, visitors can feel the thrill of being in the presence of these incredible mammals. See how the Seba fruit bats reside in the natural habitat within the bat cave.
Sugar Glider Encounter– The sugar glider encounters allow visitors to engage with the palm-sized nocturnal possums. Daily at 3:30 PM, this 20-30 minute exercise takes place. Get a peek into their intriguing world and even take photos with them.
The Australian Walkabout– This is all about networking with an array of Australian native reptiles. Experience the excitement of being in the presence of Australian carpet pythons, snake-neck turtles, and kangaroos. One can also feed the Kookaburra, a magnificent kingfisher.
Dining Options at Dubai's The Green Planet
You may not have any dining needs because you are only visiting a zoo-cum-bird sanctuary for two hours, and munching food stuffs there inside the premise is strictly prohibited. Once you are out, there are lots of restaurants to choose from. Pomme De Pain, Dose Café, Eggspectation, Sugar Factory, & more wacky new-age fusion restaurants are available. A couple of fashionable cafés as well as eateries line the whole City Walk.
---
---