It goes without stating that Dubai is a top-notch destination. The whole world inclines to follow Dubai – being the city capital of stunning architecture and finest cuisines, the epicenter of trendy labels and haute-couture, and most of all a hot-bed for sumptuous lifestyle.
Planning for a truly luxe visit to Dubai? Then we have the perfect itinerary with a couple of totally distinctive, pricey, and offbeat experiences. These are not only worth the splurge but also offer you an authentic taste of luxury Dubai.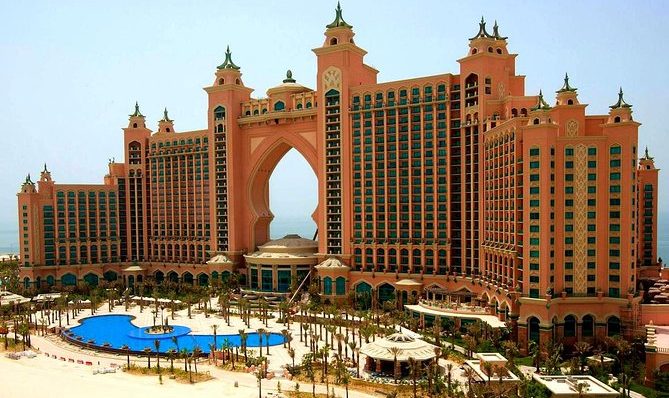 1. Coddle Yourself with a Relaxing Spa Treatment
Probably the best way to obviate jetlag and kick start your Dubai vacation in the most luxurious manner is to indulge in a soul-soothing indulgence treatment offered by one of the many top of the line spa facilities in Dubai, including Talise Spa at Madinat Jumeirah, Armani / Spa, One and Only Private Spa, The Palm, and Park Hyatt's Amara Spa. From pampering massages and invigorating body exfoliating and wrap treatments to high performance facial and hand and foot care, you can engage in a one-of-a-kind body care ritual in an intimate, fabulous, and relaxing atmosphere.
2. Experience Opulent Dining
After a day of total relaxation and rejuvenation, celebrate your arrival in Dubai by savoring award-winning cuisines in an extravagant setting. Whether you choose to dine in a renowned Michelin-starred restaurant or an avant-garde dining establishment or eat within a venue boasting palatial-style interiors, Dubai has all. Thanks to its plethora of highly distinguished and splendid options, such as Ossiano in Atlantis The Palm; Noble House within Raffles Hotel; Al Hadheera at Bab Al Shams; and At.Mosphere at Burj Khalifa. For those looking for ultimate in luxurious dining experience in Dubai, perhaps nothing could beat a private dinner on the helipad of sail-shaped Burj Al Arab.
3. Private sightseeing tour
Get your fill of Dubai, as you visit iconic landmarks, discover hidden corners, explore unconventional beauty, and immerse in the magnificence of its old world charm on a fully customized private sightseeing tour with premier ground transportation. Speak to your tour specialist, who will personalize your itinerary and arrange a high-end conveyance of your choice in a comfortable SUV, a luxury stretch limousine or classic super car like Lamborghini. For a unique experience, go for a self-drive to enjoy the exquisite highlights and well-maintained roads of the emirate at its best.
4. Go for a top-notch shopping session
From classic designer and chic outlets to charming boutiques, Dubai has everything that luxury-seeking shopaholic desires. Lined with merchandise from almost every top fashion brand as well as trendy labels, the city's more than 60 shopping malls like Dubai Mall, Mall of the Emirates, Wafi Mall, and Ibn Battuta Mall, will for sure provide you with an upscale shopping experience.
You can also have a first-hand haute-couture experience by seeking the help of a professional fashion advisor who will not only update you about up-to-the-minute fashion trends but also enable you to design your own outfit that fits your style, personality, and of course the current trend.
5. Romantic hot air balloon ride
Looking for an alternative way to experience the sweeping beauty of Dubai's attractions? Then you can never go wrong with a magical hot air balloon ride over the breathtaking dunes and stunning landscape of the emirate. As you soar over the golden sands and float serenely on the airborne platform, the ecstasy, exhilaration, and romance that you experience will be beyond your imagination.
6. Private Helicopter Flight
Whether you're an adventure fanatic, a photography enthusiast, or someone looking to have unique fun and thrill during a Dubai vacation, a scenic helicopter ride is one luxury activity that you should certainly add to your bucket list. On this aerial tour, you'll get to see Burj Al Arab, Palm Island, Burj Khalifa, Dubai Marina, and many other majestic sights of Dubai including mesmerizing dunes and gleaming waters in a way that's quite unimaginable from the ground.
7. Luxury Yachting
Charter a deluxe yacht to enjoy lovely moments away from the bustling crowd while soaking up the astounding views of Dubai's skyline. Complete with everything you could imagine and beyond, such as recreation, dining and leisure facilities, this exclusive luxury cruising option is also an ideal choice to celebrate your birthday, wedding anniversary or other special occasions in the most exceptional, opulent, and memorable manner.
8. Overnight Desert Safari
Wind down your luxury vacation in Dubai with an overnight desert safari tour amidst the enigmatic surroundings of the Dubai's desert. Choose from the many different desert safari deals. As part of the trip, venture out to the desert by 4×4 or upgrade your adventure on dunes by including a sand boarding or quad biking session.
With this unique desert safari, you can also relive the times of ancient Emiratis by riding camel and enjoying a slew of traditional Arabic activities like astonishing falconry displays and getting your hands adorned with exotic henna designs, before you relish a multi-course dinner at a Bedouin-inspired camp.
After dinner, relax by campfire, smoke Shisha, and watch enthralling traditional belly dance and Tanura performances. When you've had enough of revelry, settle in a private tent replete with all essentials for a peaceful sleep under the star-lit desert sky.
9. Indulge in Exceptional Experiences
Dubai is one of the world's most fascinating cities means it offers a variety of incredible options that you must try at least once in your lifetime. Go for a culture tour, enjoy golfing in idyllic surroundings, take a seaplane flight, and experience the ultimate in privacy and luxury by booking a facility or attraction exclusively for you and your dear ones.
10. Sleep in Utmost Luxury
To enjoy the authentic Emirati lifestyle to the fullest, opt for a chic, uber-classy hotel or apartment located in one of the city's posh areas. Some of the high-end accommodation options in Dubai are Burj Al Arab's Royal Suite, Grand King Suite at Rixos The Palm, Presidential Suite of Fairmont The Palm, Armani Dubai's stylish suites, and well-appointed Presidential Suite within Al Maha Desert Resort and Spa. To have an authentic desert life experience while basking in luxury, you must try some of the most beautiful desert resorts in the UAE. All these offer a fairy-tale-like stay, with the most modern amenities and mind-blowing views.