As the lyrics of the popular track 'Money, Money' by ABBA goes, it's always sunny in a rich man's world, and never does that statement achieves fulfillment better than in Dubai (both figuratively and literally). Indeed, let's not fool ourselves; 48 hours is hardly enough time to spend in the swankiest and most luxurious city in the world. But to those who are under constraints as regards to time, I say this: do not despair, for we can help with that.
What you, dear reader, can expect from this article is a comprehensive guide on how to go about your visit to Dubai. Thank us later.
Day 01
1. Visit the World's Largest Mall – Dubai Mall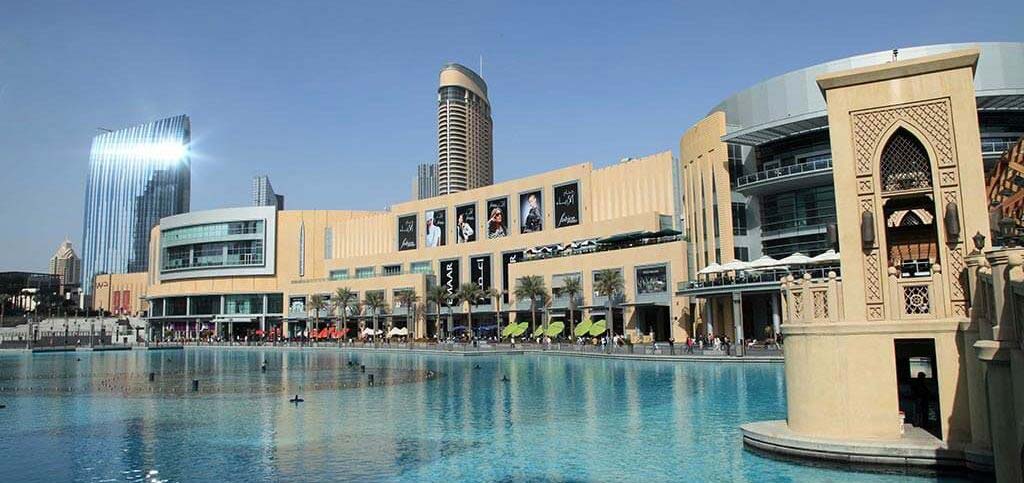 Astonishing details I've heard of about the largest mall in the world is the story of a certain Korean man who waited for two hours for a parking spot. It was, as he would realize upon entering Dubai Mall, totally worth it. With over 1,200 shops in it, the very entrance that the mall made into the field of tourism is a spectacle. This is the next generation of shopping malls, with luxury, convenience, and entertainment all mixed into one.
While Dubai Mall is one of the best places to shop in Dubai and shopping here is quite exciting, the mall is also home to several other amazing attractions. One of the places that you must visit here is the Dubai Aquarium and Underwater Zoo. Apart from this, there is VR Park Dubai, a theme park that is based on virtual reality and augmented reality. There is Kidzania Dubai that would keep the little ones busy and entertained. Dubai Mall also has a multiplex theatre and a huge food mall. Outside the Dubai Mall is the Dubai Fountain which performs a marvelous light and sound show every evening.
And as if that's not enough incentive to visit the place, some kind fellow even put up the tallest building in the world right next to it. How sweet of him.
2. See the City Lights From the Top of the Burj Khalifa
When it comes to tall buildings, it doesn't get any better than this. The Burj Khalifa, at 828 metres high, would be head and shoulders above other buildings in terms of height, except that buildings don't have heads or shoulders.
Phenomenally tall and exceptionally sleek, this is the height of luxury (pun intended). The tower, which has residences, a hotel and offices, has multiple swimming pools, the fastest elevators in the world and an all-round luxurious, welcome-to-Dubai kind of atmosphere. If you want to have some money left by the time you leave the city, you can even shun all of these and observe the city from the highest observation deck in the world At The Top, instead.
3. Cruise Away on Dubai Creek
Dubai sightseeing and mall shopping, though quite exciting, can be equally tiring. However, you do not have to sit in your hotel room while being sad that you do not have much time to view the sparkling city of Dubai. A distinctive way to sightseeing Dubai, while giving your hurting legs the much needed rest, is to go on a dhow cruise in Dubai Creek.
The dhow cruise is a beautifully decorated Bedouin-style dhow that has been turned into a restaurant. While the dhow cruises along the Dubai Creek, you not only have the benefit of viewing the skyline of the city but also savoring some luscious continental food. Entertainment programs like Tanoura dancing, live music show, etc. are a part of the dhow cruise dinner on Dubai Creek.
Day 02
1. Dubai Museum
Spend your second day in Dubai exploring the past of the city. Dubai is a relatively new city and all the development that you see around you has happened in the last 4-5 decades. Before it became a glamorous city, Dubai was a simple and modest village which was sustained by fishing and pearl diving. If you are fascinated about the history of the city and how it grew into this expansive city, the Dubai Museum is a place you must visit.
The Dubai Museum takes you back to the past of the city, where you would be able to see the houses, villages, markets and lifestyle of the city. There is also a video at the end of the tour where you would see how the growth and development of the city over the past few decades.
2. Bastakiya Quarter
Close to the Dubai Museum is the Bastakiya Quarter, the oldest neighbourhood of Dubai. While part of it was erased for development purposes, a small section has been still preserved beautifully. At the Bastakiya Quarter, you would get to walk through narrow winding lanes, view the beautiful old-fashioned houses, the unique wind towers, which would all take you back to the times gone by.
Some of the houses have been transformed into cafes, art galleries and museums. One of the best places to visit here is the Coffee Museum, where you would get to know all about the history of coffee, right from the time it was originated. It is also a great place to try the most delicious and aromatic Arabic coffee.
---
---
3. Desert Safari
Don't get me wrong here: Dubai is a truly cosmopolitan enough city, one that's far more dependent on advanced technology than most others. If you think of camels or wonder what you'll do without Starbucks, you're sorely mistaken and you really need to Google 'Dubai skyline'.
However, having said this, it's an undeniable fact that it is a desert city. If you've ever wanted to partake in the mysterious delights of a desert safari tour, you won't find a better place to do so than in Dubai (and a better time to do it than night-time). The evening desert safari includes adventurous activities like dune bashing, camel riding, quad biking and sandboarding. You would also get to see some amazing performances by Tanoura and belly dancers. The desert safari ends with a hearty BBQ meal where you would get to enjoy some delicious Emirati cuisine. With all its attractions and activities, the desert safari would surely be one of the most profound experiences you'll ever have.
Of course, 48 hours are way too less when it comes to holidaying in Dubai. However, it would give you a taste of this wonderful city and you would surely want to come back for more.