Only a few cities in the world are revered for their brilliance in the field of architecture and civil engineering. Whatever structures they have constructed have become landmarks for the world. When one starts counting those cities, the enumeration is never complete without the inclusion of Dubai. Such is the number of construction of skyscrapers that this desert city of the UAE that was once known only for the Dubai desert safari has now become an epitome of modern architecture. Today, it has the highest number of skyscrapers in the world with a tally of over 900 humungous structures. In fact, whenever any unique or architecture masterpiece has to be constructed, the world looks at Dubai as an example.
Dubai has so beautifully utilized its economy in procuring the world's best technology in construction and architecture design, that it has dwarfed the tallest buildings of the world with an impressive margin of 700 ft. in height. It holds a record for the world's tallest residential and commercial building. Looking at the incredible number of skyscrapers the city holds, it is impossible to deny that the city has a passion for building rare, unique, and tallest buildings. No wonder any mention of the word "tallest" has become synonymous with Dubai. If all that you have heard about this desert city is prompting you to plan for Dubai holidays, don't' miss to visit these tallest buildings in Dubai that will have you awestruck and make you bow to its thought.
1.Burf Khalifa
Burf Khalifa is the tallest building in the world that stands tall at an incredible height of 828 meters. When it was completed in 2010, it not only had the world drop its jaw, but also bow down and look at it in astonishment. The amazing megalith made a beeline in the record book for its height as well as its budget of US $1.5 bn. Located in the Downtown Dubai, the building is second after the Great Wall of China that is visible even from the sky. There are many things in this building that is worth experiencing. For example, the observation deck at the height of 1,821 feet, the fastest high-rise elevator, and the highest restaurant are a few things that make the building unique and worth admiring.
---
---
2.Princess Tower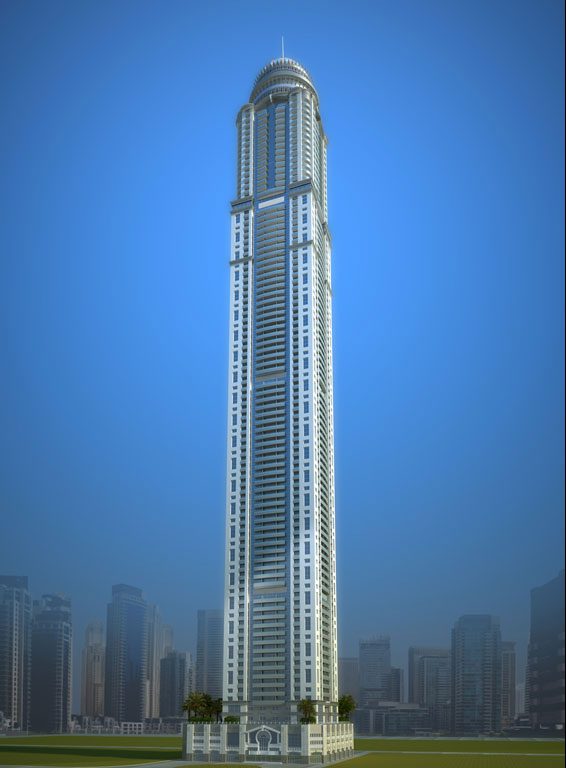 The Princess Tower is not only the tallest residential building in Dubai, but in the world as well. It not only surpasses all the records in terms of width and height, but also in numbers of occupants owing to its 700 luxury apartments. It is built in a sprawling area of 37,410 square and has a height of 414 meters. It has 100 floors above the ground and is one of the major wonders of Dubai. It is facing the magnificent Dubai Marina and the glamorous Palm Jumeirah. Besides, it is also flanked by some of the finest landmarks of Dubai such as the Marina Mall, the Ibn Battuta Mall, and the Mall of the Emirates, and several posh restaurants, chic bars, night clubs, and reputed institutions.
3.Marina
This residential building is the second tallest in Dubai and third tallest in the world. It has lost the title of the tallest housing building in Dubai by a nominal margin in meters. It is lagging behind by 21.2 meters in comparison to the Princess Tower. Out of the 92 floors it has, 88 are above the ground and 4 underground. The building has all the amenities to lead a luxurious life, such as attached swimming pools, private elevator, and terrace garden. It is located in the bustling commercial area and next of the Emirates Gold Club. Its six-storey entrance hall with geometric flooring design and slanted glass walls are its USP.
4.Elite Residence
The Elite Residence is the third tallest building in Dubai. Standing with an impressive 380 meters in height and comprising 87 floors, this residential building has everything that defines luxury and comfort. The building has sprawling penthouses with one bedroom and four bedrooms. It is so beautifully constructed that occupants need not have to go out for their recreational needs. There are spas, swimming pools, recreations, areas, business centers, health clubs, retail facilities, and children's play area. Besides all the amenities, what makes the building worth loving is its address of the Dubai Marina. So with ultra modern living facilities, the building residents are also provided with panoramic views.
5.J.W. Marriott Marquis Dubai Tower
This skyscraper redefined the quotient of hospitality with its impressive architecture design and towering height of 355 meters. It is recognized as the world's tallest hotel and is built with 76 floors and 1,608 suites. It has two towers with a count of 804 units each. The hotel is equipped with business center, conference halls, meeting rooms, banquet halls, health club, spas, gymnasium, swimming pool, and food and beverage outlets. Built in 2013, this hotel is one of the luxurious and expensive hotels in Dubai.
6.Emirates Office Tower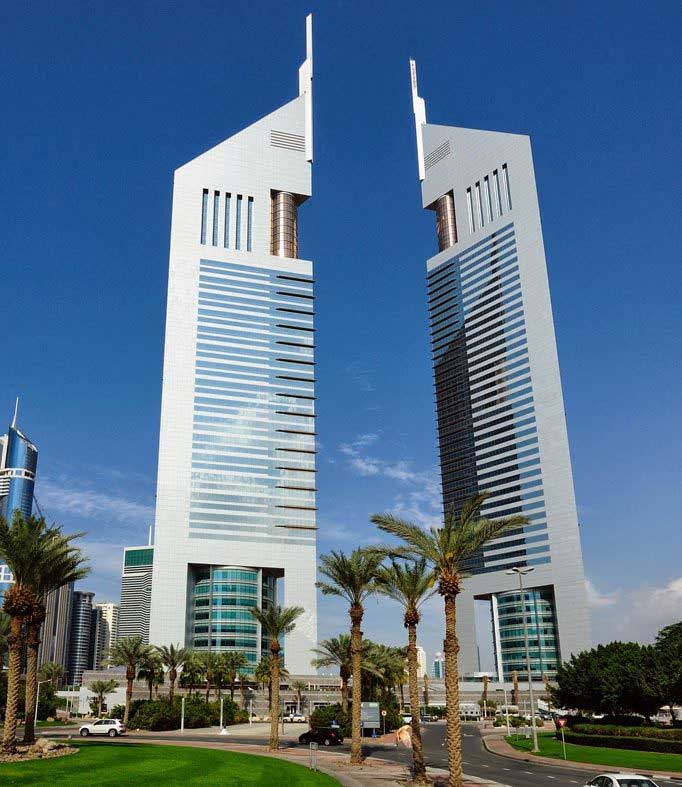 The Emirates Office Tower is also called Emirates Tower One. It stands shoulder to shoulder with J.W. Marriott Marquis Dubai Towers since both are standing 355 meters in height. It was built in 1999 in Dubai's posh ad expensive commercial locality on Sheikh Zayed Road. Not only doing business in this Tower is convenient, but also strolling in its vast and magnificent landscape loaded with lush vegetation and fine pavements is a treat for visitors.
7.Ahmed Abdul Rahim Al Attar Tower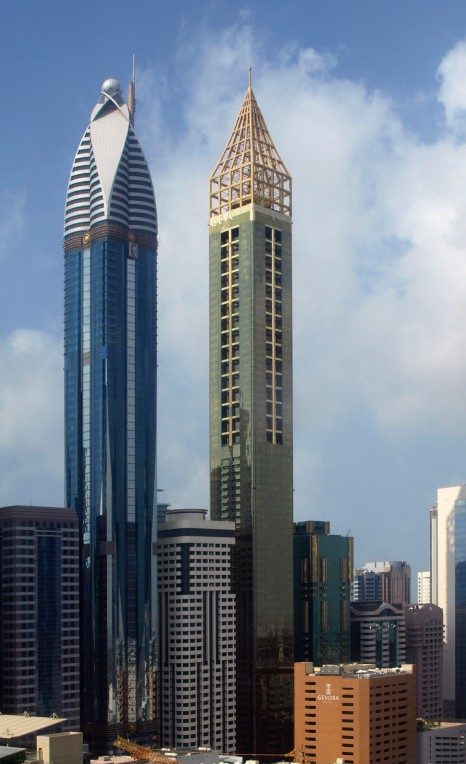 This megalith tower is built in the financial center of Dubai, which is famous as Sheikh Zayed Road. It is built in such a way that it offers maximum sunlight to its users with several windows on each floor. The overall design of the Tower is rectangular, and its each corner tapers into a pyramidal crown structure towards the top. To stabilize such a huge structure, the engineers have  used the caisson foundation system.
These are a few of the tallest buildings in Dubai that hold recognition in the world for its unique architectural designs. As said earlier about Dubai's passion for anything taller, there are reports that the city is planning to construct a few more buildings that can leave behind Burf Khalifa. So, next time when you try to find the amazing skyscrapers of Dubai, a few names out of these may have made their exit fro the list of the tallest building in Dubai.