Sightseeing in Dubai is a true delight. The city has all the elements to capture our attention and even enamour us. The tall Burj Khalifa, the sail-shaped Burj Al Arab, the iconic Sheikh Zayed Road, the glamorous Dubai Marina, the exciting desert safari Dubai and the swanky JBR are some of the popular attractions of the city that both locals and tourists love. While one must take time to explore every nook and corner of the city, there is a shortcut but equally thrilling way to see the city, which is the helicopter ride, one of the top luxury things to do in Dubai.
The Dubai Helicopter Ride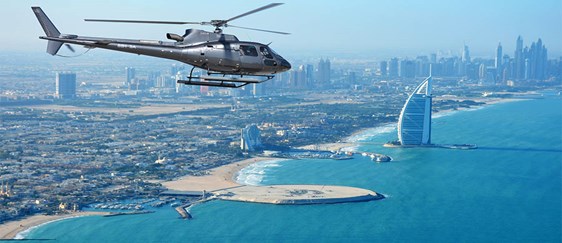 The helicopter ride gives you the chance to see the city with a bird's eye view. The other ways to do so is to go on a hot air balloon ride or try skydiving. However, if you are not keen on such extreme adventures, the helicopter ride would definitely serve the purpose, without hiking up your adrenaline.
Different tour packages are available with different tour companies. A helicopter ride in Dubai can last anywhere between 12 minutes to 40 minutes. While 12 minutes is great for a budget traveller, the 40 minutes helicopter ride would give you a detailed tour of the city, along with a view of its several hidden treasures. A helicopter ride will be a great way of enjoying your weekend in Dubai.
Helicopter Ride Dubai: Attractions to See
The attractions you would get to see during your helicopter tour would depend on the package you select. However, there are certain attractions that would be common for all. For instance, places like Burj Khalifa, Palm Jumeirah, Burj Al Arab, World Islands, Business Bay, Dubai Canal, etc. are included in almost all helicopter tour packages. Helicopter ride with a longer duration would give you the chance to see much more, including Atlantis Hotel, Jumeirah Lakes, Dubai Canal, Heritage Site, Wind Towers, Dubai Marina, Dubai Corniche, the souks, etc. The best part is that you would get to see the iconic creations of the city, including the Burj Khalifa, the Palm Jumeirah and the World Islands, in all its glory.
Helicopter Ride: What to Consider
While the duration of the tour is something you need to think about before booking your tour, here are some other things that you should consider:
Time of the Day: To ensure that you have a memorable helicopter tour in Dubai, you need to choose the time carefully. It is best to choose early morning or midday as the Dubai air is most clear during these times. Avoid sunset and post sunset tours, as the city is likely to be covered with a thin haze, thus diminishing your visibility.
Weather: Although it hardly rains in Dubai, the city does experience dust storms and thunderstorms sometimes. Hence, always check the weather forecast before booking your tour, as bad weather can lead to postponement or cancellation of your helicopter tour.
Tour Operator: There is no dearth of tour operators or companies that offer helicopter tours in Dubai. However, to make sure that you have a wonderful experience, you need to choose only the best. Do your research well and choose a company that has years of experience and a good reputation as well.
Helicopter Ride: Important Tips
Here are some things that you can expect while you go for a helicopter ride in Dubai:
You need to produce your passport while checking in at the security check post. Hence, do not forget to carry it while you go for your helicopter ride. Without your passport, you would not be allowed to ride on the helicopter.
Most tour operators do not allow children below the age of 4 to ride on the helicopter. Moreover, children between 4 and 16 years should be accompanied by an adult.
There is no child rate for helicopter rides. Children, adults as well as senior citizens have to pay the full price.
Pregnant women (up to 32 weeks) can ride the helicopter if they have a doctor's certificate.
You would be provided with safety instructions by your pilot before your flight. Listen to them carefully and follow them to the letter.
Choose your attire carefully. Opt for light and comfortable clothes. Most helicopter tours do not allow guests to wear earrings.
While taking pictures during your helicopter ride is permitted, using cameras with telephoto lens and high resolution camcorders are generally banned on the helicopter due to security reasons.
If you are a group of 5 people, it would be best to book a private helicopter. The total cost would be the same as that of the shared one, and you would also get the required privacy.
Conclusion
The helicopter ride in Dubai is one of the unique experiences that you will have in the city. Even if you are in Dubai for a long vacation or a short one, a helicopter ride would definitely enhance your overall holiday experience. It is also one of the exciting things to do with family in Dubai.