Dubai is known for its extravagant lifestyle, stunning architecture, and mesmerizing landscapes. A desert safari is one of the most popular adventures that tourists seek in Dubai. But have you ever considered embarking on a sunrise desert safari?
Picture yourself immersed in the tranquillity of the early morning while witnessing an awe-inspiring sunrise over the vast Arabian Desert. Get ready to experience an enthralling journey through sand dunes, camels, traditional Arabic breakfasts, and much more with Sunrise.
In this blog post, we will unveil all the magic behind this incredible adventure and guide you in making your experience unforgettable!
What to Expect on a Sunrise Desert Safari?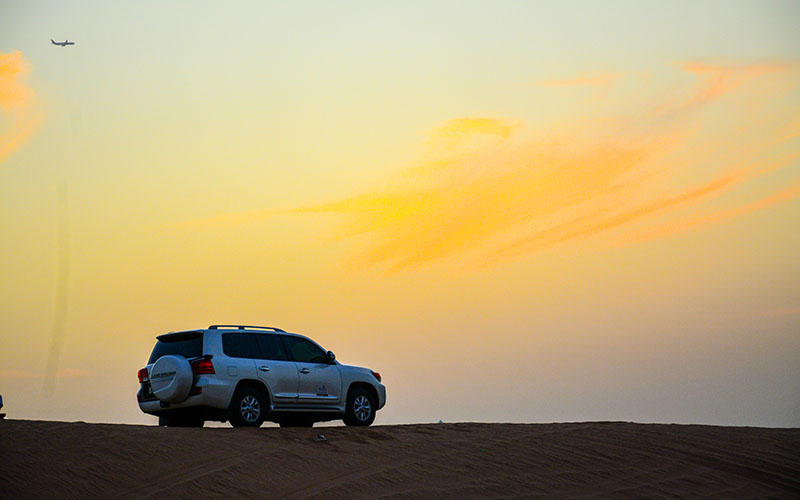 If you're planning on embarking on a sunrise desert safari in Dubai, then you're in for an adventure of a lifetime. The experience begins early in the morning when your tour guide picks you up from your hotel and takes you deep into the heart of the desert.
As soon as you arrive at the campsite, which is set amidst towering sand dunes, you'll be welcomed with traditional Arabic coffee and dates. After a brief welcome session by your guide, it's time to explore everything this unique environment offers.
One of the main highlights of a sunrise desert safari is undoubtedly watching the beautiful sunrise over the vast expanse of sand dunes. You can take plenty of photographs or simply sit back and enjoy nature at its best.
The tour typically includes thrilling activities such as dune bashing, quad biking, and camel riding, along with hot air balloon rides, giving tourists an adrenaline rush unlike any other. If these aren't enough for thrill-seekers, then one can opt in for some additional activities like sand boarding or falcon shows too!
Once all these activities are done, there's also live entertainment provided, including belly dancing performances, before settling down for breakfast, followed by departure back towards Dubai City.
Expect to have an unforgettable experience full of adventure and excitement while immersing yourself in Arabian culture during this incredible journey through Dubais' famous landscape.
Facilities Available at Sunrise Desert Safari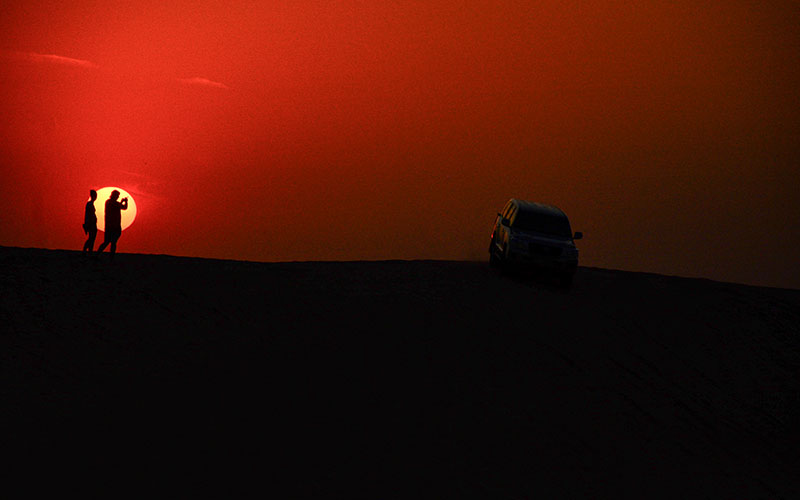 When it comes to the facilities available at Sunrise Desert Safari, visitors can expect nothing but the best. The tour operators ensure that all their guests have a comfortable and enjoyable experience throughout the trip.
Transportation
One of the main highlights of Sunrise Desert Safari is its transportation service. Visitors are picked up from their hotel or preferred location in a luxurious 4×4 vehicle with air conditioning.
This ensures a smooth and comfortable ride as you make your way through Dubai's desert landscape.
Arab
Once you arrive at the campsite, you will be greeted with traditional Arab hospitality. Comfortable seating arrangements await you, along with refreshments such as tea, coffee, and cold drinks.
Photography 
For those interested in photography, there are dedicated photo stops. Here visitors can capture stunning pictures against the backdrop of golden sand dunes during sunrise hours.
Restroom Facilities
The campsite also offers restroom facilities for both men and women, which are clean and well-maintained. There are also dressing rooms for visitors who wish to change into traditional attire before embarking on camel rides or other fun activities.
If you're planning on going on a desert safari adventure in Dubai, rest assured that the desert safari has got all your needs covered when it comes to facilities.
From transportation services to photo stops to refreshing beverages – they've thought of everything!
Places to Visit on the Tour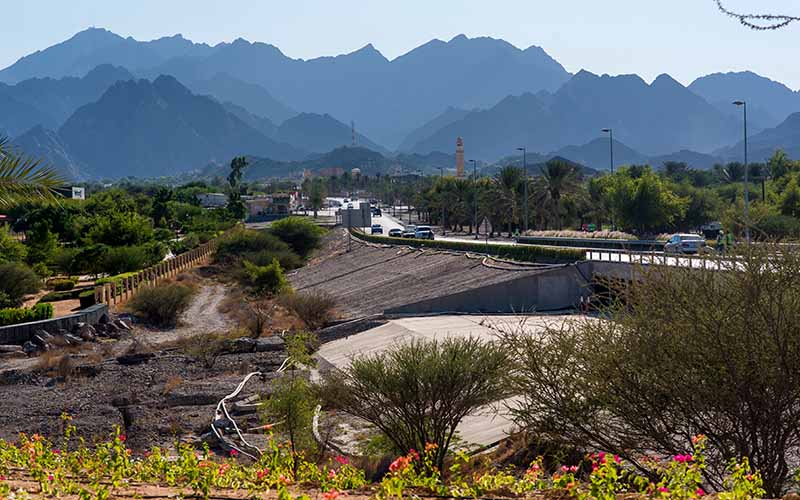 When it comes to a sunrise desert safari in Dubai, there are plenty of places to visit that will leave you awestruck.
1. Hatta Heritage Village
One such place is the Hatta Heritage Village, located amidst the majestic Hajar Mountains. This village offers an authentic glimpse into Dubai's rich cultural heritage and history.
2. Dubai Desert Conservation Reserve
Another must-visit destination on your tour is the Dubai Desert Conservation Reserve. Spread over 87 square miles, this conservation reserve is home to several endangered species, such as Arabian oryxes and sand gazelles.
You can catch glimpses of these creatures during your sunrise desert safari.
3. Bab Al Shams Desert Resort & Spa
Next up on our list is Bab Al Shams Desert Resort & Spa, where you can experience luxury amid the vast expanse of golden sand dunes. With plush accommodations, world-class dining options, and picturesque settings for photo ops, Bab Al Shams definitely warrants a visit during your desert safari adventure.
4. Fossil Rocks
No desert safari in Dubai would be complete without a trip to the famous Fossil Rocks! These rocks date back millions of years and offer visitors an incredible insight into prehistoric life.
5. Al Awir Desert
One of the most popular desert safari locations in Dubai, Al Awir is known for its stunning sand dunes and beautiful scenery.
6. Liwa Desert
Located on the outskirts of Abu Dhabi, the Liwa Desert is the largest sand desert in the United Arab Emirates (UAE).
7. Jebel Maleihah
This geological formation in the desert is a popular spot for hiking and rock climbing.
Take some time out from your adventurous itinerary for a chance to marvel at these ancient wonders!
Activities Included in the Safari Package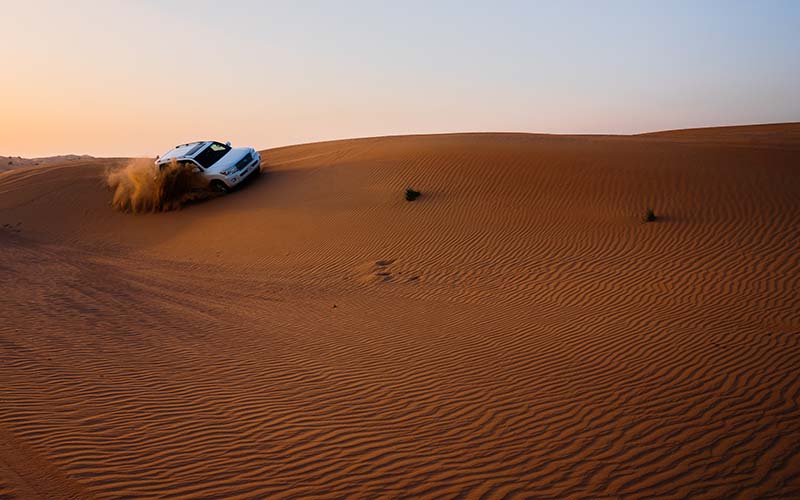 The Sunrise Desert Safari in Dubai is a perfect opportunity to experience the thrill of adventure and explore the natural beauty of the desert. The safari package includes various activities that are designed to make your trip unforgettable.
1. Dune bashing: One of the most exciting activities included in the package is dune bashing, which involves driving over sand dunes at high speed. This adrenaline-pumping activity will take you on a roller-coaster ride through the desert, offering breathtaking views of golden sands stretching as far as your eyes can see.
2. Camel riding: Another popular activity included in this package is camel riding. You'll get an authentic taste of Bedouin culture as you sit atop these gentle giants and sway along with their rhythmic gait across the sandy terrain.
3. Quad biking: You can also try quad biking, a thrilling way to explore off-road trails and enjoy an adventure-filled tour while speeding across challenging terrains. Other activities include sandboarding, henna painting, falconry display, and more.
4. Sandboarding: A fun and exhilarating activity, sandboarding involves sliding down the sand dunes on a board.
5. Wildlife spotting: The desert is home to many species of wildlife, including Arabian oryx, gazelles, and camels.
6. Falconry: A traditional Emirati sport, falconry involves using trained birds of prey to hunt.
7. Henna painting: Get a temporary henna tattoo applied by skilled local artists.
8. Arabic costumes: Dress up in traditional Emirati clothing for some great photo opportunities.
9. Shisha smoking: Try a traditional shisha (hookah pipe) and enjoy the flavors of fruity tobacco.
What Gear Do You Need for the Trip?
When it comes to packing for your sunrise desert safari adventure, it's important to be prepared with the right gear. Here are some essentials you should bring on your trip:
First & foremost, make sure you wear comfortable and breathable clothing that covers most of your skin. Loose-fitting clothes made from lightweight fabrics like cotton or linen are ideal for keeping cool in the heat.
Additionally, don't forget to pack a hat or a scarf to protect yourself from the sun's harsh rays. Sunglasses are also crucial for protecting your eyes and reducing glare.
Next, since you'll be spending time outdoors in sandy terrain, closed-toe shoes with good traction, such as sneakers or hiking boots, would be perfect for walking around comfortably and safely.
Finally, bring sunscreen with high SPF ratings along with insect repellent spray because there may be bugs at certain times of day, especially during summer months.
Tips and Tricks for Making Your Experience Memorable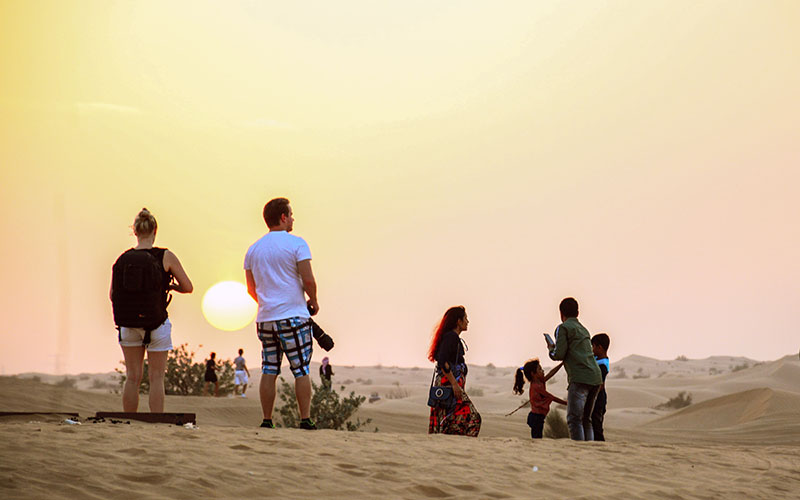 After booking your Sunrise Desert Safari in Dubai, the next thing to consider is how to make the experience memorable. Here are some tips and tricks that will help you achieve just that.
Firstly, bring a camera or smartphone with you on this trip. The stunning views of the desert at sunrise are not something you'll want to forget!
Be sure to capture moments like these by taking photos or videos throughout the safari.
Stay hydrated throughout your journey by bringing a water bottle with you. While most tours offer refreshments along the way, having a personal water container ensures that you're always hydrated and feeling energized.
Always carry identification documents such as passports or Emirates IDs when going out into remote areas such as deserts – just in case of an emergency situation arises.
Remember to be respectful of the natural environment and local culture. Avoid littering and follow any rules or guidelines set by your guide.
Book your tour in advance to ensure that you have the date and time of your choice for your sunrise desert safari.
You don't want to be weighed down by a heavy bag during your tour, but a small bag with essentials like sunscreen, water, and a camera will come in handy.
By keeping these simple tips in mind when embarking on your sunrise desert safari adventure, we guarantee an unforgettable experience filled with memories that will last forever!
Conclusion
A sunrise desert safari in Dubai is a memorable adventure that should be on everyone's bucket list. It offers magnificent views of the sun rising over the sand dunes and exhilarating activities like dune bashing and camel riding.
The facilities at Sunrise Desert Safari are fantastic, ensuring a comfortable and enjoyable experience. Remember to pack sunscreen, comfortable clothes, and a camera. Stay hydrated, follow guide instructions, and keep an open mind.
A desert safari is a unique way to explore Dubai's beauty and experience thrilling adventures. Book now for an enthralling journey into uncharted territories!
FAQs
Q1. What time does the Sunrise Desert Safari tour start?
Ans: The pick-up time for the Sunrise Desert Safari tour is at 4:50 A.M.
Q2. How long does the Sunrise Desert Safari tour last?
Ans: The Sunrise Desert Safari tour lasts for approximately 4-5 hours.
Q3. What should I wear for the Sunrise Desert Safari tour?
Ans: It is recommended to wear comfortable clothes and closed shoes. It is also advisable to wear sunglasses and a hat to protect yourself from the sun.
Q4. What is the best time of year to do the Sunrise Desert Safari tour?
Ans: The best time of year to do the Sunrise Desert Safari tour is from November to March, when the weather is generally pleasant.
Q5. Is hotel pick-up and drop-off included in the Sunrise Desert Safari tour?
Ans: Yes, hotel pick-up and drop-off are included in the Sunrise Desert Safari tour package.