Nowadays, every individual is so busy that they hardly ever have any time to relax. Most of you pay great attention to your work and take care of your responsibilities each day diligently. Although it is an amazing quality, you should occasionally try to relax by taking a holiday with your family and friends.
Dubai is among the best destinations in the world you can visit since it can provide you with a wide range of possibilities and services. A red dune bashing safari will be the most distinctive experience that this city will be able to offer.
However, if this is your first time hearing about this, you may know not what it entails. Let us now take a closer at why a red dune-bashing desert safari is one of the best adventures you can have.
What Is A Red Dune-Bashing Desert Safari?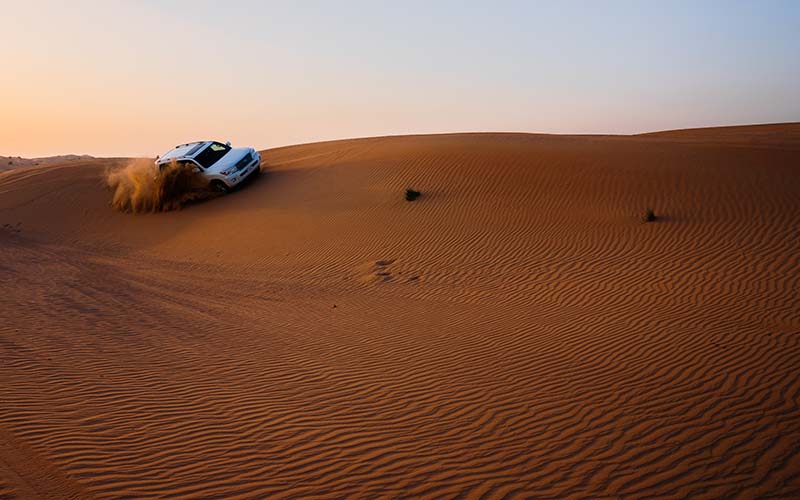 A form of adventure where you ride four-wheelers at increasing speeds over the desert is called a red dune bashing desert safari. A few aspects that you should know about this experience are:
Given that the surface of the sand is always altering due to the windy environment, it is among the best sensations you can have. Hence, if you wish to manage the terrain appropriately and achieve the greatest outcomes, you will need proper training and expertise.
In addition to these, if you want to make it convenient for you to navigate the dunes, you will need a sports utility vehicle, often known as an SUV.
This trip also allows you to cross off a lot of items on your bucket list because it covers a variety of dune-bashing locations, fine dining, camel rides, etc.
What To Anticipate From A Dubai Red Dune Bashing Desert Safari?
Do you want to schedule a suitable desert safari when you visit Dubai on your vacation? If your answer is yes, you might be interested in learning what to anticipate from such an adventure. Let us now examine in depth what these trips will offer you to ensure you can have a once-in-a-lifetime experience:
The first thing you should expect from a red dune desert safari is that the organization you choose will pick you up in a private car from your accommodation on the day of the tour
You will need to drive for 45 minutes to 1 hour after they pick you up to get to the sparsely populated desert. It is a crucial aspect because you need to get as far away from city life as you can to have the best experience. Not just that, but a less-crowded area will make it effortless for you to enjoy and appreciate the stunning vista of the desert. This element also prevents the chances of accidents by a wide margin
Once you reach your destination, the entire safari will continue for an hour or so depending on your choice of package. It is one of the most thrilling and sought-after experiences that you can have when you visit Dubai
Once the journey begins, you can expect all the vehicles will go in a convoy so that you can have the best experiences with your loved ones
While enjoying this tour, you will also get to witness several exciting stunts performed by the professional and skilled drivers
One of the best things about red dune desert safaris is that they allow you to effortlessly enjoy fine meals under Bedouin-style tents
If you appreciate different cultures, you may also choose to have your hands professionally painted with henna
While eating under the camps, you may also appreciate watching the lovely traditional belly dancing shows provided to the guests
Shopping opportunities are another thing that you can expect from a red dune desert safari without any difficulty
How To Dress On A Red Dune-Bashing Desert Safari?
One of the main factors you should pay attention to while leaving for a red dune desert safari in Dubai is clothing. It is a crucial aspect because it will make it convenient for you to stay safe and enjoy your trip thoroughly. Hence, let us now take a detailed look at what you should wear while on a tour as such:
The first necessary thing to bear in mind while leaving for a Dubai desert safari is to dress as comfortably as you can because you will spend most of this trip on a moving vehicle
The second thing you can do while on a red dune-bashing desert safari is to carry a hat or scarf to shield your head and hair from the sun and sand
When embarking on a desert safari, keep in mind to pack soft t-shirts and track pants to wear since they will keep you composed while preventing sunburn by a wide margin
Depending on your preferences, you can go on a red dune-bashing desert safari wearing either sandals or cover shoes. However, if you wish to protect your feet in the best possible way, sneakers are the way to go since they will make it convenient for you to walk on the sand
If you are somebody who wears contact lenses, the main thing you should do is have your sunglasses on at all times. It is because sand particles can get into your eyes while you are on this trip. Not just that, but you should remember to keep eye drops handy for when your lenses get dry in any way
The desert can sometimes get very cool after sundown, so if you are visiting Dubai in the winter season, do not forget to pack a light jacket
Another thing you should carry if you wish to boost your experience is a small backpack since it will allow you to store all your necessities without any difficulty while reducing the chances of losing items
Why Should You Opt For A Red Dune-Bashing Desert Safari?
There are numerous reasons why you should choose to experience a red dune-bashing desert safari. Let us now take a detailed look at them for a better understanding:
One of the main authentic experiences you can have in Dubai is a desert safari, which is the main reason why you should book one
You cannot appropriately experience this city without going on an SUV excursion across the desert because it is well-recognized for its beautiful dunes and attractiveness
The next reason you should choose a red dune-bashing desert safari is that it will make it convenient for you to participate in various experiences without any hassle
In addition to the previously mentioned benefits, these safaris also provide you with the chance to witness Dubai's culture up close by dining in tents modeled after those found in the desert and riding camels.
Suggested Dubai Desert Safari Tour Packages:
What Are Some Of The Top Locations For Dune Bashing?
Since Dubai has several amazing areas with beautiful dunes, there are numerous spots you can visit for a safari. Some of them are:
Sweihan: Sweihan is one of the most well-liked safari destinations you may visit while in Dubai. This location is perfect for you if you are interested in technical expertise and information. Additionally, you can travel here under the direction of a local organization that will be able to keep you safe while facilitating the best possible experience for you.
Bidayer: Because of the crimson sand that gives it its nickname, Big Red, Bidayer is the most popular and alluring dune-bashing desert safari location in Dubai. Beginners and novice drivers will find it very easy to maneuver around the dunes in this area. It will take you roughly 45 minutes by car to get to this area.
Liwa Desert: It is the largest desert in the Arabian Peninsula if you wish to opt for a more challenging dune bashing experience. All types of stunt-bashing festivals are held here, making it easy for you to witness professional craftsmanship without any further challenges.
Frequently Asked Questions
When should you book your red dune-bashing desert safari?
You should keep in mind to book your safari package at least 2 days before to make it easy for the organization to plan accordingly. However, if you going in a large group, contact the authorities and book your tour 10-15 days beforehand.
Are your kids allowed on a red dune desert safari?
Yes, you are allowed to take your cards while going on a red dune desert safari because it is similar to taking a ride in a car. However, if your child is an infant, it is best to skip this tour since it can be overwhelming by a wide margin.
Are you allowed to carry any type of items?
You should try your best to take as fewer items as you can since it will make it easier for you to focus on your safari and reduce your chances of losing valuables. However, sunglasses, cameras, medicines, hats, etc., are considered exceptions.
Who should avoid going on a red dune-bashing desert safari?
If you have any type of heart disease or are pregnant, you should refrain from leaving for a tour as such since it can be challenging for you to cope. Not just that, but it can also make you sick and feel overwhelmed within a few minutes.
If this is your first time going on a Dubai vacation, you may not be sure how to get the best experience. Hence, in these situations, you should remember to opt for a red dune-bashing desert safari for a better trip. Hence, what are you waiting for? Go and plan your dune-bashing desert safari as soon as possible.