Dubai is known for its glamour, opulence and style. The city does not anything in a miniscule way. The beautiful and unique buildings, monuments, malls, etc. are a proof of this. Dubai is a cosmopolitan city with people from different parts of the world living here. Moreover, it is one of the favourite tourist destinations too. Dubai sees a lot of tourists during the winter months when the city hosts several festivals. People planning to visit Dubai for one of these festivals should schedule their visits so that they could celebrate New Year in the city.
New Year, just like everything else, is celebrated with much aplomb in Dubai. Fireworks, dance parties, delicious food, etc. are what Dubai's New Year parties are made of. If you are in Dubai during New Year's Eve this year, here are a few things that you can do in the city.
1.New Year Parties
If you are a person who wants to welcome the New Year by partying hard, Dubai would not disappoint you. Most prominent hotels of the city host several New Year parties for its residents and tourists. Most hotels not only host parties but have their own fireworks for the entertainment of their guests. Some of the hotels where you can spend the New Year's Eve include Burj Al Arab, Atlantis, the Palm, Jumeirah Beach Hotel, Shangri-La Hotel, etc. The best way to be a part of the celebrations at one of these hotels is to book a room at one of them for the night. With good food, awesome fireworks and lively music, you are sure to have a memorable New Year's Eve.
2.Dining at a Restaurant
If good food and a quiet time are your ideas of an ideal New Year's Eve, head to a restaurant in Dubai. There is no dearth of restaurants in Dubai that dish out delicious food. Moreover, you would find a restaurant for almost every cuisine in this world, in this city. Most restaurants serve a special menu for the New Year celebrations. So, if you want to have a romantic dinner with your partner or want to spend a good time with your family, head to your favourite restaurant in the city. If you are lucky, you will also get to see beautiful fireworks at midnight. As most restaurants are crowded on New Year's Eve, it is best to make your reservations in advance to avoid disappointment.
3.Desert Safari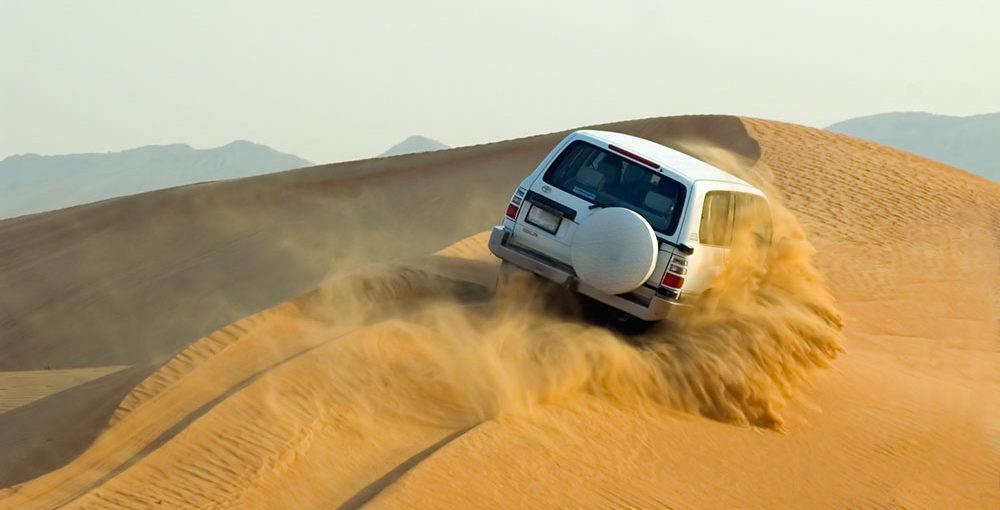 If you want to be away from the hustle and bustle of the city during New Year's Eve, celebrate the arrival of the New Year by going on a desert safari. New Year Celebrations in the Desert is one of the best ways to celebrate if you are travelling to Dubai with a huge group. You can choose from the best desert safari in Dubai and spend the evening indulging in adventurous activities like dune bashing, quad biking, camel riding, while the nights are dedicated to entertainment and relaxation. Delicious dinner, drinks and a peaceful time are what await you at the desert safari New Year celebrations in Dubai.
4.Fireworks
The fireworks are definitely the highlight of Dubai's New Year celebrations. These fireworks are amazing and something that the city awaits eagerly, every year. The firework shows at the iconic landmarks of the city including Burj Khalifa, Burj Al Arab, etc. are the best. Burj Khalifa hosts the best laser and firework show during New Year's Eve. You can book a hotel room near the tallest building or else stand outside Dubai Mall with thousands of others, to enjoy the show. The fireworks at Palm Islands are also something you must not miss. If you do not want to spend money in staying at a hotel, you can have a picnic at a beach from where you can enjoy the fireworks show.
5.Dhow Cruise
If clubbing is not your way of welcoming the New Year, a peaceful dhow cruise would be something you would enjoy. This New Year's Eve you can choose to cruise on a simple dhow on the Dubai Creek or go on a luxurious yacht at the Marina. Either way, you would have a lot of fun. Dhow cruises during New Year's Eve in Dubai are great for a get together with friends and family. You can binge on delicious food, watch the amazing Tanura dance, listen to some soulful music and view the ever shining Dubai skyline while sailing away. Apart from this, the dhow cruise is the great way of enjoying the various fireworks of the city.
If none of these ways of celebrating the New Year excites you, the best way would be to have a house party. This makes great sense if you are a Dubai resident. You do not have to spend hours in traffic or spend a whole lot of money, and still have a great time. Invite your friends over, cook a delicious dinner or better, have a potluck, play games, dance and welcome the New Year, right from your living room.
Whatever you might choose to do, Dubai promises you a memorable New Year's Eve. However, as it is holiday season, it is best to book your tickets and make your hotel reservations in advance so that your New Year celebrations are hassle-free.