Wish to take a break from the buzz of Dubai by escaping to a more tranquil retreat that offers a glimpse of the genuine culture and tradition of the region? At a distance of about 30 to 40-minute drive from the city centre are some of the Middle East's most remarkable and unique desert resorts, delivering a mix of great accommodation, sumptuous culinary delights, unique cultural experiences, and options for enjoying exhilarating activities. Exceptionally opulent with impeccable facilities and services, these classic lodgings in the midst of sheer Arabian dunes absorbingly infuse traditional Bedouin influences.
Have a look at the Dubai's best desert resorts.
1.Bab Al Shams Desert Resort and Spa
Dominating the magical dunes of Dubai, Bab Al Shams Desert Resort – managed by Meydan Hotels – is an oasis of luxury in a spellbinding traditional Arab fort setting. Located close to Dubai International Endurance City and about 45 minutes away from the Dubai International Airport, this alluring desert resort blends the classic Emirati style with contemporary indulgences.
The 115 rooms including 10 suites feature stylish furnishings, and come with comfortable beds and luxurious bathroom amenities. Both suites and rooms boast an array of amenities, such as IDD telephone, high speed internet connection, satellite television, mini bar, and tea / coffee making facilities. For those seeking privacy and ultimate in comforts, Deluxe Suites with a private balcony and Majlis-style lounge will make a great choice.
The Satori Spa within the hotel serves as a pristine sanctuary for guests looking for quick fix treatments, therapies and massages that assure of total relaxation and rejuvenation. Guests also have access to facilities like fragranced steam room, sunbed massage area, couple-treatment room, sauna, and shower facilities. Apart from a host of relaxation areas including an elegant infinity pool, the hotel has seven distinctive dining venues.
Al Hadeera – the open air restaurant – not only serves exquisite Arabian cuisines but also offers a perfect backdrop to spend a memorable evening with live entertainment. On the other hand, Le Dune is a unique pizzeria with a décor that is a fusion of Italian and Arabic. While Al Forsan is a great place to dine with family, Ya Hala Bar as well as Pool Bar is perfect for a nightcap. Moreover, delectable Indian cuisines can be savored at Masala. Guests can also choose to dine at the hotel's rooftop lounge with splendid views.
You may also like -> Desert Safari Destinations in the World
2.Al Maha, A Luxury Collection of Desert Resort & Spa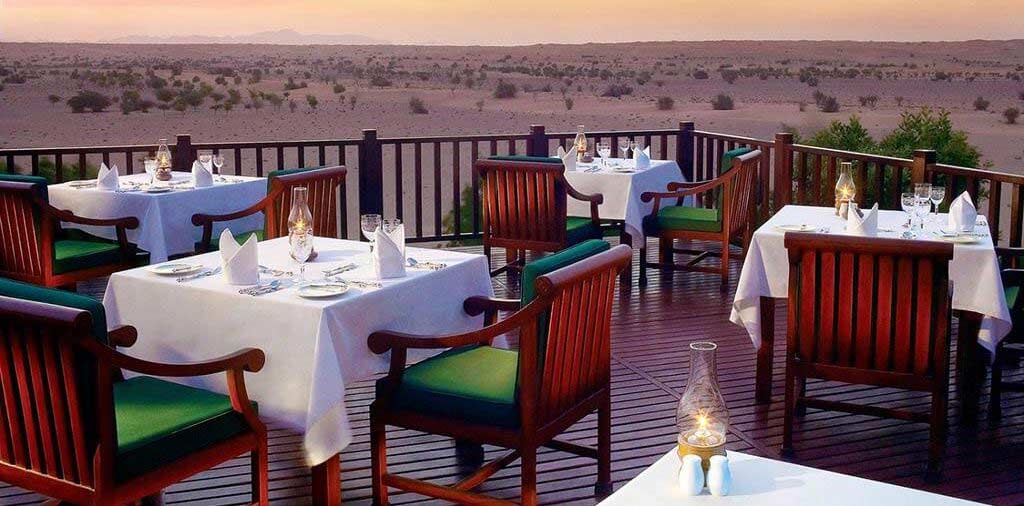 Al Maha is a haven of tranquility amidst the Dubai's pristine desert. Tucked away in a lush palm oasis within Dubai Desert Reservation Reserve, this Bedouin-inspired hideout – owned by the Emirates Group – presents distinguished services within a delightful and noble ambience. Indulge in authentic desert adventure, as you stay here and experience unique Emirati heritage and see wildlife that is indigenous to the region, such as the Gazelles and Arabian Oryx.
Situated about 65 kilometers away from Dubai, the property's accommodation choices, including Bedouin Suite, Royal Suite, Emirates Suite, and Presidential Suite, are embellished in charming tones, and finished with handcrafted furnishings, comfortable beds, and antiques. All 42 suites provide access to a swimming pool, aside from a host of amenities and facilities like telephone, free internet, minibar, and bath amenities.
A unique wellness facility, Timeless Spa, offers a variety of pampering and holistic treatments to rejuvenate your body and soul. A full-fledged fitness facility is also attached. Moreover, you can take advantage of the spa's Jacuzzi, sauna and steam room, and Rasoul chamber.
Most of all, the dining options available within the resort enable guests to embark on a delightful culinary expedition that not only allows them to savor typical Emirati specialties but also to sample the popular gastronomic delights of both east and west. Each of its restaurants serves finest food prepared using fresh, organic ingredients.
Also read -> Indian Restaurants in Dubai
3.Desert Palm by Per Aquum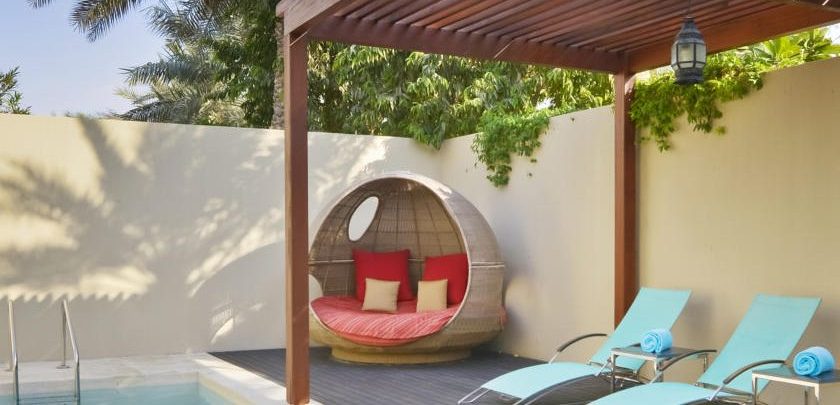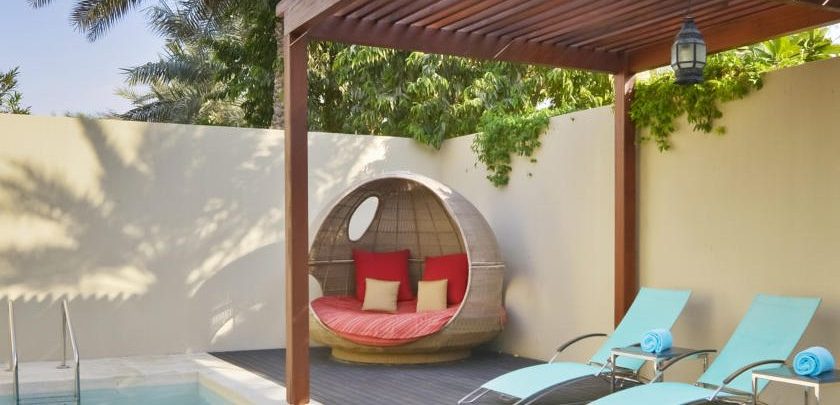 Set against the placid backdrop of the alluring desert dunes, Desert Palm is a tranquil escape that serves as an epitome of timeless luxury. Placed at a distance of just 20 minutes from the Dubai International Airport, the resort assures of a unique desert living experience while providing easy access to Dubai's main landmarks and popular shopping as well as entertainments options.
38 varied lodging options like Palm Deluxe Rooms, Palm Suites, Polo Suites, Pool Villas, Polo Villas, Pool Residences, and exceptional Villa Layali are exceptional for their classy living spaces. To ensure guests' maximum comfort, each of them features a meticulously crafted portfolio of amenities and personalized services.
Guests can unwind at LIME Spa, where a great collection of beauty and body revitalizing treatments are offered. Lime Signature Intuitive Massage, Chamomile Polish, Aromatherapy, and Luxury LIME manicure and pedicure are a few to name.
With an extensive polo estate comprising four polo fields, Desert Palm also serves as the venue for several prestigious polo tournaments, such as Cartier Polo Cup and Royal Salute Nations Cup. Not only these, there are also great facilities within the resort to enjoy such exotic pursuits as wine tasting, special tutorials to master culinary art etc.
Speaking of dining, the resort has some amazing choices by way of Rare whose specialty is inspiring European delights; Epicure offering both local and international cuisines; Jewel Afternoon Tea, which is especially noteworthy for its chic setting; Red Bar, where an assortment of drinks and cocktails is available; and Polo Bar, which overlooks the polo field.