Travelling to Dubai is an incredible experience in every way. Luxury beyond luxury, spectacular scenery, tax-free shopping, as well as a weather to die for together makes it an excellent choice for everyone. There is no dearth of exciting things to do in Dubai. The best thing about the city, though, is that, unlike in most Arab cities, here there is no room for racial friction. The city is quite welcoming to travellers of any skin hue. But to travel to this city you need a visa and below is a detailed guide on tips to apply for Dubai visa online.
Eligibility Criteria
To allow the authorities in processing your application, you should clearly state:
Why you are visiting Dubai
The duration you plan to stay
How you intend in supporting yourself during your stay in Dubai
What is the sole purpose of your visit to Dubai
The passport type you hold & how long the passport is valid
Places you intend to travel following your visit to Dubai; and
Whether you have the permit for entering the country that you intend in travelling to after the stay in Dubai.
Dubai Visa for Indians and its Different Types
There are various sorts of Dubai visas available for Indians. With the tourist visa, you can spend 24 hours, 48 hours, a few days, and even a week in Dubai. You can apply online for the visa you need based on the purpose and duration of your trip. Dubai tourist visas are available in,
48-hour or 96-hour transit visas,
14-day, 30-day, or 90-day tourist visas
Tips to Apply for Online Dubai Visa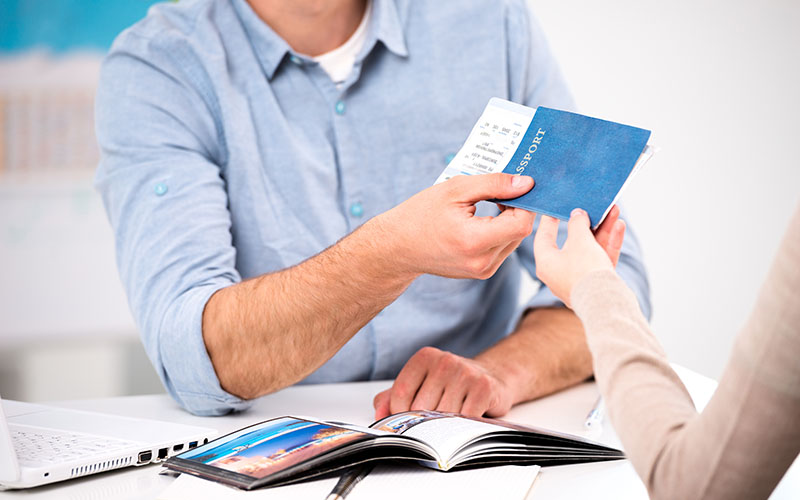 You can apply for the visa either with the help of an Online Travel Agency (OTA) or the (DVPC) Dubai Visa Processing Centre. You can book your travel tickets with Emirates directly and then apply for an online Dubai tourist visa. All you require to do is go to the airline's website, navigate to the section of manage booking, enter your booking information, and retrieve your booking. Then, by choosing to apply for the UAE visa option, you can apply for a Dubai visa from India. Continue on the module for Dubai application by filling out your visa form and submitting the necessary papers to obtain a Dubai e-visa. To apply for an online Dubai work visa, you must first obtain the Ministry of Labour's approval. Your company should apply for the visa on your behalf, and the process must be completed before you enter the UAE.
Dubai Visa Procedure for Indians
The Dubai visa application procedure for Indians is straightforward. Any Indian travelling to Dubai must obtain an ETA, which offers them temporary travel rights. An Indian will be eligible for this visa provided his passport is valid for at least 6 months. If your visit to Dubai is for travel, you will need a short-term tourist visa of a single entry that is valid for 1 month. But first, you must determine if you are travelling for tourism, business, job, or study, as your visa needs will vary depending on the category you choose.
Documents Needed for Dubai Visa Application
Colour copy of Pan Card Scanned
Color copy of first & last page of passport scanned
Passport should hold a minimum 6 months validity
Colour copy of passport-size photo scanned having a white  background
Return air ticket confirmed (not mandatory for the application)
---
---
Fees for Dubai Visa
The fees for Dubai visa will vary depending on the type of visa you apply for. Here's a quick look at Dubai visa prices based on your visa category.
A tourist visa to Dubai costs INR 6849, while a 48-hour visa costs INR 2205.
A 96-hour visa costs INR 2982.
The cost of a 90-day Dubai visa for Indians is INR 17,564.
The Dubai visa charge is INR 9,230 for Indian citizens who require an Express tourist visa.
The cost of a multiple entry long-term 90-day visa is INR    40,200.
The cost of a multiple entry short-term 30-day visa is INR  20,150.
Can the Visa get Rejected?
Yes. The visa application for Dubai, like the visas of other nations, may be denied for a variety of reasons. The following are the common rejection causes,
Visa Application Errors
Blurred Photograph Criminal Record (current or past)
Visa for Prior Employment
Previously unutilized Dubai visa
Passport Professionalism
Traveling Single Lady
Other causes may lead to a visa refusal, yet many of them fall within the limitations of the ones listed above. Here are some things you can take to avoid rejection if you want to have any chance of getting that denial reversed or the second application approved:
When applying for a Dubai visa online, ensure your passport is valid for at least 6 months.
Check that every field is correctly filled out. Avoid any type of factual/spelling error.
The size of the Dubai visa photo should be as specified by Dubai Immigration.
Every document you submit must be valid.
Before filing for a new visa for Dubai, make sure your previous visa is no longer valid.
Dubai Immigration has the final decision on whether or not to approve or deny your Dubai visa. If you are not sure about the process of visa application, it is recommended to enlist the assistance of a travel agent. They are specialists with the necessary expertise and knowledge to properly guide you.
Advantages of Applying for Online Dubai Visa
The advantages of applying for online Dubai visa are as follows:
Indian citizens can apply for a Dubai visa online from anywhere, at any time.
Minimum document requirement
Convenient and cost-effective, i.e. lowest Dubai visa price
Swift processing-subject to meeting the eligibility criteria & meeting the document requirements, your visa can be processed within 48 hours
No hotel booking is required, you may stay anywhere in the world via Email
Dubai is no less than a city full of dreams that is in love fearlessly with the future vision and completely in charge of authoring its own story. It is a great city to visit, and obtaining a visa is simple provided you have all the required documentation. A few countries' nationals are granted visas on arrival in Dubai. Indian citizens can also obtain a Dubai visa on arrival. All passports should have validity for at least six (6) months.