Dubai, a destination that gives you a glimpse of its natural beauty, is also known for its architectural wonders, leisure attractions, and shopping malls. All this is also accompanied by some mouth-watering cuisines along with uncovering the secrets of the deep deserts of Dubai. So spend some qualitative time with your loved one and explore the romantic Dubai and its wonders, including dining at some of the most romantic restaurants in Dubai, relaxing on the beaches of the city, watching the beautiful Dubai Fountain show, and riding on an abra on Dubai Creek.
Among these, one place which is much talked about is the Al Qudra lake or the Love Lakes. A perfect place for a romantic date and even a proposal, Love Lakes Dubai is one of the most romantic locations in Dubai. Let us take a tour of this exotic romantic place of Dubai and give you a glimpse of this tourist destination.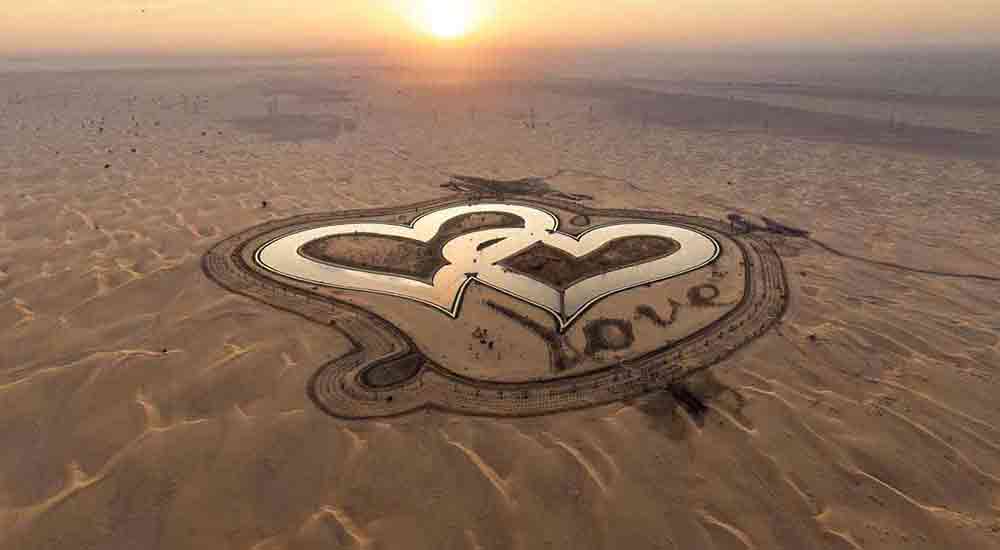 What to Do in Love Lake Dubai? 
Love Lake Dubai
The Love Lake of Dubai was inaugurated on November 18, 2018. This is carved in 550,000 square meters of land and comprises of two huge heart shaped entangled lakes. This place is called as a heaven for the people in love. This is purely a man made water body. People in love come in from all over the globe to spend some quite time with their loved ones alongside this beautifully carved lake.
What makes Love Lake special?
The most important thing is that this lake is located right in the middle of a desert. Sounds interesting, right? The sunrise and sunset views from the lake are amazing and soothing. To get a complete glimpse of the lake from above, there is a small hill near the lake. You climb the hill and you will get to witness heaven on earth. The two beautiful hearts are interconnected with each other. A lifetime of togetherness.
What do you find here?
As you reach the entrance of the lake, you see a wooden signboard that says 'Love Lake'. There are two entrances to the lake. You can choose whichever suits you.
Here, along with the beautiful twin lakes entangled together for life, you also have some lush green lawns and scenic beauty which will add to your thrill. There are three rubber tracks that extend more than 7 kilometres, and the trees are arranged in a manner that spells Love.
The surroundings of the lake are dotted all over with wooden heart frames, signs and symbols of the heart shaped lake. You just don't have to walk and jog around the lake, but also can sit quietly near the water body on the comfortable seating facilities and cool resting areas which are crafted using eco-friendly materials.
The flora and fauna
Despite being located in the middle of the desert, this place is an oasis. You will find an exotic collection of flowers, plants and trees which will amaze you with its colours and beauty. The red begonia arranged in the shape of a heart and thousands of shrubs and more than 16,000 trees which include olives and mostly desert staple ghaf are some of the exotic flora found here.
The wide variety of flora attracts more than 150 species of birds towards them. You can find spotted eagles, ducks, swans and falcons among many other birds who pay a small visit to this lake.
Things to be careful of while visiting Love Lake
It is preferred that you reach the Love Lake by an SUV, since it is located in a desert.
Carry drinking water, and also remember that there are no washrooms are here.
You should carry food as there are no restaurants or shops here
There are no lights here, so it is necessary to leave the place before it becomes too dark
Prefer wearing slippers or flip-flops because you will have to walk on the sand here.
Conclusion
If you want to spend some quality quiet time with your loved one, this is a perfect place, as visiting Love Lake is one of the most romantic things to do in Dubai. If you are planning a romantic holiday to Dubai, the first thing you need to do is apply for a visa. Apply for your Dubai visa fast and grab this opportunity to visit one of the world's most romantic places, the Love Lake of Dubai with the love of your life.