The world waited in anticipation for Dubai Expo 2020 to unveil but then Covid-19 happened and all wishes to see what Dubai had stowed away for this grand event was dampened. Nevertheless, Dubai has never taken failure as a disappointment and has gone forth to postponed the event to 2021 rather than cancelling it. Since it has already been branded as Dubai Expo 2020, the emirate has decided to keep the same year in the brand andhas geared up to open Dubai Expo 2020 in the year 2021. It is slated to cover six months- from October 2021 till March 2022. Each of the Expos held earlier was based on a unique theme and Dubai has chosen ' Connecting Minds, Creating the Future' as its theme for the mega event.Boasted as the world's greatest show, the venue for Dubai Expo 2020 sprawls 438 hectares brimming with over 190 Pavilions, 200 restaurants, and countless installations and entertainment zones. All eyes are on this futuristic emirate to see what it has to offer to its visitors. Here's a glimpse.
What's in Store at Dubai Expo 2020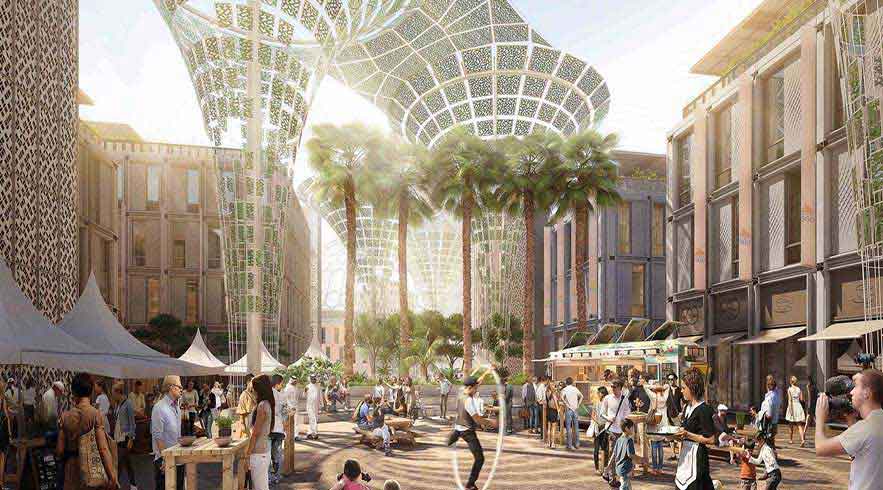 Al Wasl Plaza
Located at the Centre of the Dubai Expo, Al Wasl Plaza is the brand new landmark of the emirate. Its magnificent dome is adorned in metallic trellis intricately pieced together to form an icon of futuristic Dubai. It is the main spot where all the three main Pavilions connect and the opening ceremonies and other major events, entertainment, and concerts will be held. Its colossal glistening dome also turns into a venue for the world's largest 360-degree panoramic projection screen.
Terra – The Sustainability Pavilion
One of the main highlights that is sure to amaze visitors is Terra – a state-of-the-art Sustainability Pavilion with an innovative architecture. A creation by Grimshaw Architects, the Pavilion is fully self-sufficient and consumes renewed energy and water resources. The aerial view of the Terra is equally breath-taking as its ground views. Inside, giant canopy-like trees offer shade and let visitors wander through the splendours of the earth's natural elements -oceans and rainforest and also portrays the horrors of mankind inflicted on mother nature. Its exhibits and arenas make us ponder ' If we can make better choices to save our planet?'
Innovative Pavilions
It's a small world after all! Culture, idealisms, cuisine, technology, and art of over 190 countries come together at Dubai Expo 2020. Each pavilion reflects an idea and is meticulously designed to exude the same in its settings. It would be like stepping into a surreal wonderland that showcases a theme based on Sustainability, Mobility, and Opportunity. UAE brandishes a giant falcon in flight model, Czech Republic brings the aura of Spring Season to UAE, Norway's Pavilion is inspired by Oceans and showcases technologies for its sustainability. Wander through many more such enthralling setups that will certainly blow your mind away.
Food Fiesta and Fireworks
With so many countries participating at the Expo 2020 Dubai, you can certainly imagine a grand palette of gastronomical delights. Revel in a world of flavours at this mega event where you can treat your tastebuds to various culinary experiences and sample cuisine from over 200 food outlets. You can even get a gist of how technology and robotics will change the food industry in the future. No occasion in Dubai is deemed complete without the grand fireworks! Stay back way into the evening to watch the grandeur of the pyrotechnic display and lavish fireworks dazzle the Arabian sky.
Brand New Attractions – opening in 2021
Apart from Dubai Expo's enigmatic venues and attractions, Dubai is also ready to unfurl exciting new additions to its long list of wonders. Visitors and locals can feast their eyes on the jaw-dropping new tourist places in Dubai such as the Museum of the Future, Aladdin City, Ain Dubai, and Deira Islands. Together with Dubai's extreme and meticulous safety precautions and hygiene standards against Covid-19, it would be safe to say that the time to visit Dubai is now!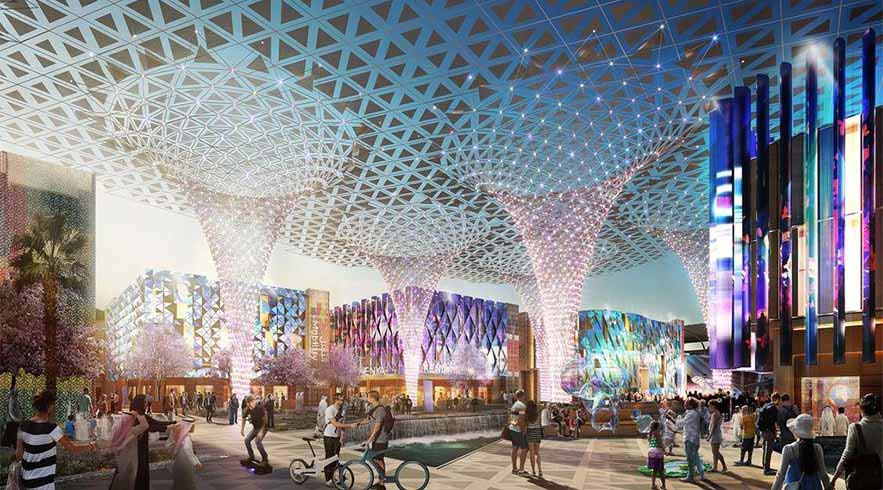 Conclusion
The World Expo is a universal platform where countries from around the world can come together at one destination to offer solutions for sustainability and the betterment of the world. Since its creation in 1851, this world event takes place in various countries to promote cultural and progressive ideas and is ladened with fascinating installations, attractions, and events all connected to a theme. Dubai was chosen as the destination for Expo 2020 which was pushed to the year 2021 due to the pandemic. In 2021, Dubai is all set with its theme 'Connecting Minds, Creating the Future' to welcome millions to come together for a greater cause. The city where everything is possible is hosting the world's biggest event offering unimaginable, unseen, and extraordinary experiences. It is a great boost to tourism after a setback received due to the pandemic and definitely one of the best places to spend your weekend in Dubai. It aims to bewitch visitors with some amazing attractions and experiences that will certainly linger on for a long time in the minds of the Dubai Expo 2020 guests.