If you are one of the many people on the planet who appreciates adventures, you should visit Dubai in the United Arab Emirates immediately. It is a type of place that will be able to provide you with different types of experiences and opportunities without any difficulty. It does not matter if you are looking for a beach vacation or a desert safari, this city will be able to offer you all of them effortlessly.
Not just that, but Dubai can also improve your shopping experience by a wide margin since it has luxurious shopping malls as well as roadside boutiques. However, the best experience that you may opt for when in Dubai is an evening desert safari. It is a type of adventure that will enable you to witness the beautiful culture of the city and the glamorous lifestyle at the same time. Hence, most individuals who visit Dubai dedicate a separate day to desert safari to get the best outcomes accordingly.
Let us now take a detailed look at the numerous activities you can opt for when taking an evening desert safari: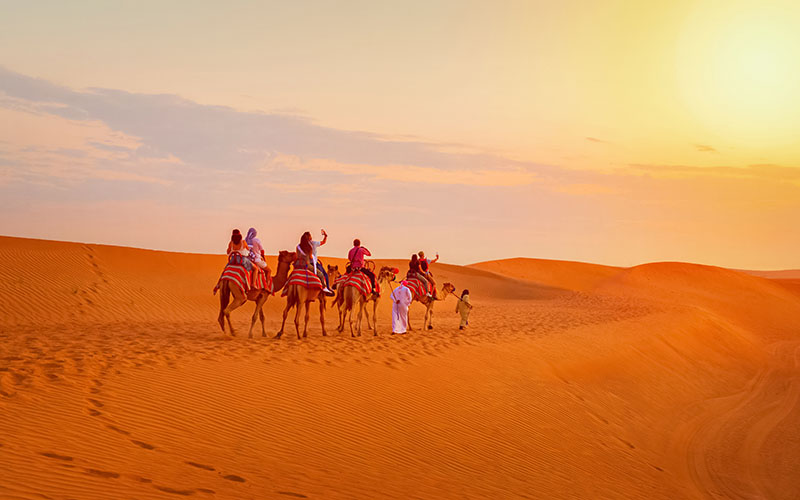 The first activity that you should experience is a camel ride through the beautiful and captivating Dubai desert. It is one of the main things you should do because it will allow you to take a closer look at the city's desert area without any difficulty. These rides last for 45 to 60 minutes depending on the package that you are choosing. This aspect will make it convenient for you to learn more about the desert wildlife, lifestyle, and the market from a close distance.
Taking a camel ride in the evening is one of the best things you can do since you will be able to enjoy the attractive sunset in a cooler atmosphere effortlessly. If you are a photographer, the picturesque landscape will provide you with a chance to take mesmerizing pictures on your trip. Not just that, but you may also choose to spend your night in the desert with the assistance of the services provided.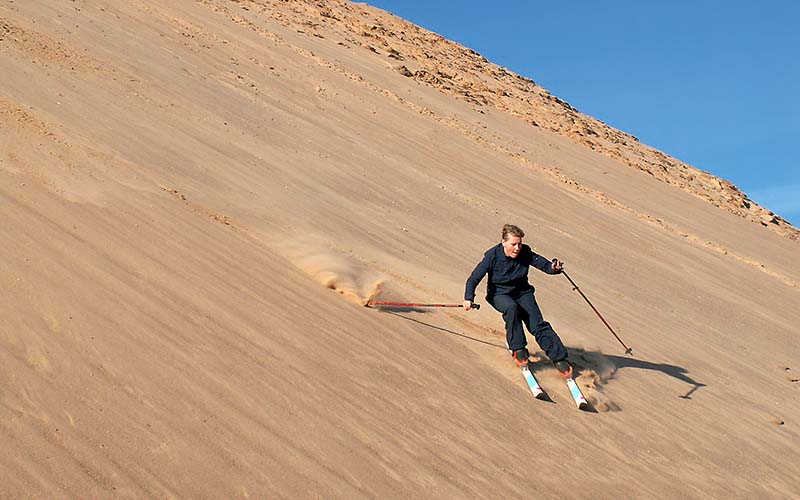 The next thing that you can do when on an evening Dubai desert safari is skiing. It is one of the most exciting and popular activities you will ever come across because it allows you to view the desert from a different perspective. You may already know how skiing in snow works, but desert skiing is more thrilling and less dangerous.
Although there are numerous options available for you to choose from, this one should be on your bucket list if you like being adventurous and unique. Skiing in the desert will help you unwind from your stressful life without any difficulty. There are numerous organizations available today that offer skiing services, and you may choose any of them depending on your preferences, requirements, and budgetary limitations.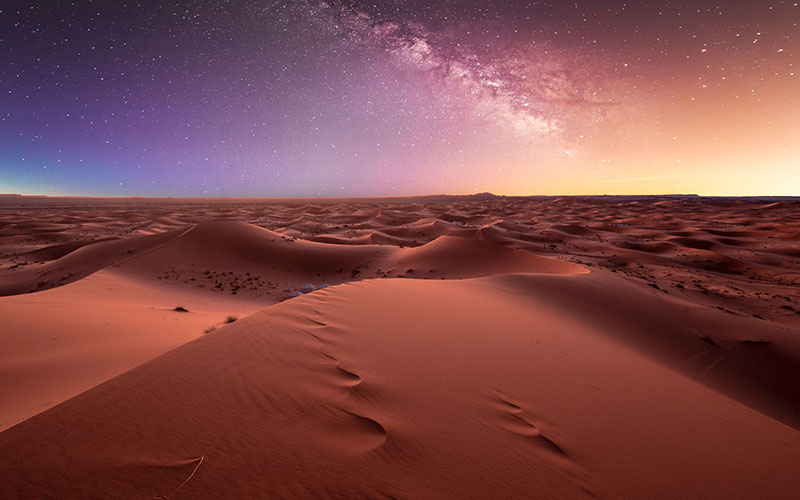 The most relevant and amazing activity that you will be able to experience when you opt for an evening Dubai desert safari is star gazing. The Arabian Desert after nightfall looks different in every way, making it convenient for you to boost your holiday enjoyment by a wide margin.
If you are somebody who loves looking at stars and knowing more about the different constellations, this aspect will provide you with the best opportunities. It will be significantly efficient for you to do so since there are many kinds of desert camps available these days.
This experience will also enable you to spend a quiet and relaxing time with your family and loved ones without any further challenges. Since Dubai is one of the most happening cities in the world, the quiet desert life is ideal for you if you love serenity.
Entertainment After Sundown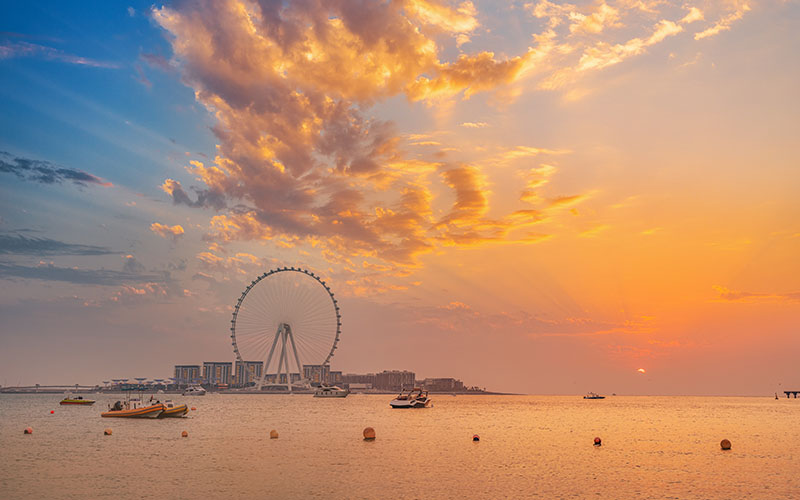 Another reason why you should choose to go on an evening desert safari is that it will allow you to witness the eventful nights without any difficulty. You will be able to be a part of numerous fun activities such as grilling, belly dancing, barbecue dinners, stilt dancing, shopping, etc. Different trip organizers provide you with numerous types of options, so you should select one after careful consideration to ensure your experience.
You will be able to relax effortlessly in the luxurious tents while having delicious Middle-Eastern cuisine. Since this city specializes in entertainment, you can rest knowing you will have the time of your life on an evening desert safari without any hassle. It is one of the main reasons why so many people opt for overnight desert safari trips these days.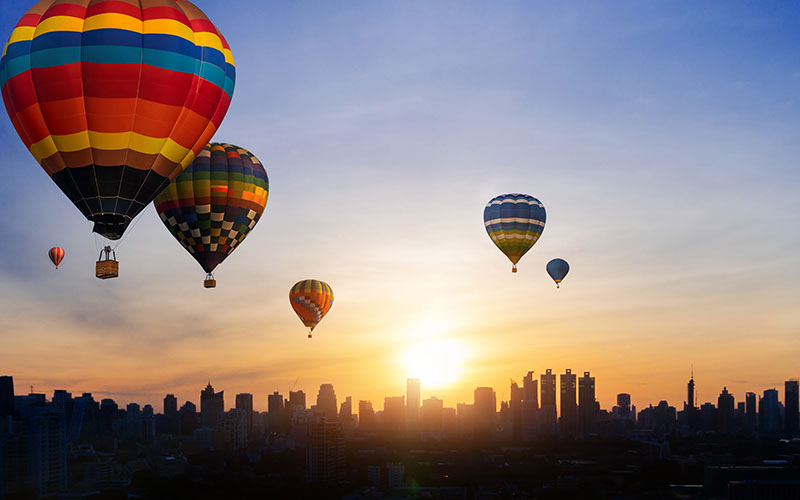 One of the once-in-a-lifetime experiences that you can have in an evening desert safari in Dubai is hot air balloon rides. If you are going to this city on your honeymoon, you should include this on your travel package without fail. This option will make it efficient for you to enjoy an aerial view of the Arabian Desert in a private setting effortlessly and efficiently.
When you opt for this ride in the evening, you will be able to witness the sky change colors while the sun goes down. Not just that, but you will also be able to take a look at Hajar Mountain in the background from the hot air balloons. Since you will be about 4000 feet above the desert, it will make you feel like you are riding among the clouds while enjoying a 360 view of the city.
These types of adventures are provided by different tourist companies, but not all of them are trustworthy. Hence, you should choose one after taking a look at their services in person to ensure you are getting the best benefits.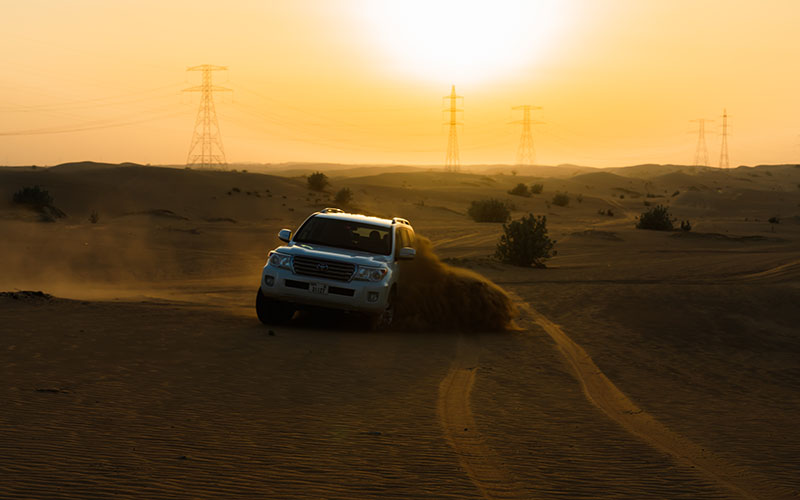 The last activity that you must opt for to get the best experience possible from an evening desert safari is dune bashing. It is a type of adventure that involves taking a ride through the desert at high speeds through the mesmerizing desert. It is one of the most thrilling experiences that you can ever have in your life, making it easy for you to improve the quality of your trip by a wide margin.
You will be able to witness the desert nights from a closer point of view with the help of dune bashing. While experiencing this option, you may also opt for Arabian hospitality by visiting the tents and Bedouin-style restaurants appropriately. This kind of tour will also provide you with additional shopping and entertainment facilities depending on your package.
The Most Appropriate Time For An Evening Dubai Desert Safari
Is this the first time you have decided to leave for a Dubai vacation with your family and loved ones? If your answer is yes, you may not be aware of the perfect to visit this city. In times like these, you should take the help of this blog to learn more about the appropriate timing.
The best time of the year for you to visit Dubai is between November to April if you wish to have the best experience possible. It is because the weather in this period is significantly cooler than the rest of the year. Not just that, but all the shops and activities are also open throughout the day during these months, making it convenient for you to enjoy your vacation under the clear skies without any difficulty.
Frequently Asked Questions
When Should You Book Your Evening Desert Safari To Get The Most Appropriate Outcomes?
If you wish to have the best sightseeing experience on your evening desert safari in Dubai, you should keep in mind to book your tour at least one month ago. This aspect will enable you to ensure your seats since they are limited and get sold out quite quickly.
Should You Avoid Eating Before Leaving For An Evening Desert Safari?
No, you do not need to avoid eating before a desert safari since these tours can last for a significant amount of time. However, it is recommended to have a light meal at least three hours beforehand so that you do not get sick in any way.
Will It Be Possible To Avoid Dune Bashing And Opt For Dining Options?
Yes, it is allowed to opt for a Bedouin-style dining experience under tents instead of dune bashing while on an evening desert safari in Dubai. However, you should let the trip organizer before your journey that you do not wish to opt for dune bashing to avoid problems and misunderstandings.
Is Dune Bashing Allowed For All Individuals?
Although dune bashing in evening desert safaris is allowed for everybody, you should refrain from it if you have any kind of serious health issues or are over three months pregnant. It is because this is a type of adventurous sport that involves rough rides in the sand.
Is It Possible To Opt For Vegetarian Food Options?
Yes, you will be able to have vegetarian food items while dining in the Bedouin-style tents in the desert. However, it is best to let the organizers know about your food choices before to ensure your safety and convenience.
Are you trying to plan an enjoyable trip for your family and loved ones? If your answer is yes, you should include an evening desert safari in Dubai for the most thrilling experiences. This blog will provide you with more information about this aspect and the types of activities you may select. So, there is no reason for you to wait any longer. Pack your bags and leave for a Dubai trip as soon as your leave is approved.