Have you ever dreamed of exploring the vast golden sands of the Arabian dunes? Do you want to experience an adventure like no other in Dubai?
If so, then a desert safari is for you! It's one of the top activities that tourists should not miss when visiting Dubai. This thrilling expedition will take you on a journey through breath-taking landscapes where you'll get close to nature and immerse yourself in local culture.
There are plenty of exciting things to do and see during this trip, so fasten your seatbelts as we take off on a beginner's guide to exploring the Arabian dunes!
Types of Activities Included in Desert Safari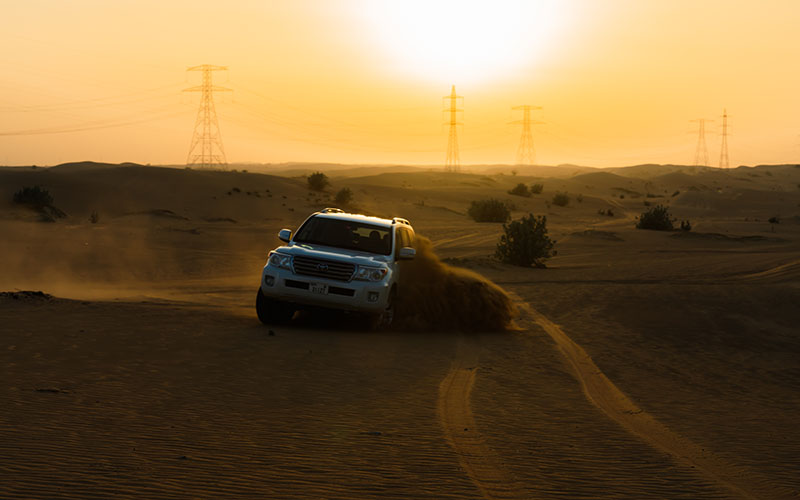 A desert safari is a thrilling adventure that offers an array of activities to suit all ages and preferences.
1. Dune Bashing – This is an adventurous ride through the sand dunes in a 4×4 vehicle. It is a thrilling experience as the car goes up and down the dunes at high speed. The expert drivers ensure the safety of the passengers, and the ride is usually accompanied by music to add to the overall excitement.
2. Camel Riding – This is a traditional way to explore the desert and enjoy the beautiful scenery around. Visitors can ride on camels and experience the traditional way of transportation in the desert. Camel riding is a great opportunity to take photos and make memories.
3. Sandboarding – This is a popular activity among adventure enthusiasts. Visitors can try their skills at surfing down the sand dunes on a board. The instructors provide safety gear and give some basic training before visitors begin their ride.
4. Quad Biking – For those who love speed, quad biking is a must-try activity. Visitors can rent quad bikes and go for a thrilling ride through the desert. It is an exciting experience that provides a rush of adrenaline.
5. Traditional Entertainment – Visitors can enjoy traditional Arabian music, dance performances, and fire shows in the Bedouin camp. These performances showcase the rich cultural heritage of the UAE and are a great way to learn about local traditions.
6. Henna Painting – Visitors can get henna tattoos done by professional artists. These temporary tattoos are a popular tradition in the Middle East and are a fun way to remember the trip.
7. Falconry – Visitors can witness the ancient art of falconry and learn about the different types of falcons. Falconry is an integral part of the Emirati culture, and visitors can watch these majestic birds in action.
8. Sunset Watching – Visitors can watch the beautiful sunset over the dunes. The sunsets in the desert are a spectacular sight that should not be missed.
9. BBQ Dinner – Visitors can enjoy a delicious BBQ dinner under the stars in a traditional Bedouin camp. The dinner includes a variety of local dishes and is a great way to experience authentic Emirati cuisine.
10. Night Camping – Visitors can spend the night in the desert, surrounded by beautiful scenery and under a sky full of stars. It is an unforgettable experience that provides a unique perspective of the desert.
Clothing and Equipment Needed for Desert Safari
When it comes to exploring the Arabian dunes, dressing appropriately is key. The desert can be scorching hot during the day and freezing cold at night, so it's important to pack accordingly.
Clothing
Loose Clothing: Dubai is known for its hot and dry climate, so it's best to wear loose-fitting clothing made from breathable materials like cotton, linen, or rayon. This type of clothing will keep you comfortable in the heat and help regulate your body temperature.
Closed–Toe Shoes: Comfortable footwear like sneakers or closed-toe shoes are ideal for the desert safari. They should be able to withstand walking on sand and provide good traction during dune bashing. Avoid wearing sandals or flip-flops as they can be uncomfortable and may cause injuries.
Sunglasses and Hat: The sun in Dubai can be quite strong, so it's essential to protect your eyes and face from the sun's harmful UV rays. A good pair of sunglasses and a hat or cap with a wide brim will provide adequate protection.
Jacket or Sweater: Although it's hot during the day, the temperatures can drop significantly at night, especially during winter months. It's best to bring a light jacket or sweater to keep yourself warm in the evenings.
Equipment
Sunscreen Lotion: The desert sun can be harsh and unforgiving, so it's crucial to apply sunscreen lotion with a high SPF before heading out. Reapply sunscreen frequently, especially after swimming or sweating.
Insect Repellent: Mosquitoes and other insects can be a nuisance, especially during the evenings. So it's best to bring insect repellent to keep them at bay.
Camera: A camera is a must-have accessory to capture the beautiful views of the desert landscape and memories of the safari.
Cash or Credit Card: You might want to buy souvenirs or take part in optional activities like quad biking or ATV rides. So, it's best to bring some cash or a credit card with you.
Water Bottle: It's essential to stay hydrated during the safari, so it's best to bring a reusable water bottle. Most tour operators provide bottled water, but having your own is more eco-friendly and convenient.
Safety Gear: Certain activities like dune bashing and quad biking require safety gear like helmets, which are usually provided by the tour operator. However, checking with them before packing any additional equipment is best.
Safety Tips While Exploring the Arabian Dunes
Exploring the Arabian dunes can be an exhilarating experience, but it's essential to prioritize safety while doing so. Here are some tips to keep in mind
1. Choose a reputable tour operator: Always book your desert safari with a reputable tour operator that follows safety guidelines and has experienced drivers and guides.
2. Wear appropriate clothing: Wear loose, comfortable clothing made from breathable fabrics like cotton or linen to stay cool in the heat. Also, wear closed-toe shoes that provide good traction and support.
3. Stay hydrated: Drink plenty of water to stay hydrated during the safari. It's recommended to carry a refillable water bottle and drink water at regular intervals.
4. Apply sunscreen: Protect your skin from the harsh sun rays by applying a broad-spectrum sunscreen with an SPF of 30 or higher.
5. Wear a hat and sunglasses: Wear a hat or scarf to protect your head and face from the sun and wear sunglasses to protect your eyes from harmful UV rays.
6. Listen to your guide: Follow the instructions of your guide and avoid wandering off on your own. The guide knows the area well and can help you avoid potential dangers.
7. Buckle up: Wear your seatbelt at all times during the safari, especially during dune bashing, to prevent any injuries.
8. Avoid risky activities: Don't attempt any risky activities that you're not comfortable with or haven't been trained for. This includes driving quad bikes or ATVs if you're not an experienced rider.
9. Respect nature: Do not litter or harm the environment in any way. The desert ecosystem is fragile, and keeping it clean and protected is crucial.
10. Know the emergency procedures: Familiarize yourself with the emergency procedures and contact numbers before the start of the safari. In case of emergencies, stay calm and follow your guide's instructions.
Best Spots for Desert Safari in Dubai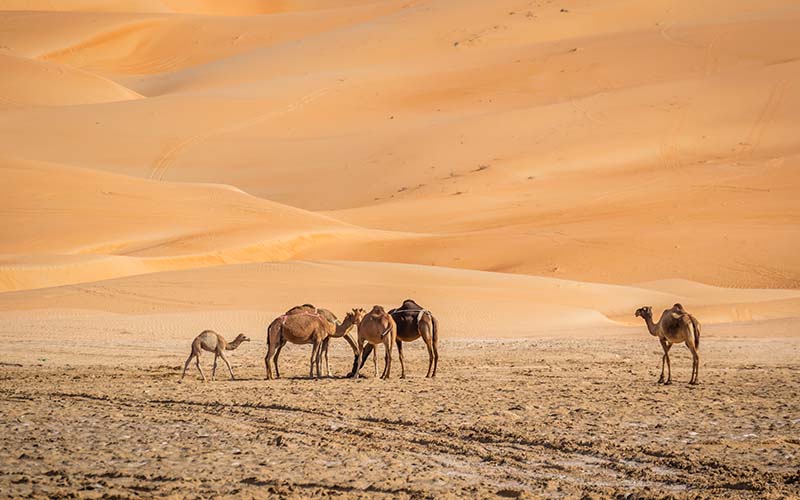 Dubai is known for its mesmerizing deserts and thrilling desert safaris. There are several spots where you can experience the best of Arabian dunes.
1. Al Lahbab Desert: Al Lahbab Desert is one of Dubai's most popular locations for a desert safari. Located about an hour's drive from Dubai, visitors can enjoy dune bashing, camel rides, sandboarding, and traditional entertainment.
2. Liwa Desert: Located about a 4-hour drive from Dubai, Liwa Desert is one of the largest deserts in the UAE. It offers visitors a chance to experience the authentic Bedouin lifestyle with activities like dune bashing, camel rides, and traditional entertainment.
3. Dubai Desert Conservation Reserve: The Dubai Desert Conservation Reserve is located about an hour's drive from Dubai and is home to several species of wildlife, including Arabian oryx and gazelles. Visitors can enjoy dune bashing, camel rides, and wildlife safari tours in this location.
4. Al Faya Desert: Al Faya Desert, located near Sharjah, is a relatively new addition to the list of desert safari locations in Dubai. Visitors can enjoy dune bashing, camel rides, quad biking, and other activities.
5. Jebel Maleihah: Jebel Maleihah, also known as the Fossil Rock, is about an hour's drive from Dubai. It's a popular location for rock climbing and hiking, and visitors can also enjoy dune bashing and traditional entertainment.
6. Bidayer: Bidayer, also known as Big Red Dune, is located about an hour's drive from Dubai. It's a popular location for dune bashing and sandboarding, and visitors can also enjoy camel rides and traditional entertainment.
Discover your Next Adventure right here:
Local Cuisine Available During a Desert Safari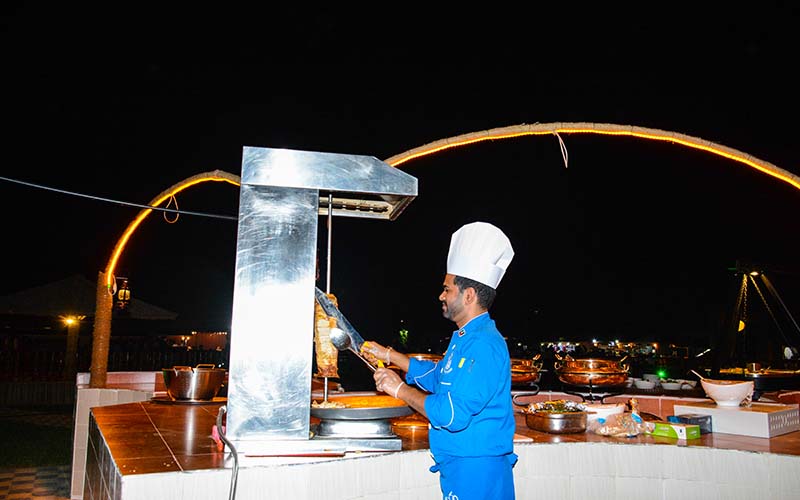 One of the best things about going on a desert safari is getting to experience the local cuisine. From traditional Arabic dishes to international favorites, there's something for everyone.
1. Lamb Ouzi: It's a traditional Emirati rice dish made with lamb, spices, and rice cooked in a pot called a 'Dekkan.' The fragrant rice is infused with aromatic spices and is slow-cooked to perfection. Lamb ouzi is usually served with a side of grilled vegetables and salad.
2. Kebabs: Kebabs are grilled or barbecued meat skewers that are marinated in spices like cumin, coriander, and turmeric. Chicken, beef, and lamb kebabs are popular dishes in Dubai, and they are often served with grilled vegetables and fresh bread.
3. Shawarma: Shawarma is a popular street food in Dubai and most parts of the Middle East. It's a wrap made with grilled or roasted meat (chicken or lamb) and vegetables like cucumber, lettuce, onions, and tomatoes. The wrap is usually served with a side of hummus or garlic sauce.
4. Arabic Bread: Arabic bread, known as khubz, is a staple in Emirati cuisine. It's a thin, fluffy bread with flour, water, yeast, and salt. It's usually served warm and is perfect for dipping in hummus or other dips.
5. Luqaimat: Luqaimat is a traditional Emirati dessert made with flour, sugar, yeast, and saffron. The dough is deep-fried until golden brown and then served with a drizzle of date syrup.
6. Rice Pudding: Rice pudding is a sweet dish with milk, sugar, and rice. It's a popular dessert in Dubai and other parts of the Middle East.
These are just a few examples of the delicious local cuisine you can enjoy during a desert safari in Dubai. Most desert safari tours offer a buffet-style dinner with a variety of traditional and international dishes.
Conclusion
Desert safari in Dubai is a must-try experience for anyone visiting the city. With various activities to choose from, you can immerse yourself in the beauty of the Arabian dunes and create unforgettable memories with your loved ones.
Remember to dress appropriately and bring essential equipment like sunscreen and sunglasses. Keep in mind safety precautions while exploring the desert.