If you are planning a vacation with your family, you always envision it with loads of fun and some adventure. Combine this with great food and a picture-perfect background to spend that quality time with those who are the world to you. Dubai with its sun, sand, and adventure sports could be one of them. However, most people feel that Dubai won't be an ideal place for a family vacation because of its Middle-Eastern location, the dignitaries that visit the place, its stringent laws, and the hot weather. If you only discard this splendid location for the above reasons, you might as well have to think again. With the world's best mall, adventure locations, and other entertaining amenities Dubai in many ways has become an ideal spot to spend with your family, and given the escapades you can indulge into, it is a must-visit. You never know you might make it a habit to frequent the place for its clean yet exploratory terrain, simplicity, and great hospitality. Whether you are spending 48 hours in Dubai or a week, there are some places you must visit in the city.
Here are a few things to do in Dubai with family for a more exciting yet enjoyable vacation, while in Dubai:
1. Witness the world's tallest building – The Burj Khalifa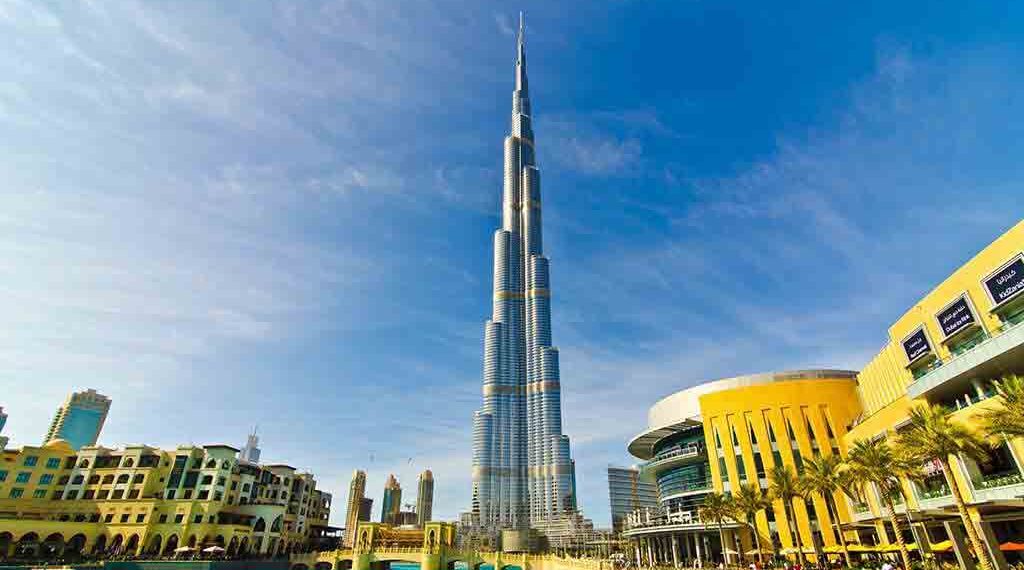 Do not forgo the idea of paying a visit to the tallest man-made structure on earth. It is one of the rare feelings to ride a super elevator to reach 124 floors for a splendid 360 degree view of the city and feel on top of the world.
2. Desert Safari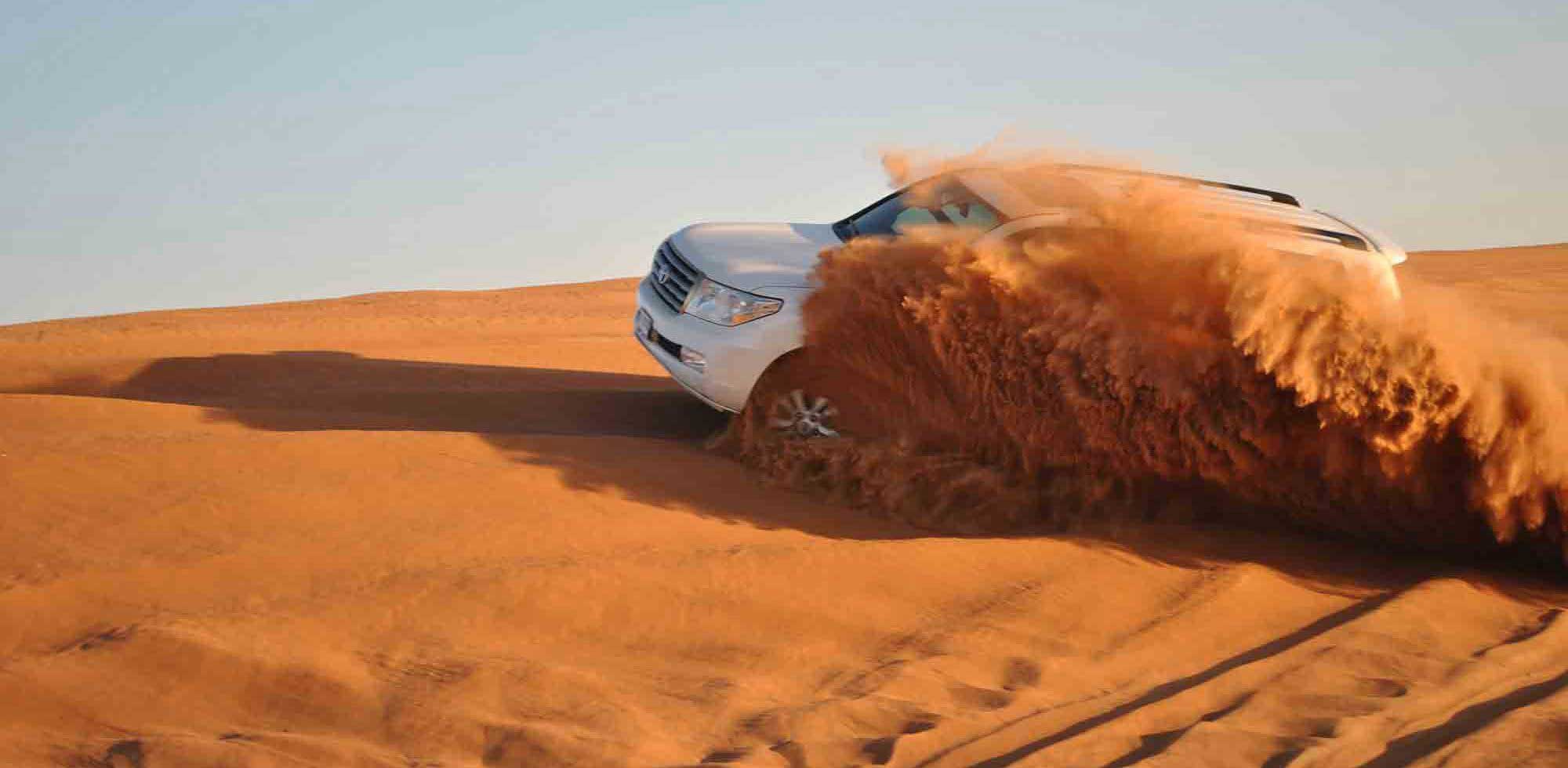 If you are an adventure lot with an equally adventurous family, desert safari dubai is something that should be on your list while you visit this beautiful desert nation. A great dune bashing expedition, squad biking, and camel riding, are some of the adventurous add-ons that will make your outing one of a kind. Moreover, you will be surprised to know that there are many things to do on a desert safari with kids.
3. Dinner in the Desert
After a great expedition of dune bashing with some boundless sightseeing along with the beautiful sunset (not to mention indulging in some mischievous photography sessions) it is time to wind up the day. Least to mention in style! Dinner in the desert on a desert camp is something you should look forward to. With a great spread of authentic Arabian foods that range from meatballs, lamb curry, barbequed chicken, crispy bread, fruit salads, you are soaking in the Arabian night with a fire at one side, belly dancing, and friends to say cheers! You may also think of spending the night on the desert. However, it needs to be planned in advance.
4. Hatta Mountain Tour

Most people look forward to take a Hatta Mountain safari as it is thrilling yet beautiful. Hatta is a 200 years old village located at rough Hajar Mountains. The exciting tour starts early in the morning in 4 × 4 vehicles, while you hit the road and move towards the mountains. Once there, you are 'in' for an adventurous ride on a rocky terrain. The rough bashing goes on for an hour long and you are game to witness a few gorgeous and beautiful landscapes. The lush green landscapes surrounding by villages and the Wadis of varying sizes are an eye candy indeed! You may also witness a few dry river beds that flood after rains. A swim in one of the wadis is a refreshing and rejuvenating endeavour. A half day hatta tour in Dubai is one of the best things to do with family.
5. Sneak into the Dubai Miracle Garden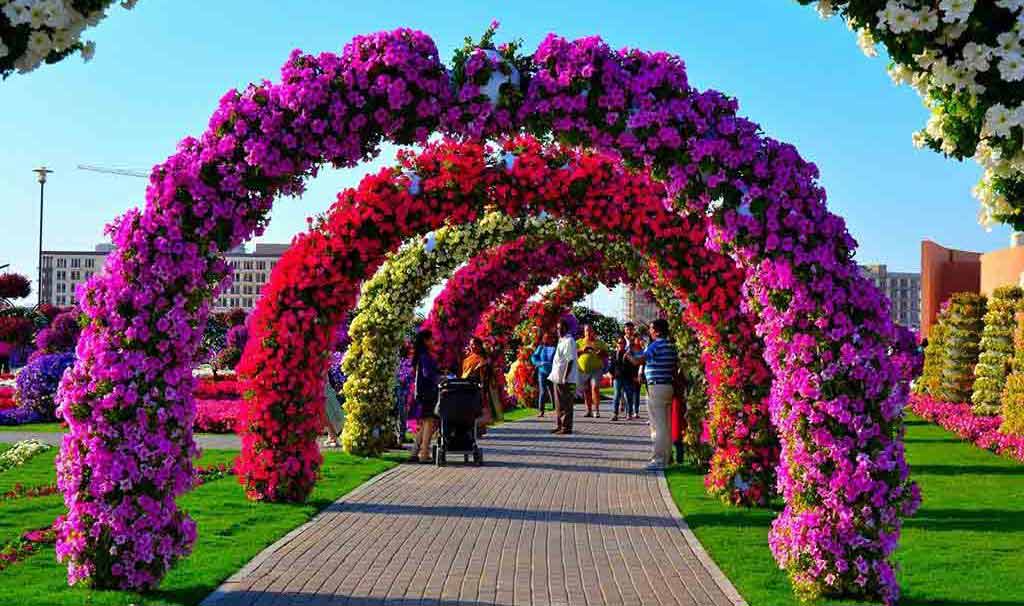 The Dubai Miracle Garden is a one of kind experience and should not give it a miss, especially if you are travelling with family. The look and feel of the garden imbibes so much grace that you literally feel like walking around a painting. So if you have volunteered to go to Dubai for a break from the city life or visit a distinct place for a change from the sandy life, Dubai Miracle Garden is it for you. A children's play area and a butterfly garden are due to be included soon, thus enhancing the beauty quotient of this wonderful place.
6. Visit a Souk

An outing that should be primly on your list is a visit to a souk. A souk is an open market where you come across many exciting and traditional products that define the Arab culture. It is fun activity especially if you are with your family as it is a never before experience for some of them, especially kids. You also need to bargain with the owners to get products at the best prices.
Gold souk is commonly found in many places of the city, where various types of gold are sold. They are sold by weighing without considering the design or pattern of the jewel. Watching them is also an interesting affair. Besides, there is the spice souk where you can find a variety of traditional and exotic spices, nuts, dried fruits, and many other products. The beauty of visiting a souk is you find rich and traditional stuff at great prices. Strolling through these markets is a delight and fun when it comes to bargaining.
7. A Tour to the Dubai Museum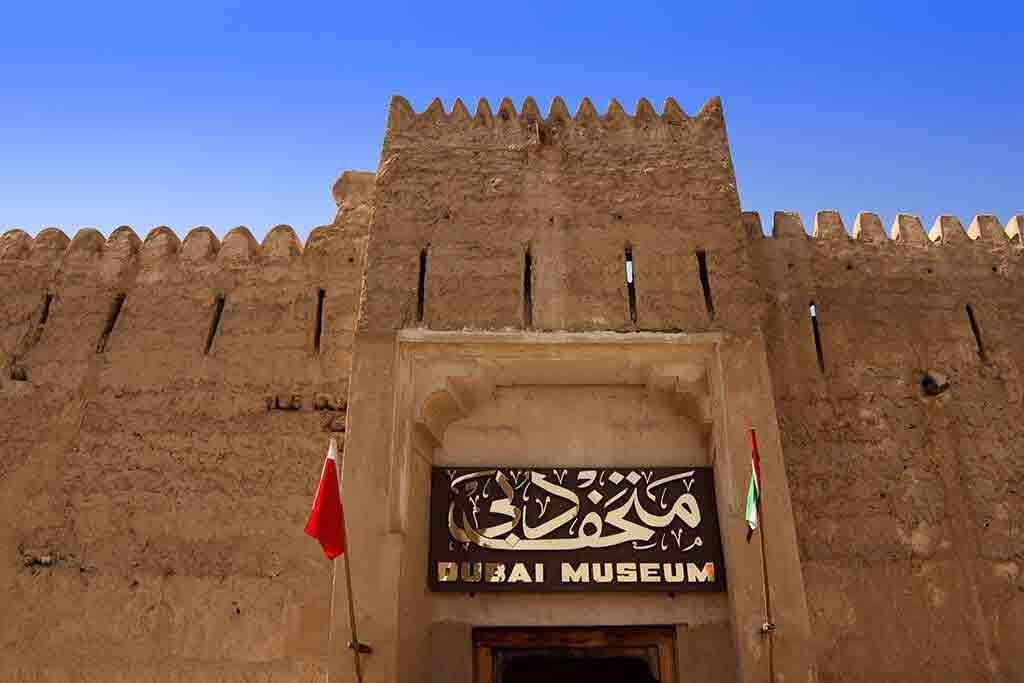 One of the prominent tourist attractions, which is also a big hit among kids, is a visit to the Dubai Museum. Housed in the Al-Fahidi Fort in 1787 with an aim to defend the Dubai creek the museum is frequented by many tourists for its fascinating display of the city's historical landmarks such as the traditional boats, Emirati wind tower and palm leaf house. Besides it also features weaponry and Emirati musical instruments. There are display halls below the ground floor showcasing dioramas that reflect the many facets of a traditional Emirati lifestyle and artifacts. These priceless wonders are excavated from old graves at Al Qusaisarchaeological sites, which are as old as 3,000 – 4,000 years.
8. Jumeirah Archaeological Site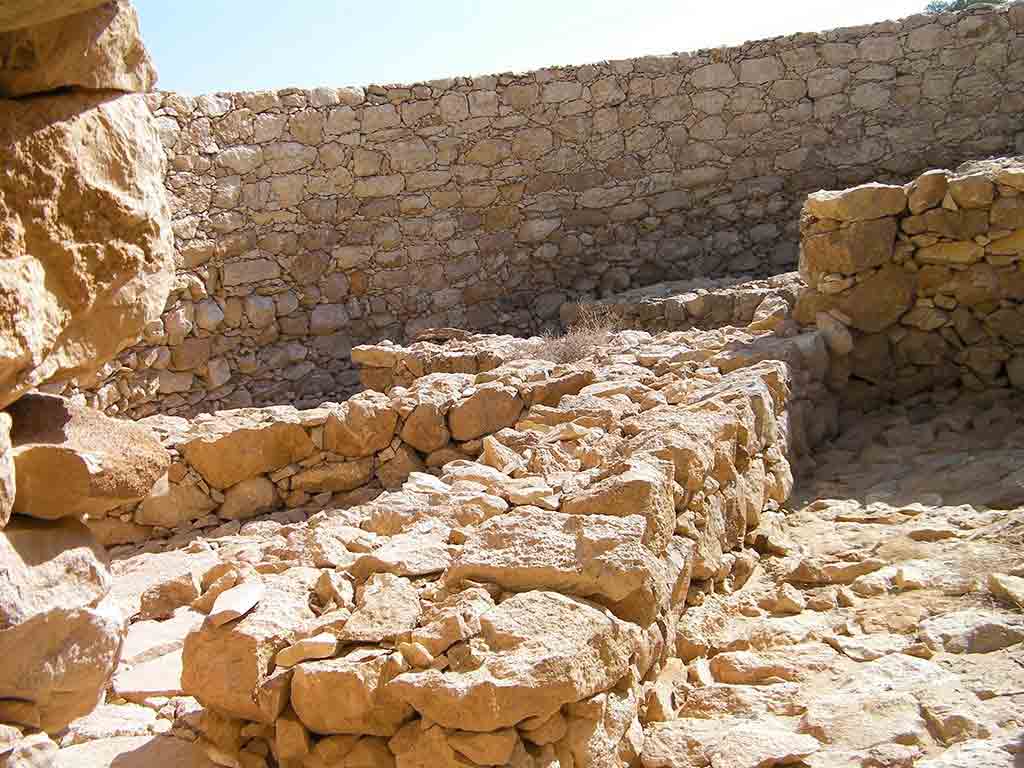 When you plan to visit the Dubai museum, it is also a good idea to visit the Jumeirah archaeological site that houses artifacts from the 7th to the 15th centuries. Earlier a caravan station with an ancient trade route that links to present Iraq, Jumeirah was discovered in 1968. It uncovered various dwellings, a series of small stone walls, a large stone house and an old souk. A few other items that were found include pottery, coins and tools. Jumeirah is the only settlement with a well-preserved architecture from the first Islamic era. Many finds from Jumeirah can also be seen in the Dubai Museum. Moreover, Jumeirah is not open to the public or tourists. If you are keen to witness the rich heritage of the Islamic era you need to obtain a permit from the Dubai Museum.
9. Indoor Skiing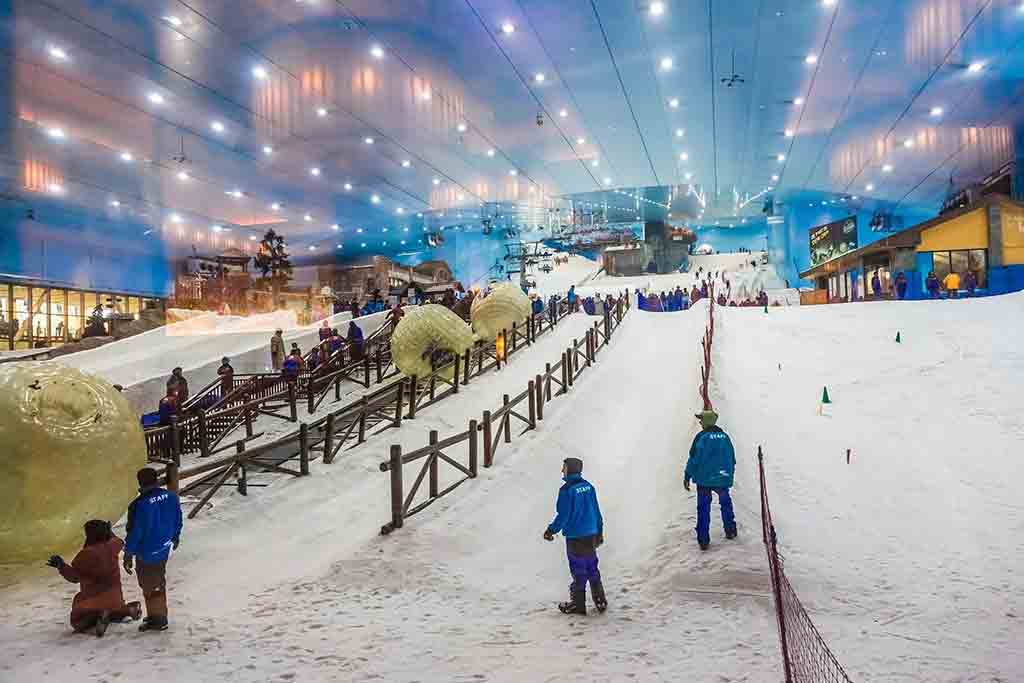 Skiing at a location where the temperature sours to the maximum of 40 degree Celsius or even more is another marvel. Thanks to indoor snow parks you have the opportunity to indulge in some cool sports, beat the heat and yet get entertained. With an indoor ski area that features Snow Mountains as high as 60 meters, skiing is definitely an activity to set up your adrenaline. It has a lot of adventure in store for seasonal skiers. Besides, the ones looking to sleigh or try their hand making a snowman there is a Snow Park as well. So get set for some fun skiing, along with snowboarding, bobsledding, chairlifts, tobogganing, and yes, fun with penguins!
10. Outdoor/ Indoor Water Park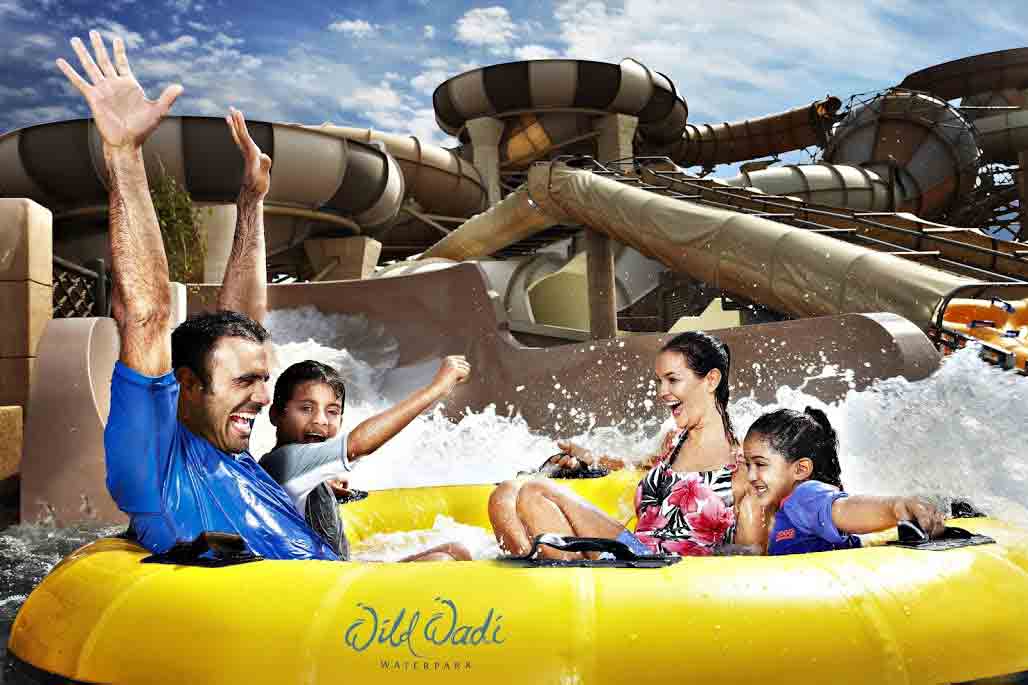 Backed by a host of water parks, Dubai is certainly an abode for all water sports lovers. Wonderland and Splashland are fine examples for you and your family to indulge in. The numerous water slides and rides are fun and they are designed for people of distinct age groups. Wild Wadi is another well-known outdoor water park located in Jumeirah. It houses one of the tallest and fastest free-fall water slides in the county with many other thrilling rides.
11. Beaches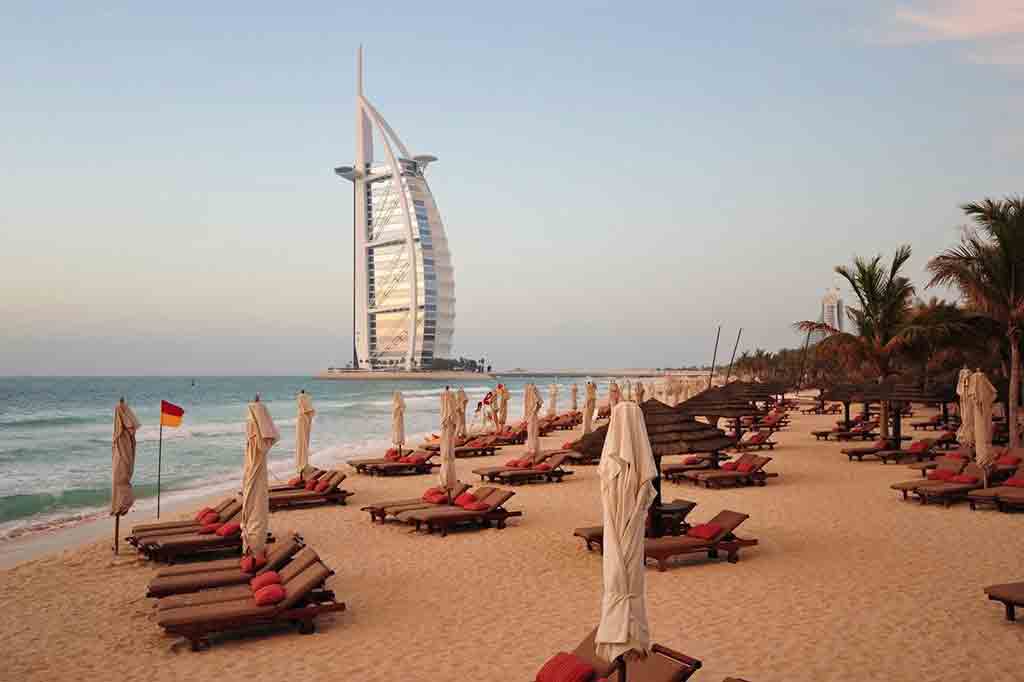 If your quest for being in the water does not end with the water parks, give a try to the shining sand and clear waters of Dubai. With the temperature at its peak during noon, it is advisable to visit the Dubai beaches early in the morning or in the evening. Dubai has a wide coast line and hence there is no dearth for beaches. You may as well think of putting up at resorts or hotels facing the beaches. You may have a good splash in the waters or simply relaxing, sun bathing or walking the shore. Swimming, surfing, sailing and water- skiing are some of the activities to indulge into. The popular ones are La Mer, Kite Beach, Jumeirah Beach and JBR beach.
Visitors to Dubai are amazed at the beauty of this oasis beaming desert vacation has to offer. From impressive waterparks and indoor skiing to discovering the old town via camel trek, Dubai has a lot in store for people of all generations, be it kids, teens, adults, and the old. Besides, it offers a variety of food spread from Iran, Morocco, Lebanon, Egypt and India to choose from. With tourism flourishing at a fast pace, you won't be surprised to find foods that excite the American and European taste buds as well.